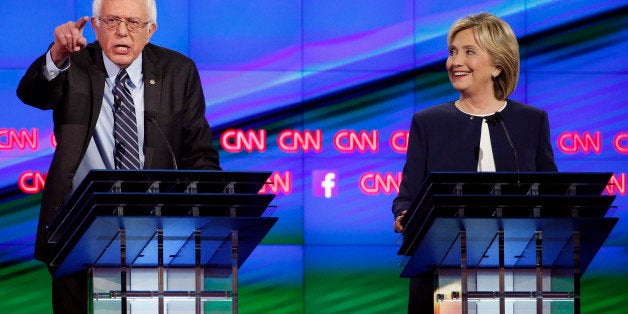 What does it take to win a political debate? There are questions of substance, style and sass, with the winner likely possessing a perfect combination of all three. Pundits already proclaimed who won (former Secretary of State Hillary Clinton), lost (Vice President Joe Biden) and broke even (former Maryland Gov. Martin O'Malley), but InsideGov takes a different tack, looking at who cleaned up on the Internet the night of the debate.
The InsideGov team collected Twitter data throughout the debate, keeping track of Twitter follower counts starting the moment the debate started. Graphiq also systematically collects Twitter data daily.
As the above graph indicates, Sen. Bernie Sanders is the far-and-away winner of the Twitter battle. The Vermont Democrat collected about 34,610 new followers during the two-and-a-half-hour debate, while Clinton acquired just shy of 13,000 followers.
When taking into account an overall snapshot of these two candidates' Twitter followers, Sanders' post-debate haul looks even more impressive. At the beginning of the debate on Oct. 13, Sanders had 653,851 followers. In the days since, his follower count has climbed to 850,708, meaning that since the debate started, Sanders has gained almost 200,000 new followers. As the graph below shows, the last few days saw his biggest increase yet.
Clinton's debate-night uptick was slightly more than a third of what Sanders did, and her total follower count has increased to 4,490,282 in the last few days -- a 40,796 increase in followers since the debate started. But Sanders annihilates that count, too; his post-debate increase is almost five times that of Clinton's.
As the below graph shows, Clinton's recent increase reflects continued and steady growth, rather than the sharp surge we see for Sanders' profile. It's also important to note that Clinton -- a well-known figure since the early 1990s when her husband, Bill Clinton, ran for president -- started out with a significantly higher follower count.
But Sanders' has been plenty scrappy on social media. Whereas Clinton has 2,098 tweets, Sanders' account has 12,745 tweets. He's no slouch on Facebook, either; a New York Times article in May reported that a post about making a national holiday out of Election Day got almost 100,000 likes and 22,000 shares, higher engagement than Clinton received on her video that announced her candidacy.
How social media engagement plays out in this cycle's presidential race remains to be seen, but Sanders' Twitter boost should give Clinton's campaign pause. As this week's tallies indicate, Sanders' profile has plenty of room to grow, especially as he gains more exposure on the national stage.
Popular in the Community