Sen. Bernie Sanders (I-Vt.) insisted he'll stay in the presidential race, but outlined conditions under which he would endorse Democratic front-runner Hillary Clinton "if I can't make it."
Sanders, who badly trails Clinton in delegates for the Democratic nomination, said Wednesday that his chief priorities include making sure the party embraces his anti-establishment platform and expands its base.
"If I can't make it -- and we're going to try as hard as we can until the last vote is cast -- we want to completely revitalize the Democratic Party and make it a party of the people rather than one of large campaign contributors," Sanders said in an interview on the progressive Web show "The Young Turks."
Sanders also listed policy demands he would make of Clinton, including a single-payer health care system, a $15 an hour minimum wage, tougher regulation of the finance industry, closing corporate tax loopholes and "a vigorous effort to address climate change."
"I am very worried. I mean, I talk to these scientists. This planet is in serious danger. You can't cuddle up to the fossil fuel industry -- you've got to take them on," Sanders said, alluding to Clinton's ties to oil and gas companies.
He also expressed concern about Clinton's consistency on policy issues.
"What we need is to create a movement which holds elected officials accountable and not let them flip" on issues, Sanders said.
Sanders trails Clinton in delegates, despite recent primary election and caucus victories. Some Democratic leaders have said they fear that if Clinton becomes the nominee, she may not pick up the support of Sanders' progressive base.
Sanders' pitch to Democratic voters has involved bringing his policy differences with Clinton to the forefront, labeling her as an establishment candidate and questioning her beliefs on issues important to the party's base. Clinton would likely have to adopt more of Sanders' policy positions to win over his supporters.
According to recent polls, Trump has abysmally low favorability ratings among women and Latinos. Both groups have frequently been the subject of his attacks, and both tend to vote Democratic.
But Sanders stressed on Wednesday that he does not intend to cede the stage to Clinton yet.
"We are in this thing to win," Sanders said.
Before You Go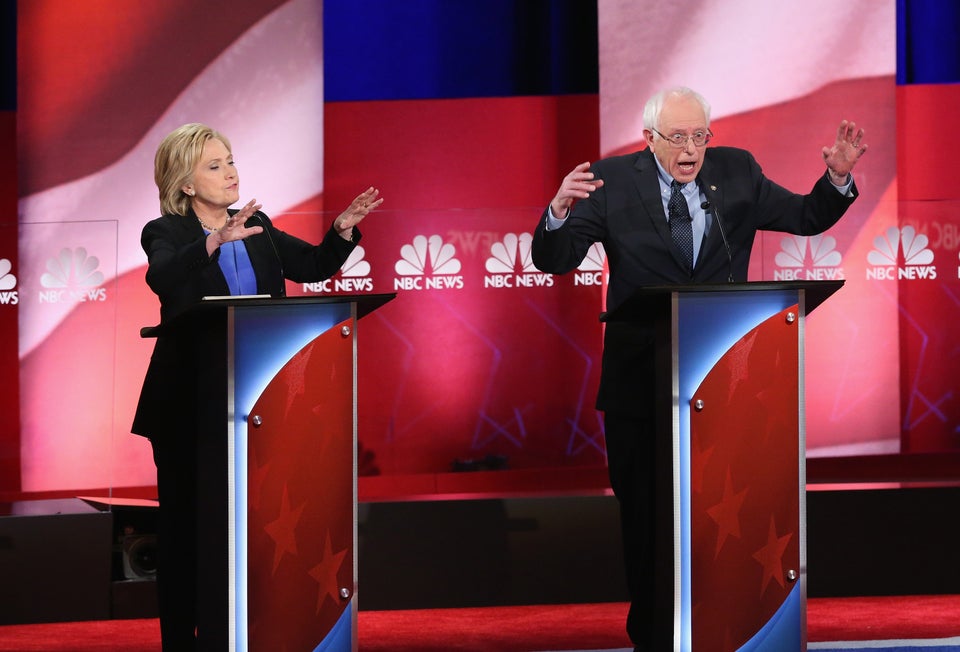 Bernie Sanders And Hillary Clinton Face Off
Popular in the Community