The latest Republican to endorse Democratic presidential candidate Hillary Clinton over GOP nominee Donald Trump is a longtime friend of Clinton's opponent in the primaries, Sen. Bernie Sanders (I-Vt.).
Tony Pomerleau, a prominent Republican businessman and developer in Sanders' hometown of Burlington, Vermont, endorsed Clinton in a charmingly brief letter to the Clinton campaign that was provided to The Huffington Post.
"I am a loyal Republican born in 1917 and the first time a woman could vote was in 1919," the letter reads. "I will be most happy to cast my vote to the first woman president of the United States of America. I am a loyal friend of Bernie Sanders and in Vermont they call us the 'Odd Couple.'"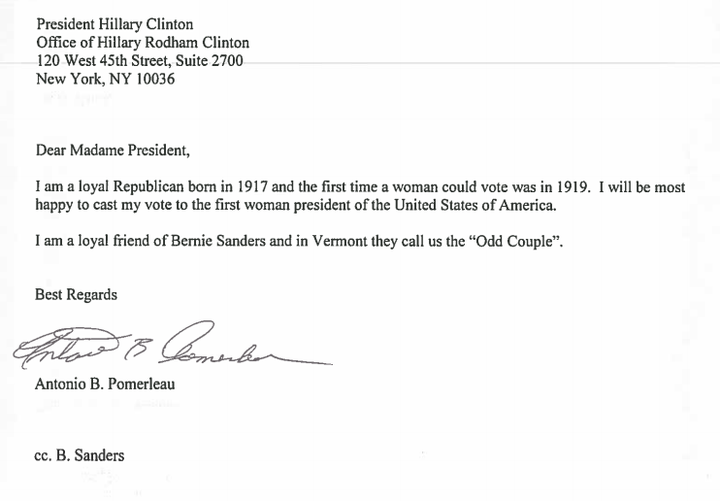 Pomerleau, who made millions developing shopping centers and office buildings, would appear to be the antithesis of Sanders, who has spent much of his political career criticizing "the millionaires and billionaires" and fighting to end income inequality.
In fact, Sanders denounced Pomerleau's real estate projects in his 1981 mayoral campaign, according to Vermont Public Radio, telling voters that "Burlington is not for sale." Pomerleau wanted to develop the city's waterfront, which Sanders vehemently opposed and made a major issue in his successful campaign.
Sanders has praised Pomerleau for donating much of his fortune to various causes in Burlington, including helping low-income families, sponsoring scholarships to local schools and honoring the military.
"He and his family have contributed many many millions of dollars to people in need throughout the state of Vermont," Sanders said when honoring Pomerleau last year. "I think today we are honored to have with us a man who is not only a hero here in the city of Burlington, but a hero throughout the state who understands that you can't take it with you."
Pomerleau joins prominent Republicans endorsing Clinton, including retired Sen. John Warner of Virginia, who announced his backing on Wednesday. Other former elected Republican officeholders who have endorsed Clinton include: Michael Bloomberg, New York mayor; Arne Carlson, Minnesota governor; David Durenberger, Minnesota senator; Constance A. Morella, Maryland congresswoman; Larry Pressler, South Dakota senator and congressman; Christopher Shays, Connecticut congressman; and John J.H. Schwarz, Michigan congressman, according to The Washington Post.
Pomerleau suggested to the Burlington Free Press that he and Sanders weren't necessarily an odd couple because both took risks, despite being considered long shots in their respective fields.
"He never gives up," Pomerleau said of his friend. "This is the reason we've both been successful."
And now, they are once again putting aside their political differences and supporting the same candidate for president.
Before You Go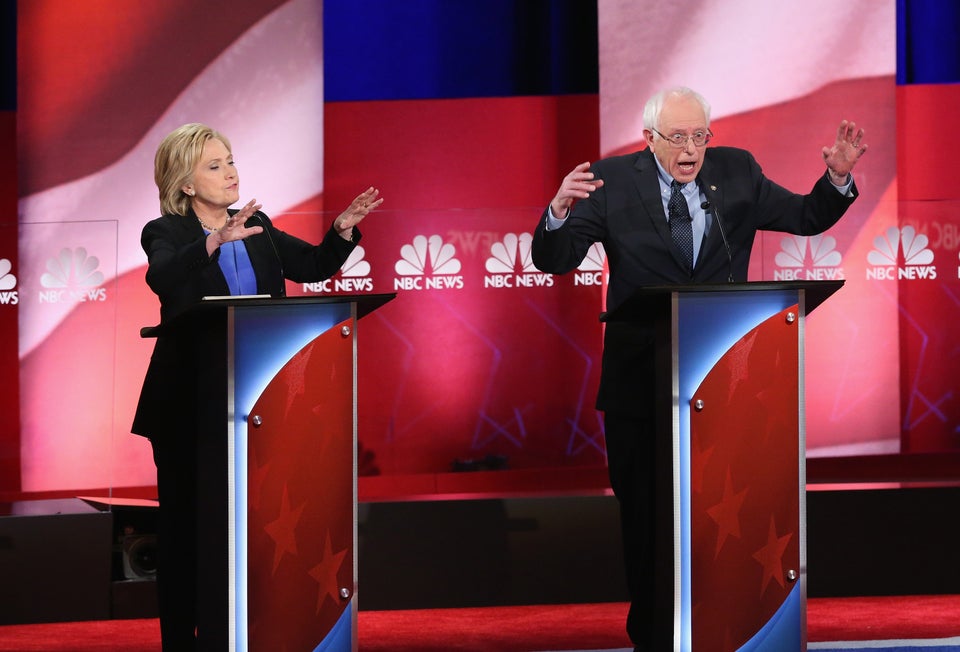 Bernie Sanders And Hillary Clinton Face Off