KANSAS CITY, Missouri -- A boisterous crowd filled the downtown convention center on Wednesday, constantly erupting in applause as Sen. Bernie Sanders (I-Vt.) made his populist presidential pitch to voters in both Kansas and Missouri.
"In Kansas, you've got a governor who likes to beat up on the poor," Sanders said, taking a jab at Gov. Sam Brownback's series of welfare changes in the state. The crowd of thousands was receptive to that message, booing in response.
Instead of campaigning in South Carolina, where Democrats will hold their primary on Saturday, the independent Vermont lawmaker is setting his sights on Super Tuesday and beyond, making stops in Missouri, Oklahoma, Ohio, Illinois, Michigan, and Minnesota.
With Clinton likely to win many delegates from seven Southern states on Super Tuesday, Sanders is banking on the Midwest for a shot at an upset. Caucuses in states like Minnesota, Kansas and Nebraska could work in his favor, since the process typically brings out only the most motivated voters and the electorate is predominately white and liberal.
Voters' enthusiasm was overwhelming in Kansas City on Wednesday afternoon, with the crowd of over 7,000 chanting the Vermont senator's name. The major question is whether that enthusiasm will translate into support. So far, voter turnout in the Democratic caucuses has been down -- nowhere near the numbers of 2008. According to Democratic Party officials, 80,000 voters turned out for the caucus in Nevada last week, compared with nearly 118,000 in 2008.
Sanders' losses in both Nevada and Iowa increase the value of states like Missouri and Kansas, where he seeks to run up his delegate totals. Missouri will hold its primary on March 15, while Kansas holds its caucuses, which require a major investment in time and resources, on March 5. Both Democratic campaigns are operating in high gear to turn out as many voters as possible in a short time frame.
"As organizers, you feel nervous to enter a state with 15 days left to identify support," said Shelby Iseler, who is Sanders' Kansas state director and previously served as a deputy field director in Iowa. Iseler, along with six other paid staffers in Iowa, were redeployed to the Great Plains the day after the first-in-the nation caucus.
"We woke up, and then at noon the next day we got our redeployment assignments and then I was writing the state plan," she said with a laugh.
Iseler and her team arrived in Kansas to find a ready-to-go army of volunteers who had been organizing for Sanders on their own since April.
"What we know and what we have known is that the majority of our supporters are people that aren't tapped into politics, they are first-time volunteers, first-time voters," she said. "It's a challenge. You know, we don't have the upper hand."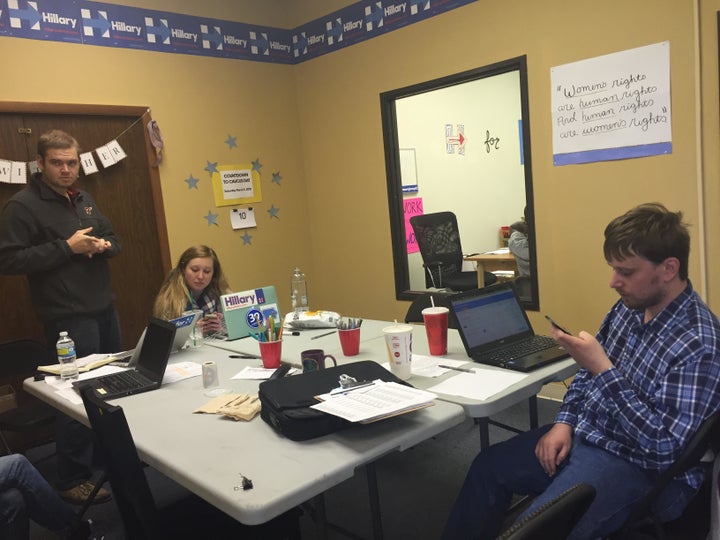 Clinton's team seems to be using a different strategy in Kansas this cycle, vowing not to repeat the mistakes of 2008, when the former secretary of state suffered a devastating loss to Barack Obama in Kansas and other caucus states.
While there has been grassroots organizing throughout the state as well, the Clinton campaign began deploying paid staff in November 2015, two months before Sanders' campaign staff were on the ground. Former Clinton staffer Pat Rynard said that could make a difference.
"The campaign strategy is night and day," said Rynard, who organized for Clinton in Iowa and Kansas in 2008 and has witnessed both campaign operations on the ground in several Midwestern caucus states this cycle. "They are investing the staff that they need in order to win delegates or mitigate delegate losses in states that Sanders might win."
Rynard recalled arriving in Kansas with another paid staffer after the Iowa caucuses in 2008, immediately learning it would be tough to compete with Obama's campaign -- which had deployed dozens of staffers, some of whom had been on the ground for months.
"The difference in organization was just staggering," Rynard explained. "There was a reason Clinton lost last time, and a large part of it was because of those caucus states. The Clinton campaign for some reason got it in their head that they weren't going to do well in caucus states, so they didn't even try that hard. That is a failed strategy; you should actually do the opposite. You should send more staff to caucus states that have low turnout, where it's harder to get your people out to caucus."
Lauren Brainerd, the Kansas state director for Clinton's campaign, also arrived in the state after the Iowa caucus about a month ago, but says the operation was officially up and running before her arrival. The campaign recently opened its fourth field office in the state; the Sanders campaign has three.
"We joined a team that was already on the ground here in Kansas," Brainerd explained. "When this campaign first launched, we made sure we weren't just focused on the early states."
The Clinton camp is focusing on covering every part of the state, even the rural areas, which requires some manpower. The campaign even has a phone bank in Garden City, a town located near the Colorado border.
"Where it's rural, we're continuing to knock on as many doors as possible, while also making sure to include some more densely populated places as well," Brainerd said. "We are making sure not to ignore any part of Kansas. We are literally fighting for every single vote, every delegate we can."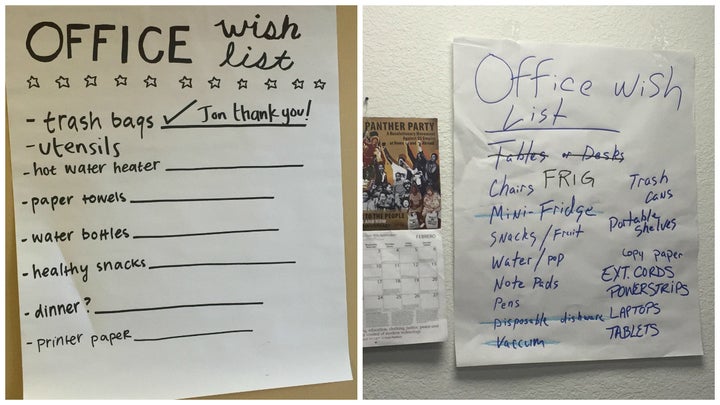 Kansas, home to just six electoral votes in the general election, will allocate 37 delegates for the Democratic National Convention in Philadelphia this summer. The Democrats will have 47 caucus sites based on state Senate districts, which is different from how the Iowa caucuses operated. That's why the Sanders campaign is changing its strategy in the state.
"In Iowa we had over 1800 precincts, so we had to be in each of those tiny precincts," Iseler said. "Here, there are only 47 of them. We need to go where the support is. Find the support and harness it."
Iseler said the campaign is primarily focusing on phone banking because the large amount of terrain to cover makes door-knocking a bit of a challenge.
"You could knock on two doors in an hour, they are so spread out," Iseler said. "When we walked through the door, we had phone bankers that had already been hosting phone banks in their living room. People we were able to reach out to, build relationships with, we've used them as a spokesperson for us in those rural areas, so we don't need to be everywhere physically."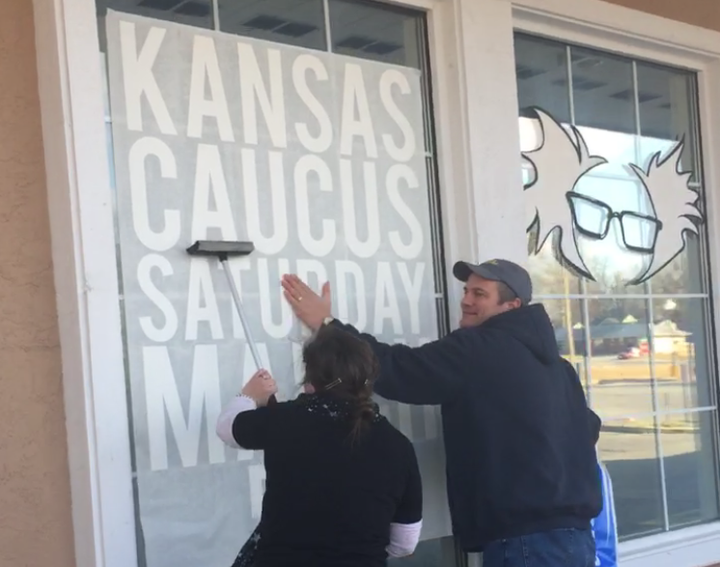 Campaign rallies like the one in Kansas City this week, filled with thousands of adoring Sanders supporters, show why campaign staffers in the region feel confident, although Iseler admits she sometimes feels like she's in a bubble.
"It's hard being a Bernie organizer, working for Bernie and not feeling like you're going to win," Iseler said. "You see the support everywhere, and so we feel good, we feel like we're going to win, but we feel like we have our work cut out for us."
Based on his observations over the last week, Rynard says Clinton has a stronger organization in a few of the Midwestern caucus states, but admits the Sanders operation is decent. He believes the Vermont senator's campaign needs to perform well in the early March caucus states to stay competitive against the former secretary of state.
"The caucus states should be good for Sanders, and they haven't been so far," Rynard said. "If Clinton is able to take that potential advantage Sanders would have, that's a huge blow to him if he's unable to win, or win big, in these caucus states."
Before You Go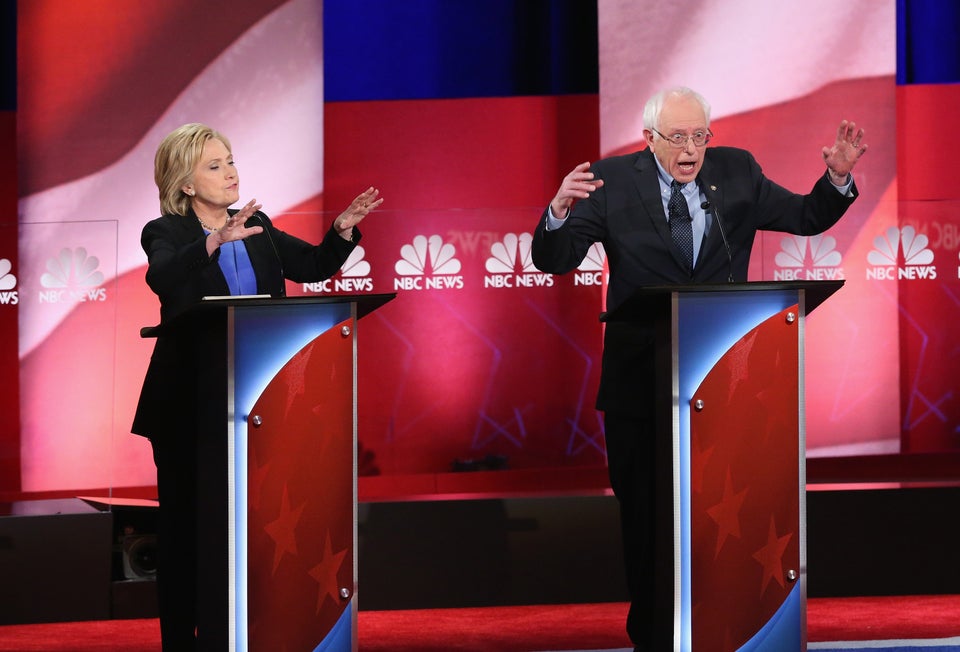 Bernie Sanders And Hillary Clinton Face Off
Popular in the Community