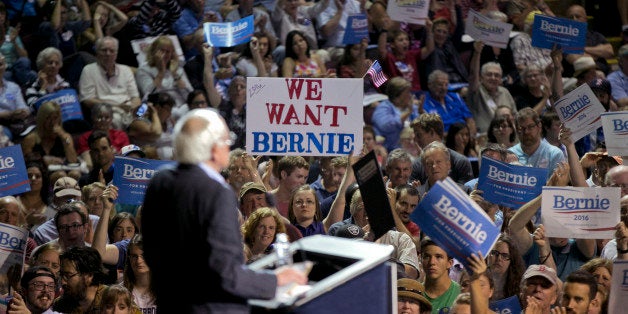 Although the Clinton campaign is expected to raise $2.5 billion, some things can't be purchased with money. Enthusiasm is a precious form of currency in American politics, and Bernie Sanders is filling arenas with thousands of people. Vermont's senator recently drew crowds of 10,000 in Wisconsin, 2,500 people in Iowa, a "packed to capacity" venue in New Hampshire, and a "huge crowd" of 7,500 in Maine. In contrast, Michael Calderone of The Huffington Post explained how the Clinton campaign is dealing with journalists in an article titled "Clinton Campaign Frustrates Journalists Yet Again By Roping Off Media At Parade."
The 2016 race for Democratic nominee is starting out as the political version of a Rocky movie. While the Sanders campaign is gaining an "unexpectedly strong showing" in Iowa, the juggernaut Clinton team is trying to "rope you like a cow" (as described by The Daily Beast's executive editor) and doesn't seem in touch with the masses. As a result, Democratic strategist Paul Begala stated that "Roping off the press is horrible" and called the tactic a "terrible optic."
Therefore, why is Bernie Sanders down by just 8 points in New Hampshire, showing "Bernie-mentum" in Iowa, and able to raise $15 million in two months, when few people thought he had a chance of winning even three months ago? Also, why is Clinton "worried" about Bernie Sanders, even though it's doubtful that any of her top strategists predicted such a groundswell of support for Sanders?
The answers rest in the fact that Bernie Sanders is comfortable with his political message while Hillary Clinton must defend against not only numerous scandals, but images like this one. Thousands of people aren't driving long distances to see Sanders speak because he's a rock star, but because they want to hear a refreshing voice in American politics. According to Maine's Portland Press Herald, Senator Bernie Sanders continues to electrify crowds because his political message resonates with the average American:
And although exact figures weren't available Monday night, staff at Portland's Cross Insurance Arena estimated that the crowd could have exceeded 8,000 in the roughly 9,000-capacity arena for an event originally planned as more of a town hall-style forum than a rally...

The crowd clearly skewed young, but included Mainers of all ages, drawn by a politician whose populist message appears to resonate with voters disenfranchised by the "mainstream" Democratic Party. Sanders hit many of the bedrock principles of progressive Democrats as he vowed to hold Wall Street more accountable, to fight for guaranteed paid maternity leave and vacation time, to push for universal health care and to invest more money in schools, but less in prisons.

He vowed to only nominate Supreme Court justices who will vote to overturn the Citizens United campaign finance decision, while praising the recent court decision effectively legalizing same-sex marriage nationwide. The former Burlington mayor and veteran member of Congress blasted free-trade agreements also unpopular with many in Maine and expressed support for a $15-an-hour minimum wage, calling the current federal minimum of $7.25 an hour "a starvation wage."
While Sanders can blast free-trade agreements like the TPP, Hillary won't be able to do so since the former Secretary of State pushed for this agreement 45 separate times. While Sanders vows to "hold Wall Street more accountable," POLITCO once referred to Clinton as "Wall Street Republicans' dark secret."
Essentially, the political messages of both candidates are tied to their past. Bernie Sanders championed causes like opposing the Iraq War before these ideas were popular; his image as a politician isn't tied to "evolving" on gay marriage, for example. As a result, overflowing crowds and as much press coverage as possible is welcomed by the Sanders campaign and an integral part of his recent surge in the polls.
The Clinton campaign, on the other hand, must rewrite the past to a certain extent and extensive coverage of her activities is wrought with unintended consequences. It's tough to campaign as a refreshing voice in politics, a candidate different from Obama or Bush, when decades in political life has been documented by the same people you end up "roping off." This political conundrum is highlighted within a recent PBS article titled "Clinton Is 'Worried' About Bernie Sanders -- But Should She Be?":
"We are worried about him, sure," Clinton Communications Director Jennifer Palmieri said Monday on MSNBC's Morning Joe. "He will be a serious force for the campaign, and I don't think that will diminish."

...Clinton is feeling some pressure, or, as Sanders' supporters like to say -- feeling the Bern.

Clinton sidestepped questions about Sanders specifically in her first national television interview Tuesday night with CNN -- but emphasized she has learned from the mistakes of 2008, when she appeared overconfident in the face of Obama's rising threat and didn't focus as much on on-the-ground organizing.
Clinton sidestepped questions in a recent CNN interview for the same reason she'll sidestep questions in future interviews; the answers might represent a liability to winning and to her campaign. Bernie Sanders, on the other hand, will relish any interview because his answers relate to the reasons thousands fill arenas to hear him speak.
However, are these energized crowds to see Bernie Sanders simply a blip on the radar of a long, arduous election season?
Is it time to take things into perspective and realize that a behemoth of a campaign can't possibly be challenged by grass roots organizations like People for Bernie?
Well, the notion that Bernie Sanders in any way resembles a 2003 Howard Dean (some have downplayed the recent surge as being short-lived) ignores this yell and the fact that Dean never packed arenas, or achieved the same momentum this early in the election cycle. As for FiveThirtyEight.com's recent analysis of Sanders winning Iowa and New Hampshire but perhaps having difficulties elsewhere, there are compelling points presented, however even more compelling issues are omitted. Their analysis ignores the fact that Killer Mike just endorsed Bernie Sanders, proclaiming the following:
It's official I support @SenSanders! His call 4 the restoration of the voters rights act sealed the deal for me.
In addition, Dr. Cornell West on Facebook stated in 2011 that "Senator Bernie Sanders is one of the few elected officials who is fundamentally devoted to dealing with the plight of poor & working people." As for the Latino vote, writer Cesar Vargas eloquently states that, "I am here to tell the Latino community that we need Bernie Sanders, and vice versa." Mr. Vargas's Huffington Post article expresses poignant reasons why Latinos and all Americans should vote for Bernie Sanders.
Finally, it speaks volumes that Killer Mike also posted the following on Instagram:
I will not support another Clinton or back a Bush. American political families are becoming a monarchy and this country needs no Kings or Queens.
When one of the most talented artists in rap music endorses a candidate addressing wealth inequality and the plight of working poor, FiveThirtyEight's analysis ignores an undercurrent of support from a demographic that can't be measured at this point in the election. Bernie Sanders and his civil rights work are compared to Hillary Clinton's work for Barry Goldwater in Killer Mike's Instagram, so the more people look into history, the more everyone will see Sanders's appeal to demographics other than "white liberals."
There's no number crunching metric that can evaluate the impact of an influential rap artist (who recently appeared on Bill Maher) backing a candidate in 2016, but in this world of social media and independent thought among a wide spectrum of young people, Killer Mike's endorsement speaks volumes.
Ultimately, the more coverage Bernie Sanders gets, the less coverage Hillary Clinton will desire, and voters will take notice. The more that wealth inequality, poverty and issues pertaining to Wall Street greed are debated in 2016, the better Bernie Sanders will look towards Americans of all demographics. If Sanders is going to be hurt politically by the label "Democratic-Socialist," then he's going to also be helped by that term with people struggling from systemic injustices and endemic poverty. When Clinton is "roping off" reporters (a public relations disaster) while Sanders continues to draw crowds ranging in the thousands, all demographics will take notice and lean towards the more open candidate. If early interaction with voters and journalists are any indication of the future, Bernie Sanders will indeed achieve one of the biggest upsets in American political history.
Popular in the Community