As the two Democratic presidential candidates engage in some of their sharpest attacks of the campaign, Sen. Bernie Sanders (I-Vt.) on Thursday affirmed that he would support opponent Hillary Clinton in the general election if she wins the nomination.
"Sure I will," he said, when pressed by CBS News' Charlie Rose in an interview. "Look, as I said a million times, I think the idea of a Donald Trump or a Ted Cruz presidency would be an unmitigated disaster for this country. I will do everything in my power and work as hard as I can to make sure that that does not happen. And if Secretary Clinton is the nominee, I will certainly support her."
Sanders has previously demurred when asked if he would support Clinton should she become the nominee, claiming it was too early to consider the possibility and that "we are in this thing to win."
Last month, he told the progressive network The Young Turks that he would make several policy demands of Clinton before supporting her, including that she back a $15-an-hour minimum wage, stronger financial regulation and a concerted effort to fight climate change. He also expressed reservations about her consistency on policy issues and her ties to oil and gas companies.
While Clinton remains more likely to win the nomination as she continues to lead Sanders in delegates, Sanders' string of recent primary and caucus wins have kept his hopes for the nomination alive. The two candidates will next face off in the New York primary on April 19, when 291 delegates will be up for grabs.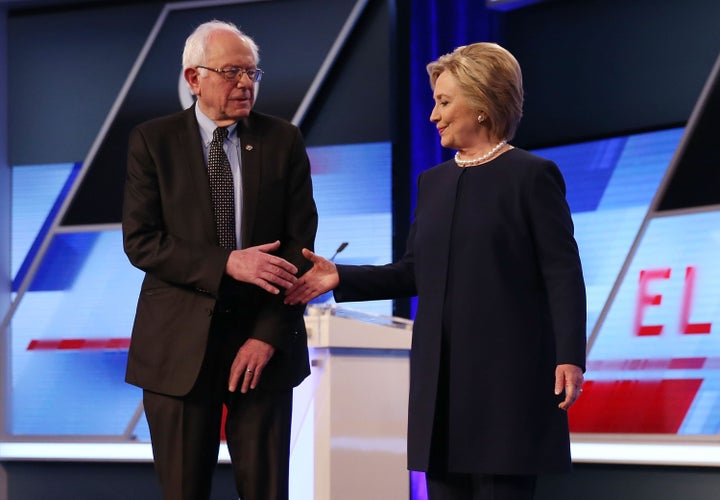 Ahead of the primary, the tone of the Democratic presidential race has turned ugly in recent days, with Sanders facing criticism for suggesting Clinton is not "qualified" to be president because her super PAC is "taking tens of millions of dollars in special interest funds" and she has supported trade deals that harm American workers.
Clinton's supporters fired back, citing her long career in public service, and Clinton called Sanders' comments "a silly thing to say."
On Thursday, when Rose asked him to clarify his remarks and suggested that the line of attack was "tit for tat," Sanders did not retract his statement and would not outright say if Clinton was unqualified, noting instead he was merely responding to reports she was questioning his own qualifications to be president.
"She has years of experience. She is extremely intelligent," he said. "You know, I have some experience too. I have a pretty good record in Congress, as a senator, as a mayor. I think I am qualified to be president. And so to answer your question, you're right. We should not get into this tit for tat. We should be debating the issues facing the American people. All I am saying, if the people are gonna attack us, if they're gonna distort our record, as has been the case time and time again, we're gonna respond."
Popular in the Community