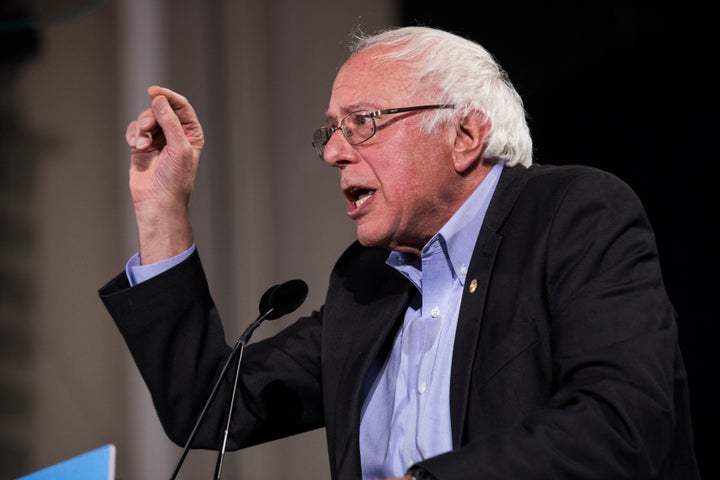 Sen. Bernie Sanders (I-Vt.) isn't going to comment on Hillary Clinton's (D) hair.
On Monday, The New York Times Magazine published an interview with the Democratic presidential candidate, where he was asked to weigh in on hashtags, Donald Trump and Clinton's 'do.
Sanders discussed his relationship with Black Lives Matter activists and his regret about the #BernieSoBlack hashtag, arguing he has "one of the strongest civil rights records in Congress." He called Trump's success in early polls -- in spite of his offensive comments about Mexicans, women and veterans -- "an embarrassment for our country."
But Sanders took issue with a final question about Clinton's hair.
"Do you think it's fair that Hillary's hair gets a lot more scrutiny than yours does?" interviewer Ana Marie Cox asked.
"Hillary's hair gets more scrutiny than my hair? Is that what you're asking?" Sanders clarified, before asking Cox whether she had any "serious questions."
Cox defended her question, referring to the "gendered reason" why Clinton's hair gets so much coverage. Sanders jumped back in before she could finish her thought:
"When the media worries about what Hillary's hair looks like or what my hair looks like, that's a real problem," Sanders said. "We have millions of people who are struggling to keep their heads above water, who want to know what candidates can do to improve their lives, and the media will very often spend more time worrying about hair than the fact that we're the only major country on earth that doesn't guarantee health care to all people."
Cox added that the media "pays more attention to what female candidates look like than it does to what male candidates look like."
"That may be. That may be," Sanders said. "And It's absolutely wrong."
CORRECTION: A previous version of this story misidentified Bernie Sanders as the 2016 Democratic nominee. He is a candidate.
Popular in the Community