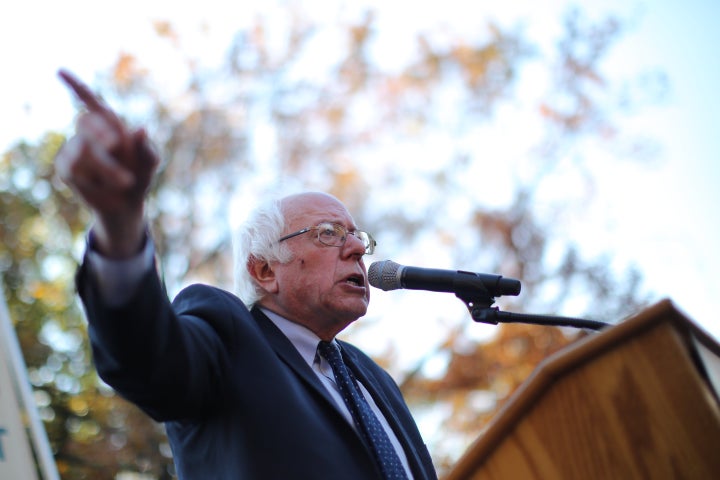 WASHINGTON ― Sen. Bernie Sanders (I-Vt.) received a tough reception from House Democrats on Wednesday morning, with many encouraging him to endorse Hillary Clinton and some showering him with boos when he declined to do so.
Coming a day after the FBI announced that it would not bring charges against Clinton for her use of a private email account while at the State Department, Sanders' meeting with the House Democratic caucus illustrated the fraying patience that a faction of the Democratic Party has for his still-going campaign. Several sources in the room confirmed the boos, with one member saying that lawmakers "were visibly annoyed that he was making this about him and not about winning an election for the American people."
A high-ranking aide called it a "lousy presentation" that was filled with "platitudes and no specifics," though Rep. Gerry Connolly (D-Va.) tried to downplay the tension in subsequent tweets.
A Sanders aide noted Connolly's tweets when asked for comment.
All told, the meeting lasted roughly 40 minutes, split nearly evenly between a presentation and a question-and-answer session. According to those in the room, House Minority Leader Nancy Pelosi (D-Calif.) opened the meeting by praising Sanders and the work he's done for the party in getting more young people involved in the process.
Sanders focused his presentation on the current draft of the Democratic Party platform, praising the compromise document that has been under negotiation in advance of the party's convention but also addressing areas where he'd like to see the party go further. Sanders expressed frustration that the document doesn't firmly oppose trade deals like the Trans Pacific Partnership, that the language on combating climate change isn't stronger and that there isn't a direct endorsement of a $15 federal minimum wage.
According to another high-ranking aide, members noted that Sanders had secured unprecedented sway over the platform and that his appointees to the committee had signed off on the draft. Rep. Maxine Waters (D-Calif.) specifically pushed the senator about his plans to break up the banks in addition to pressing him on his position on the TPP, noting that Clinton herself had said she would not sign the deal (after having touted it while serving as President Barack Obama's Secretary of State). The aide said that Sanders eventually acknowledged that he and Clinton had ended up in the same place, although Sanders' aide did not elaborate on what happened during the Wednesday meeting.
Sanders also addressed his opposition to the role that so-called superdelegates play in the Democratic nomination process, according to aides. On this front, he has earned support from a wide swath of the party, although members of the Congressional Black Caucus have been pushing back on the issue. Rep. James Clyburn (D-S.C.) made the case Wednesday that the matter had been studied before and that there was value to having party officials buffer the primary process.
A Democratic staffer who was in the room said Sanders came in with a conciliatory tone but became defensive when he felt that members were attacking him.
Things grew even testier when the topic turned from policy to politics. At some point during the question-and-answer session, members began asking Sanders for a timeline for when he would endorse Clinton. Some began chanting the word "timeline." Rep. Sanford Bishop (D-Ga.) was also pressing him on when he'd endorse.
Sanders repeatedly declined to offer a specific date, which resulted in some booing from the members.
"How do we unite?" asked Rep. Joyce Beatty (D-Ohio), according to the high-ranking aide. "You are the person who has me the most frustrated."
In a statement, Beatty later said: "During today's Democratic Caucus meeting, I asked Senator Sanders about his timeline to unite behind Secretary Clinton. Unfortunately, he did not give me or other members a clear answer. While I did not boo Senator Sanders, I did strongly encourage him to join with Democrats to continue to advance the issues he and I, along with many Americans, care so deeply about."
Rep. John Garamendi (D-Calif.) congratulated Sanders on his campaign and said that his supporters would be essential to defeating Donald Trump, according to his office. It was for that reason, the congressman said to Sanders, that his endorsement was so important for Clinton, and he inquired when and how he would offer his backing.
Sanders eventually responded that the goal was not to win elections. He paused at this juncture, at which point came the boos. "The goal is to transform America," he said. The Sanders aide said that members in the room applauded at that point.
Leaving the meeting, Sanders spoke briefly to reporters.
"My message was a simple message: We have got to fight for the needs of the middle class and working families of this country," he said. "We got to get people involved in the political process, we got to get a large voter turnout, and if we have a larger voter turnout, Democrats will regain control of the Senate and I believe they're gonna take the House back."
This piece has been updated with information from Reps. Garamendi and Beatty.
Popular in the Community