Democratic presidential candidate Sen. Bernie Sanders (I-Vt.) on Friday issued a scathing condemnation of draft legislation in the House of Representatives that aims to provide Puerto Rico with financial relief, taking a harder stance than his congressional colleagues in what has otherwise been an amicable legislative process.
Like many Democrats, the presidential hopeful singled out a provision that would establish a Washington-based federal oversight board to institute financial reforms in Puerto Rico. The island owes creditors $70 billion, and the bill says creating this board is a prerequisite for restructuring some of this debt and giving the territory access to other assistance.
But by calling for the bill's outright defeat, Sanders appears to distinguish himself as a populist advocate of the territory's suffering residents.
"Establishing an unelected oversight board that would be given the power to inflict even more economic pain on the 3.5 million American citizens in Puerto Rico would be a move in exactly the wrong direction," Sanders said in a statement sent via his campaign. "It must be defeated."
Rep. Rob Bishop (R-Utah), chairman of the House Committee on Natural Resources -- which has jurisdiction over Puerto Rico and other U.S. territories -- led the drafting of the bill with the blessing of House Speaker Paul Ryan (R-Wis.).
The bill says that a five-person federal oversight board would have the authority to audit the Puerto Rican government's finances and "work with the government to create efficiencies and reforms," according to a committee summary. If the board determined debt restructuring was "necessary" but the territory and creditors couldn't agree to terms, it would facilitate a court-supervised restructuring process.
Sanders, however, called for granting Puerto Rico the authority to extend federal bankruptcy protection to its municipalities. This would mean the territory wouldn't need to consult the board in order for it to enter a legal process that could force creditors to accept lower payments than what was originally owed -- a right enjoyed by the 50 states.
The Supreme Court will rule on a local Puerto Rico bankruptcy law. Should they be deemed legally permissible, the territory likely would be able to circumvent some of the congressional strictures.
"The people in Puerto Rico should not be asked to suffer even more, so that a handful of wealthy investors can become even wealthier," Sanders said. "Moreover, if any of Puerto Rico's debt was incurred in violation of its Constitution it must be immediately set aside."
Some economists, advocates and Puerto Rican lawmakers have also said the commonwealth should be able to nullify portions of its debt that were incurred in a breach of its Constitution, but U.S. politicians rarely invoke that argument.
Sanders' comments were a marked contrast to the more measured disagreement from Democratic House leaders.
House Minority Leader Nancy Pelosi (D-Calif.) said in a statement that the oversight board in its current form is "far from what Democrats can support," but made clear that she is interested in working with Republicans toward a compromise.
"We look forward to working with Speaker Ryan and Chairman Bishop to address the significant problems of this discussion draft, and to reach our goal of bipartisan, consensus legislation," Pelosi added.
The Obama administration, which has proposed offering Puerto Rico the power to restructure all of its debts, also offered tempered criticism of the bill. The "current draft needs improvements," the Treasury Department said in a statement.
A group of House conservatives known as the Republican Study Committee criticized the bill for creating conditions that could make it too easy for Puerto Rico to restructure its debts and force losses on creditors.
"The RSC has taken a clear position that unilaterally changing the rules to address Puerto Rico's fiscal irresponsibility is the wrong approach," group chairman Rep. Bill Flores (R-Texas) said in a statement.
Sanders' statement could be an attempt to position himself as a champion of Puerto Rico ahead of the April 19 Democratic presidential primary in New York, a state with one of the country's largest Puerto Rican populations.
Sanders currently trails Hillary Clinton in the state by 12 percentage points, according to HuffPost Pollster, down from a 31-point gap in the middle of March.
Clinton in the past has expressed support for allowing Puerto Rico to grant its municipalities and public corporations access to federal bankruptcy protections. When asked about reactions to the new bill, the Clinton campaign directed The Huffington Post to a tweet expressing dissatisfaction with Congress' inaction in helping Puerto Rico:
The debt crisis in Puerto Rico has prompted its government to adopt massive spending cuts and tax increases in recent years, which have made it virtually impossible for the island to recover economically. The commonwealth has an unemployment rate of nearly 12 percent, more than twice that of the mainland United States. The poor economy and loss of public services like hospitals and schools have prompted a mass exodus of the island's residents, all of whom have U.S. citizenship, to the mainland.
This article has been updated with comment from the Clinton campaign.
Before You Go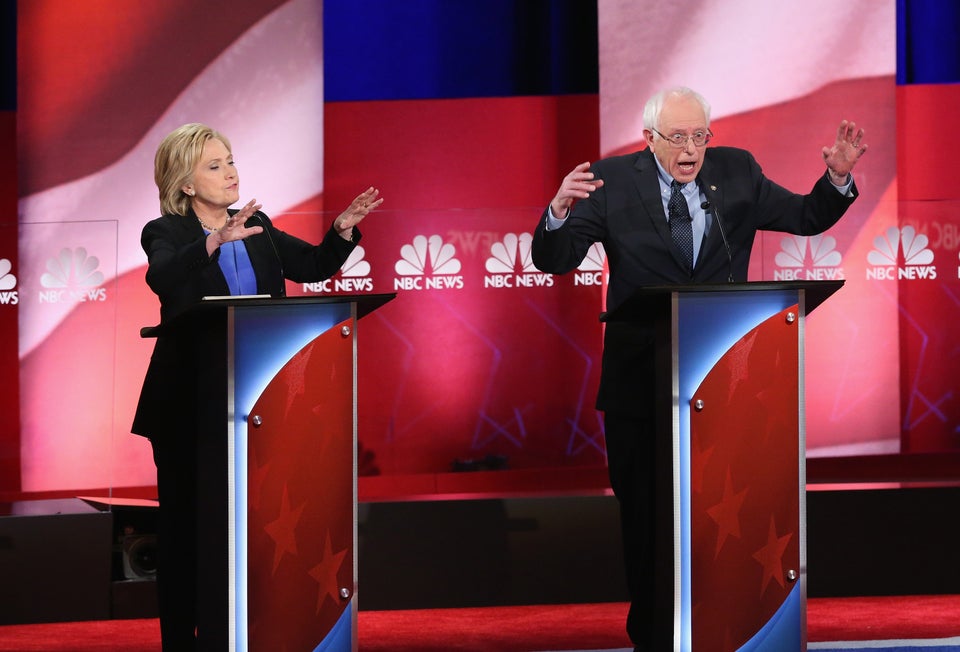 Bernie Sanders And Hillary Clinton Face Off
Popular in the Community