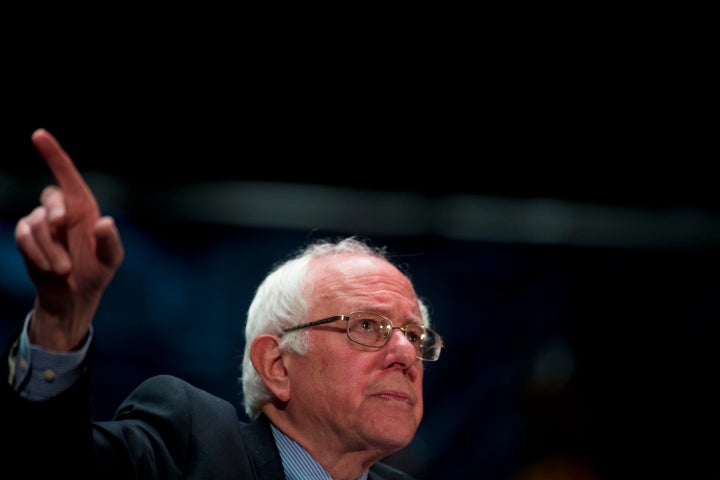 The fight to shut down a controversial family immigrant detention center in Pennsylvania received high-profile support on Thursday from Democratic presidential candidate Bernie Sanders, who mentioned the issue during a campaign event ahead of the state's primary.
Sanders, a Vermont independent senator, told a crowd in Reading, Pennsylvania, that he believes "that it's time to shut down" the nearby Berks County Residential Center.
"The government should not be in the painful and inhumane business of locking up families who have fled unspeakable violence in Honduras, Guatemala, El Salvador and other countries throughout the world," he said. "Instead we should treat these families with the compassion, the dignity and the respect they deserve."
Sanders has previously called for an end to family immigrant detention, which ballooned in 2014 after a surge in the number of mothers and children apprehended at the U.S.-Mexico border. But highlighting Berks was significant for advocates in the state who have been working hard to get families, many of whom are seeking asylum in the U.S., out of detention.
Berks is one of the nation's three family immigrant detention centers. Two others, established in 2014, are located in Karnes County, Texas, and Dilley, Texas. The Texas centers are far larger and privately operated, while the Berks facility is owned by the county and operated by Immigration and Customs Enforcement.
But Berks is no less controversial. Advocates have raised questions about conditions and medical care there. Last week, a former employee was sentenced to prison for institutional sexual assault of a 19-year-old detainee in 2014.
The Pennsylvania Department of Human Services announced in January it would not renew the Berks facility's operating license as a child residential center because it was being used to hold immigrant families, rather than only children. Berks County appealed that decision.
The Berks County Commissioners' Office referred questions to Immigration and Customs Enforcement. ICE spokesman Khaalid Walls said operations will continue while the appeal is pending. 

Before Sanders' rally, attorney Bridget Cambria, who works with families in Berks, asked Sanders about whether he believes the facility should be shut down, given the licensing issue. Sanders did not seem to know about the specific situation, but said he supported closing it.
"This is part of the broken criminal justice system. ... I will do my best to stop the deportations, to shut down private detention centers, and I'm hearing now that the state feels that this detention center should not have a license," he said in video posted by the advocacy group Make the Road Pennsylvania.  
Adanjesus Marin, director of Make the Road Pennsylvania, introduced Sanders at the event and applauded the local community for going "toe to toe with ICE and [demanding] an end to family detention in Berks county and across this whole nation." Make the Road Pennsylvania and its political arm have not endorsed a candidate. Marin is also chair of the Working Families Pennsylvania PAC, which endorsed Sanders.
Marin said Friday that groups dedicated to closing Berks gathered more than 1,000 signatures for a petition to shut down the facility at the Sanders event.
Erika Almiron, executive director of the immigrant rights nonprofit Juntos, said in an interview Friday that she hopes other candidates will call out Berks specifically as well. Clinton has similarly called broadly for an end to family detention.
"It shows how important the issue is," Almiron said of Sanders' remarks. "This isn't just a local issue, this is a national and global issue."
REAL LIFE. REAL NEWS. REAL VOICES.
Help us tell more of the stories that matter from voices that too often remain unheard.
BEFORE YOU GO
PHOTO GALLERY
The Obama Administration's Controversial Use Of Family Immigrant Detention