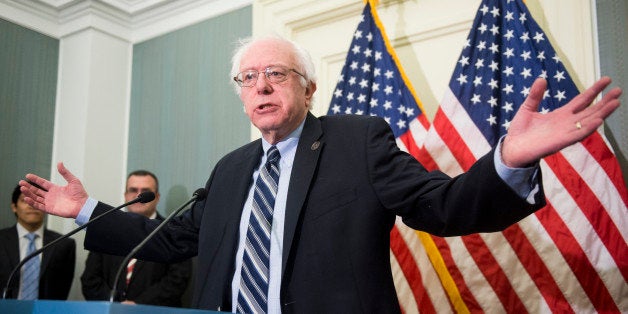 Americans want soldiers to protect them from ISIS and other threats, but who's protecting our veterans? Who in Congress or in the 2016 presidential race will bring home the hundreds of American soldiers sent back to Iraq by President Obama? Senator Bernie Sanders is against sending Americans into perpetual wars and as The Boston Globe writes, "many veterans believe he's gone to war for them." A recent article titled Bernie Sanders' surge is partly fueled by veterans explains how this member of the Veterans' Affairs committee has spent his entire career working to help veterans and their families:
DES MOINES -- Vermont's Bernie Sanders railed against the Vietnam War. He voted against invading Iraq -- both times...

He might not be a friend to the military, but many veterans believe he's gone to war for them...

There's the former Marine who drove about six hours to hear Sanders speak in Des Moines. There's another former Marine, this one a registered Republican, going door-to-door to collect signatures so Sanders' name will appear on the ballot in Indiana. Entire Reddit threads are dedicated to how veterans can best pitch Sanders to other veterans...

"He is revered," said Paul Loebe, a 31-year-old who served in both Iraq and Afghanistan during eight years of active duty and spends three hours a day updating a Facebook page promoting Sanders to veterans. "He's very consistent with where he stands. He's the first politician that I've believed in my life."
While CNN published an article titled Poll: Clinton's honesty and trustworthy problem extends to swing states, Senator Bernie Sanders has no such trust dilemmas with veterans. Even in 2003, with 72% of Americans supporting the Iraq War, Sanders still had the foresight to vote against sending Americans into a quagmire. In early 2015, when 62% of registered voters supported sending American ground troops to fight ISIL, Sanders stated that Muslim countries should send their own ground troops to fight ISIL, not America. Because he's consistently put principles above poll numbers or political expediency, Sanders is the only candidate in 2016 willing to protect American soldiers and their families from perpetual counterinsurgency wars like Vietnam and Iraq.
In early 2014, 41 Republican Senators blocked a landmark healthcare bill for veterans, conveniently forgetting that they never had a problem justifying hundreds of billions to wage war. Senator Richard Burr protested the healthcare legislation, stating "Now is not the time, in any federal department, to spend money we don't have." This, of course, was after Republicans (and some Democrats) voted for wars in Iraq and Afghanistan that Harvard University estimates cost $6 trillion, and could far exceed $7 trillion in "interest payments" by 2053.
Years earlier, Republicans blocked a bill giving soldiers more time between troop deployments, causing increased combat stress, a suicide epidemic, and higher rates of PTSD for American soldiers. According to USA Today, "American soldiers of the 21st century are quietly making history, serving in combat longer than almost any U.S. soldiers in the nation's past, military historians say." When a veterans' suicide prevention bill was introduced to Congress in 2014, Republican Senator Tom Coburn declared, "I'm going to be objecting to this bill because it actually throws money away" and singlehandedly blocked the Clay Hunt Veterans Suicide Legislation. Although the GOP claims to "support the troops," Paul Ryan will cut veterans programs and veterans groups wrote scathing letters in 2014 to Senator Richard Burr.
Bernie Sanders fought Republicans to make the Clay Hunt bill a reality and also stood up to Jeb's brother and hawkish Democrats over a decade earlier by stating, "I am opposed to giving the President a blank check to launch a unilateral invasion and occupation of Iraq... I will vote against this resolution." Unlike Clinton and Jeb Bush, Bernie Sanders knew Iraq would be unlike WWII and other conventional wars; few others in Congress were correlating our invasion with an "occupation" in 2003. According to the U.S. Army's Tactics in Counterinsurgency, wars like Iraq require American soldiers not only to win military battles, but also change the political culture and social dynamics of the nations we occupy:
At its heart, a counterinsurgency is an armed struggle for the support of the population...

However, military units alone cannot defeat an insurgency.

Most of the work involves discovering and solving the population's underlying issues, that is, the root causes of their dissatisfaction with the current arrangement of political power.
Bernie Sanders knew back in 2003 that bombs alone wouldn't be able to address "the root causes of their dissatisfaction with the current arrangement of political power." This is part of the reason Georgetown University published a report titled, Making Maliki and Karzai: How Washington Produced Unhelpful Allies In The Middle East.
As for how Bernie Sanders differs from others on war, the Vermont Senator isn't willing to succumb to America's intense fear of terrorism and other national security threats. In a brilliantly written essay by Col. Gregory A. Daddis titled Afraid of Peace, the professor of history at the United States Military Academy explains why Americans must jettison their fears for a more pragmatic approach to foreign policy:
After more than a decade of war, the time has come for us to move beyond our state of national insecurity. Paranoia does not equal preparedness...

We need to stop conforming to the relentless militarization afflicting our national mental health. And, above all, we need to stop being so afraid.
It's this perspective that Bernie Sanders brings to voters tired of Bush, Obama, and the likelihood of Hillary Clinton sending even more troops back to the Middle East. With everything our veterans have endured in Iraq and Afghanistan, Jeb Bush still claims, "I would have [authorized the invasion], and so would have Hillary Clinton, just to remind everybody." While Bush relishes the opportunity to mention Hillary Clinton's Iraq War vote, few GOP candidates will be able to attack Senator Bernie Sanders in the same manner.
Ultimately, close to 4,500 Americans died in Iraq, over 32,000 Americans were wounded in combat, and close to two-thirds of Americans killed or wounded in combat in Iraq and Afghanistan were the victims of IED blasts. Unlike Clinton, Sanders had the wisdom to vehemently oppose the Iraq War, as evident in his stirring 2003 House of Representatives speech:
Mr. Speaker, I do not know why the President feels, despite what our intelligence agencies are saying, that it is so important to pass a resolution of this magnitude this week...

Fifth, I am concerned about the problems of so-called unintended consequences. Who will govern Iraq when Saddam Hussein is removed and what role will the U.S. play in ensuing a civil war that could develop in that country?

Will moderate governments in the region who have large Islamic fundamentalist populations be overthrown and replaced by extremists?
If wisdom, character and foresight are hallmarks of great leaders, then Bernie Sanders illustrated all three attributes by foreshadowing the repercussions of Iraq. Also, Sanders never used "intelligence reports" as an excuse, like Clinton, Cheney, Bush, and others.
History shows Bernie Sanders was right. Hillary Clinton, Dick Cheney and others were wrong, and America and the Middle East are still experiencing the consequences of neoconservative foreign policy. Speaking of neocons, The New York Times published an article about neoconservatives aligning themselves with Hillary Clinton. The New York Times also published another piece quoting one conservative historian saying, "If she pursues a policy which we think she will pursue, it's something that might have been called necon, but clearly her supporters are not going to call it that; they are going to call it something else." The Nation published an article titled A Hawk Named Hillary and Salon published a piece asking Clinton not to "join forces" with neocons. Therefore, Vox could be correct in stating Hillary Clinton will pull the Democrats and the country in a hawkish direction.
In contrast, Bernie Sanders says "I'll be damned" if Americans lead the fight against ISIS and believes Arab countries in the region should use their own ground troops to protect their own interests. Unlike Bush and Clinton, he won't send Americans back into unwinnable wars. Senator Bernie Sanders will win the presidency in 2016 because Americans across the nation have had enough of fear, endless counterinsurgency conflicts, and poll-driven decisions on war and foreign policy.