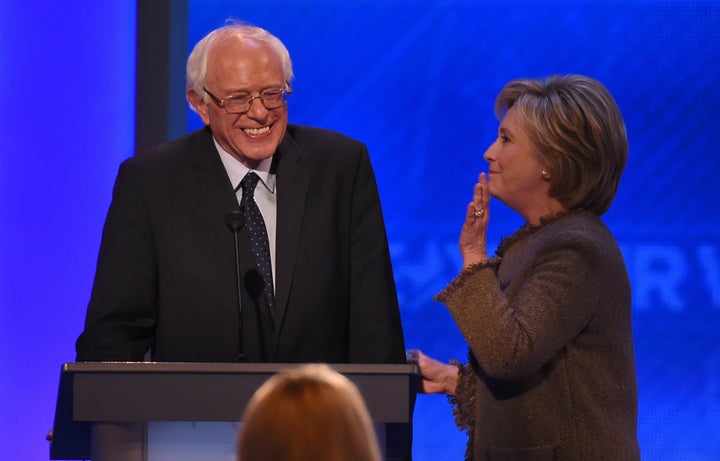 New polls show that Sen. Bernie Sanders (I-Vt.) is ahead of Democratic rival Hillary Clinton in New Hampshire and gaining on her in Iowa, with early voting in both states less than a month away. 
Sanders now stands 14 percentage points ahead of Clinton in New Hampshire, according to a Monmouth University poll of likely Democratic primary voters released Tuesday. 
Sanders' position has improved across all demographics since Monmouth last surveyed voters about two months ago, and he even has overtaken Clinton's lead among women.
Fifty-two percent of those polled said they are firm in their decision at this point in the race -- but it's important to keep in mind that polls are still volatile.
A Fox News poll conducted just days before the Monmouth poll shows Sanders with a 13-point lead over Clinton ahead of the primary but two others show him with a considerably smaller lead: An ARG poll finds him just 3 points ahead of the former secretary of state, while a NBC/WSJ/Marist poll has him leading her by 4 points. 
Sanders and Clinton are polling at 50 and 44 percent, respectively, according to the HuffPost Pollster aggregate of New Hampshire polls. 
Polls show a neck-and-neck race in Iowa ahead of its caucus, with Sanders continuing to make significant gains. 
Sanders is polling at 49 percent and Clinton at 44 percent, according to a Quinnipiac poll released Tuesday. This represents a 9-point jump for the Vermont senator and a 7-point decline for Clinton since December.
Similarly, an ARG poll released Monday shows him 3 points ahead. 
However, Democratic firm Public Policy Polling also released a poll on Tuesday finding Sanders, with 40 percent of the vote, stuck behind Clinton, who has 46 percent. Still, he has gained 6 points while she has lost an equal amount in a month's time, according to results from a December PPP poll.  
The Iowa race is certainly competitive, with HuffPost Pollster's average of all publicly released polling data in the state showing Clinton standing just 4 points ahead of Sanders. 
Monmouth University, NBC/WSJ/Marist, ARG, Quinnipiac and Fox used live interviewers to call both landlines and cell phones to reach respondents. PPP conducted interviews using automated calling technology to landlines as well as contacting a smaller sample online. More information on each poll's methodology can be found by clicking the links in the story.
Calling all HuffPost superfans!
Sign up for membership to become a founding member and help shape HuffPost's next chapter