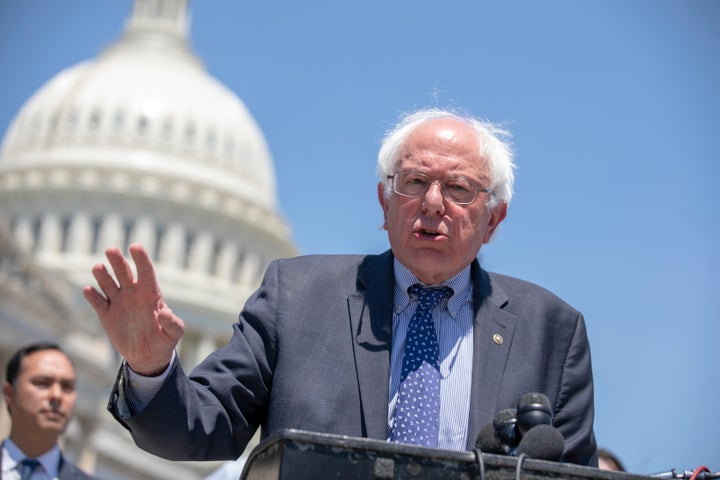 WASHINGTON ― Sen. Bernie Sanders (I-Vt.) congratulated Amazon CEO Jeff Bezos on Tuesday for announcing he would raise wages to $15 per hour for all Amazon employees.
Since August, Sanders had waged an aggressive shame campaign against the company, the second largest employer in the United States, for paying wages low enough that some workers qualify for safety net benefits such as food stamps.
"It is no secret that I have been a harsh critic of the wage and employment practices of Amazon and its owner Jeff Bezos," Sanders said in a statement, essentially a declaration of victory.
"Today I want to give credit where credit is due," he said. "And I want to congratulate Mr. Bezos for doing exactly the right thing."
"We listened to our critics, thought hard about what we wanted to do, and decided we want to lead," Bezos said. "We're excited about this change and encourage our competitors and other large employers to join us."
Sanders has personally targeted Bezos, criticizing the billionaire for paying low wages while being the world's richest man. The senator had even introduced legislation called the Stop BEZOS Act. The bill, which had no chance of passing and was designed to draw attention to Sanders' Amazon criticism, would tax large companies for every dollar their workers receive in safety net benefits like food stamps.
At a press conference in September where he formally introduced the bill with Rep. Ro Khanna (D-Calif.), Sanders said Bezos could set a great example by raising wages.
"Bezos could play a profound role ― not only at Amazon but as one of the largest corporations in America ― if he said today that nobody who is employed at Amazon will receive less than a living wage," Sanders said. "It would send a message to every corporation in America that that's where we should be going as a nation."
Bezos apparently took the suggestion, saying that not only should other companies follow his lead, but that the federal government should also raise the minimum wage.
The move also comes as labor markets have been tightening, which theoretically should put upward pressure on wages across the board. Several states and cities have also passed laws increasing their minimum wages. The federal rate has been stuck at $7.25 since 2009.
"We intend to advocate for a minimum wage increase that will have a profound impact on the lives of tens of millions of people and families across this country," said Amazon spokesman and former White House press secretary Jay Carney.