The two spent a good part of the day together in Atlanta last month, talking politics at the rapper's barber shop, the SWAG Shop, eating at a famous local soul food joint and speaking at a rally for supporters of Sanders' campaign.
Their conversation touched on economic freedom, criminal justice reform, Republican presidential candidate Donald Trump's racist fear-mongering, marijuana legalization, Hillary Clinton and other topics.
The two differed on whether people should be able to carry assault weapons -- Killer Mike believes they should, Sanders doesn't -- but otherwise emphatically agreed on every point.
Here are some of the highlights:
Killer Mike pointed out that the conversation happened because he tweeted about it.
"I'm literally here on a tweet -- I'm here because I tweeted I thought your ideas were progressive and I'd love to have a conversation with you," he said.
He asked Sanders what "socialism" means, since Sanders identifies as a democratic socialist.
"To be truly free, you need economic rights," Sanders said. "In the richest country in the history of the world, Mike, which is what we are right now, we can do infinitely better in providing economic rights for our people."
Killer Mike and Sanders discussed why people vote against their own economic interests, and then the conversation transitioned to former Secretary of State Hillary Clinton, Sanders' rival for the Democratic nomination.
"I'm running against a woman who's probably the best-known woman in the United States of America, all right? It's a tough fight, but we're doing pretty well," Sanders said.
"You brought it up. I wasn't going to mention Hillary, and I'm not going to talk long. But are we in this country in danger of creating essentially monarchs of political families?" the rapper asked. (Sanders didn't directly answer the question.)
Killer Mike and Sanders talked about how the senator organized with the Student Nonviolent Coordinating Committee when he was a student at the University of Chicago in the 1960s.
When Sanders asked Killer Mike what he thinks about how the federal Controlled Substance Act says that marijuana, classified as a Schedule 1 drug, is just as dangerous as heroin, the rapper's response was that he's a marijuana smoker and "that is absolute bullshit."
Sanders argued that Trump's racist and Islamophobic comments "play on people's fear and anxiety."
Killer Mike -- who, as he tells it, "likes guns a lot," and is a member of the National Rifle Association -- asked Sanders about his position on gun control. They disagreed about whether people should be allowed to carry assault weapons, but agreed that background checks should be completed on private gun sales at gun shows.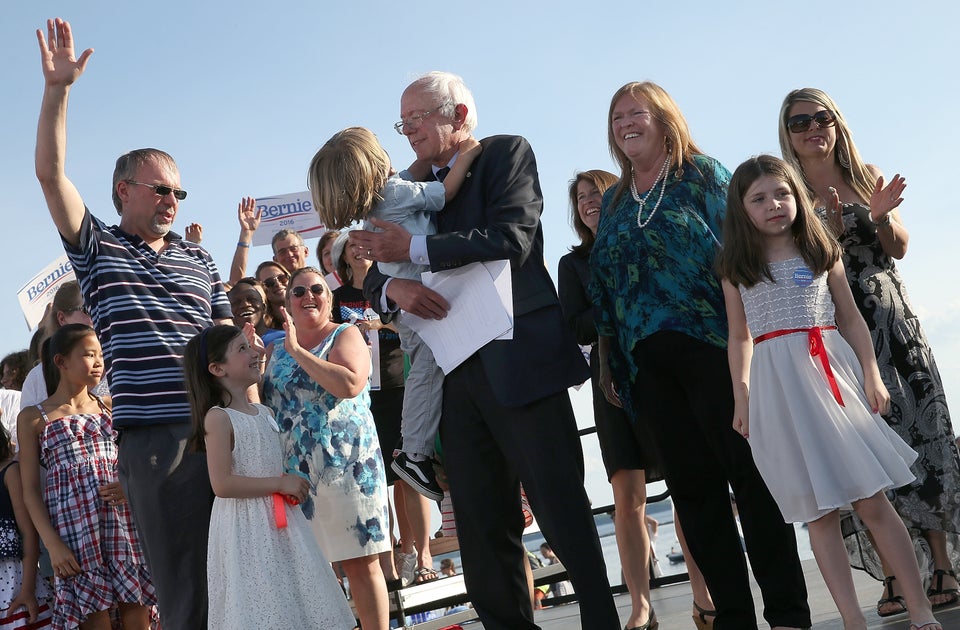 Bernie Sanders On The Campaign Trail