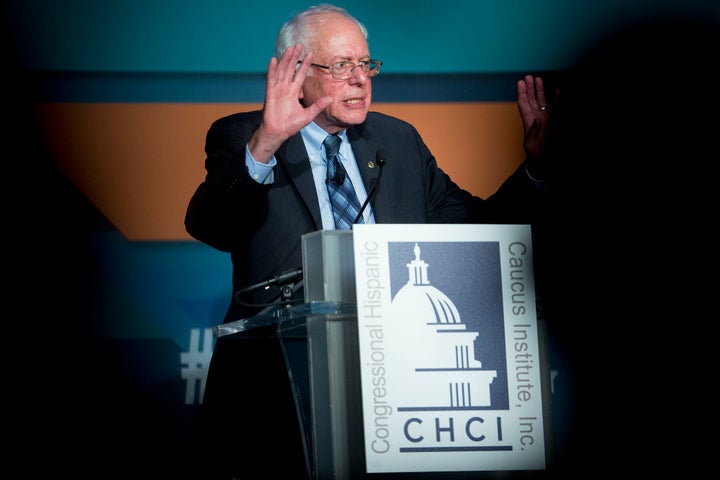 WASHINGTON -- Democratic presidential candidate Sen. Bernie Sanders (I-Vt.) acknowledged Wednesday that his campaign has more work to do to win over Latino voters -- in part because the state he has represented for decades isn't home to many of them.
"Let me be very honest with you. I come from a state, the state of Vermont, [and] it's a small state; there aren't a lot of Latino people," he told reporters after speaking at the Congressional Hispanic Caucus Institute's annual Public Policy Conference.
"What we are trying very, very hard to do -- you are going to see us moving very aggressively in that area -- is introduce myself to the Latino community," Sanders continued. "I will fight for every vote I can get in the Latino community."
Sanders was one of three presidential candidates to speak at the conference of Latino leaders and young people on Wednesday, along with former Maryland Gov. Martin O'Malley (D) and former Virginia Gov. Jim Gilmore (R). Democratic candidate Hillary Clinton will appear on Thursday to present an award, but she will not be giving a long address.
Clinton is the most popular candidate among Latino voters, in spite of efforts by Sanders and especially O'Malley to court them. A September poll by NBC News, The Wall Street Journal and Telemundo found that 53 percent of Latino voters viewed Clinton favorably, while 30 percent viewed Sanders favorably.
That could be partly due to name recognition, although Clinton also did well with Latinos during her 2008 campaign. Gallup polling in August found that she had the highest favorability rating among Latinos of any candidate. But the same survey found that only 25 percent of Latinos were familiar with Sanders, and just 14 percent knew of O'Malley.
Both candidates have taken steps to improve their Latino outreach. Sanders appointed prominent activist Arturo Carmona as his Latino outreach director last week. O'Malley previously brought on board President Barack Obama's former campaign director of Hispanic media, Gabriela Domenzain, and has made immigration a prominent part of his stump speech.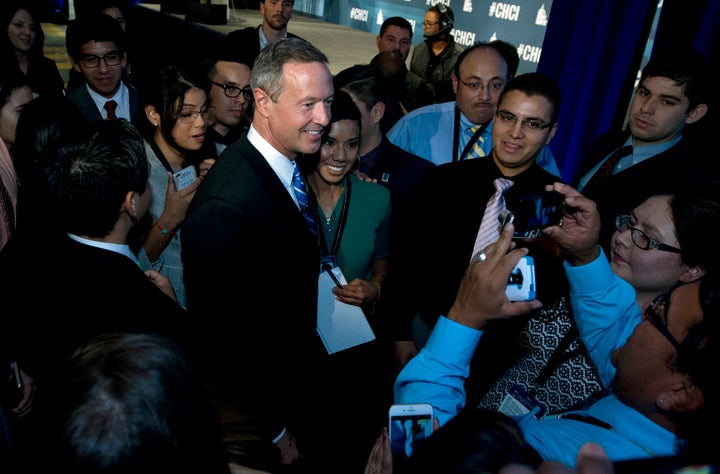 Other than Gilmore, every Republican candidate invited to speak at the event either declined or did not reply, according to organizers. The group intentionally excluded Republican businessman Donald Trump over his rhetoric about Latinos.
Trump was a frequent punching bag in the speeches by Sanders, O'Malley and Gilmore, who either named him or made an allusion to him. In his speech, Sanders again condemned Trump's statement that many Mexican immigrants are rapists and criminals.
"That is not the kind of debate and discussion we need in America today," Sanders said. "That is racism. That is unacceptable."
O'Malley said in his own speech that Trump's statements about immigrants were "harmful to the spirit of America."
"You can dismiss Donald Trump as the racist carnival barker he is," O'Malley told the crowd. "But the problem is that he has infected the entire Republican field of candidates, and they want to be like him."
Gilmore, the lone GOP candidate at the conference, was clearly eager to prove that was not the case. The former governor's low polling numbers made him ineligible to participate in the most recent Republican debate, but he used his speech to condemn Trump for calling to end birthright citizenship for the American-born children of undocumented immigrants, as well as Trump's plans for mass deportation.
"To accomplish that goal, Trump would turn America into a police state with tens of thousands of police and informants prying into every household to identify and seek to deport our neighbors," Gilmore said. "That is not America."
His speech wasn't entirely undocumented immigrant-friendly, however. Gilmore also criticized Obama's "amnesty" policies, which protect some longtime residents from deportation, and vowed he would not support a path to citizenship for people already in the United States.
CORRECTION: An earlier version of this article incorrectly stated that Gilmore was ineligible to participate in any of the debates. He participated in the first Fox News "kids table debate" in August.
REAL LIFE. REAL NEWS. REAL VOICES.
Help us tell more of the stories that matter from voices that too often remain unheard.