In a Monday address to students at Virginia's evangelical Liberty University, Democratic presidential candidate Sen. Bernie Sanders (I-Vt.) quoted Bible passages to make the case that it's neither moral nor just for the United States to facilitate extreme levels of economic inequality.
Sanders' visit to the Lynchburg, Virginia, school was relatively unexpected, since the university's thrice-weekly mandatory convocations usually feature guests of a Christian and/or conservative bent. But Sanders, who is Jewish and a self-described democratic socialist, said that he believed his speech to the institution was important because "it is easy to go out and talk with people who agree with you."
Liberty had invited Sanders specifically to dispel the notion that it only hosts conservative speakers, according to The Washington Post.
"I came here today because I believe from the bottom of my heart that it is vitally important for those of us who hold different views to be able to engage in a civil discourse," Sanders said Monday. "Too often in our country, and I think both sides bear responsibility for [this], there is too much shouting at each other."
Sanders began his speech by immediately acknowledging that he believes in marriage equality and in a woman's right "to control her own body." But he went on to argue that on issues like income inequality, childhood poverty, youth unemployment and access to health care, he and religious conservatives should be able to find some common ground.
To do so, he cited Matthew 7:12, otherwise known as the golden rule -- "In everything, do to others what you would have them do to you" -- and Amos 5:24, "Let justice roll on like a river, righteousness like a never-failing stream."
"When we talk about morality, and when we talk about justice, we have to, in my view, understand that there is no justice when so few have so much, and so many have so little," Sanders said. "Put this in the context of the Bible, not me."
The senator then gave a version of his traditional stump speech, discussing various policy points in terms of morality and justice. For example, he noted that the people in the audience believed in "family values," and then argued that it is inhumane for the United States to be the world's only developed country that doesn't guarantee some form of paid maternity leave after a woman gives birth.
"It is imperative that we have the courage to stand with the poor, to stand with working people, and, when necessary, take on very powerful and wealthy people whose greed is doing our country enormous harm," he said.
While Sanders received polite applause for many of his points, the loudest and most enthusiastic crowd feedback came when the senator was asked about his support for abortion during a question-and-answer session. He was asked how he reconciles his views on the procedure with his belief in defending the vulnerable.
Sanders' response was that it's hypocritical for conservatives to demand less government intervention in every matter except reproductive rights.
"I do believe that it is improper for the United States government to tell every woman in this country the very painful and difficult choice she has to make on this issue," he said.
He then segued into an argument against Republican budgets that give tax breaks to the wealthy while cutting funding for Pell grants and nutrition programs for children.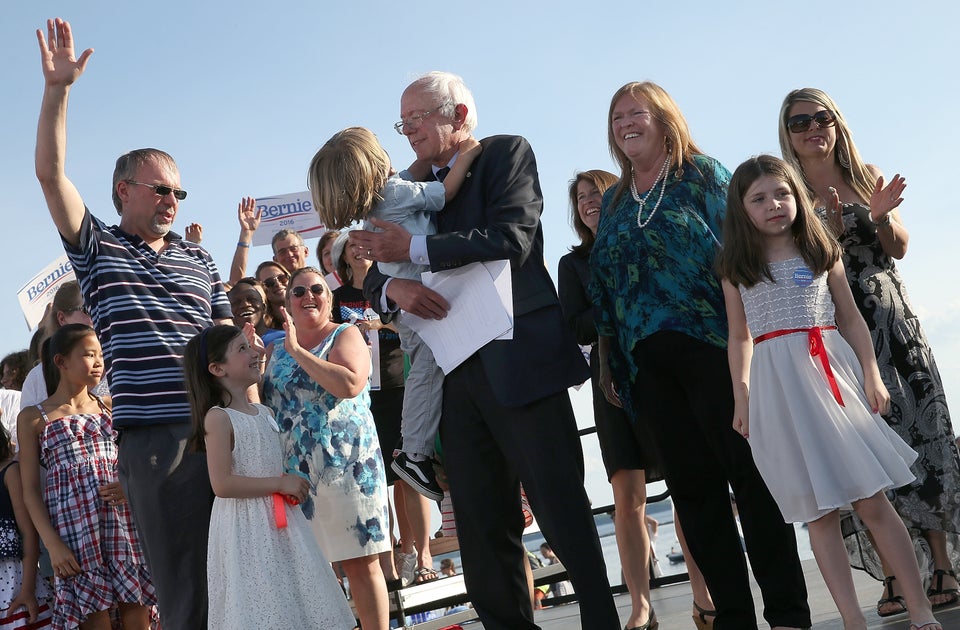 Bernie Sanders On The Campaign Trail