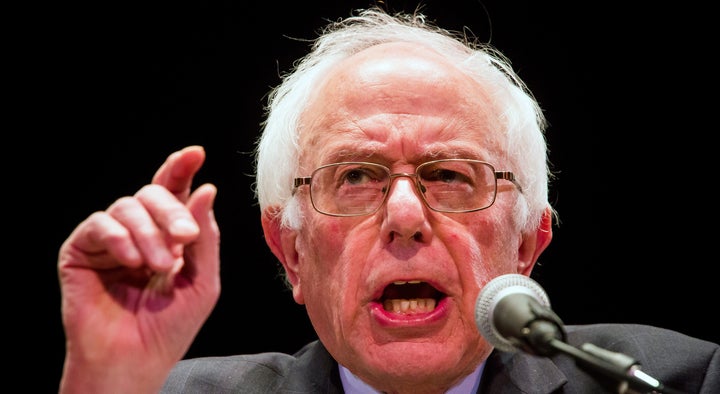 WASHINGTON -- Presidential hopeful Bernie Sanders on Tuesday sharply criticized Democratic front-runner Hillary Clinton during a fiery Manhattan speech about Wall Street reform.
Most of Sanders' barbs were directed at the banking world. The socialist senator from Vermont reiterated his call to break up the biggest banks, declared that "fraud is the business model on Wall Street," and elicited a round of enthusiastic boos from the crowd by invoking JPMorgan Chase CEO Jamie Dimon as a villain of the 2008 financial crisis.
"To those on Wall Street who may be listening today -- and I'm sure there aren't many of them -- let me be very clear: Greed is not good," Sanders said, in a reference to the film "Wall Street." "If a bank is too big to fail, it is too big to exist."
But some of Sanders' harshest rhetoric was reserved for Clinton.
"Wall Street makes huge campaign contributions, they have thousands of lobbyists and they provide very generous speaking fees to those who go before them," Sanders said, in a not-so-subtle reference to lucrative talks Clinton gave at Goldman Sachs, Morgan Stanley and private equity firms after finishing her tenure as secretary of state.
"My opponent says that, as a senator, she told bankers to 'cut it out' and end their destructive behavior," Sanders said. "But, in my view, establishment politicians are the ones who need to 'cut it out.' The reality is that Congress doesn't regulate Wall Street --"
Familiar with the line, the pro-Sanders crowd interrupted him to complete the slogan: "Wall Street regulates Congress!"
Clinton holds a commanding lead over Sanders in national polls and has generally dominated the Democratic debates. But she has repeatedly stumbled over Wall Street accountability -- an important issue for the progressive base elevated by Sen. Elizabeth Warren (D-Mass.), one of the most popular figures in the Democratic Party. Clinton has resisted calls to break up big banks, while simultaneously insisting that her bank reform agenda is tougher than that of Sanders. Clinton has emphasized her plan's focus on beefing up the regulation of so-called "shadow banking" -- financial transactions that take place outside of traditional banks at institutions similar to Lehman Brothers and AIG, which collapsed during the 2008 crisis. During a November debate, Clinton bizarrely argued that her work in the aftermath of the Sept. 11 terrorist attacks explained her hefty campaign cash haul from the banking sector.
During his speech, Sanders emphasized that his "break up the banks" platform includes shadow banks and any other financial institution large enough to threaten the broader economy.
"I will require the secretary of the Treasury Department to establish a 'too-big-to fail' list of commercial banks, shadow banks and insurance companies whose failure would pose a catastrophic risk to the United States economy without a taxpayer bailout," Sanders said. "Within one year, my administration will break these institutions up."
Clinton campaign CFO Gary Gensler -- one of the most celebrated financial regulators of the post-crash era -- responded to Sanders in a written statement.
"We are pleased to see that Senator Sanders is finally talking about the importance of dealing with risks posed by activities in the shadow banking system," Gensler said. "Unfortunately, however, he failed to put forward a single new proposal that addresses those risks. We already knew that Senator Sanders wants to break apart financial institutions."
Gensler's statement is not true, nor was a pre-emptive statement he issued ahead of Sanders' speech. Sanders call for a financial transactions tax would indeed impact shadow banks, even if it is not a new proposal from him. The Clinton campaign has also previously insisted that Sanders' break-up-the-banks call does not apply to shadow banks.
The barbed words for Clinton reveal an escalation in Sanders' rhetoric as the primary contest nears the first-in-the-nation caucus in Iowa on Feb. 1. Clinton's most effective attack lines against Sanders have focused on his mixed gun control record, but both she and her campaign have turned up the temperature in recent weeks. They've suggested the Sanders team may have committed crimes during a recent Democratic National Committee data breach, accused Sanders of subsidizing rich families with his plan for free tuition at public colleges and universities, and invoked questionable numbers from the conservative Wall Street Journal editorial board to critique his Medicare-for-all health care proposal.
Sanders isn't backing down from his college plan. On Tuesday, he said it would be funded by a small tax on every Wall Street trade. Sanders' financial transactions tax is a broader version of Clinton's plan to tax risky, economically useless high-frequency trading. Sanders also called for the post office to offer basic financial services to low-income Americans, alleviating the demand for expensive, predatory loans from payday lenders.
Clinton holds a 15-point lead over Sanders in Iowa, according to HuffPost Pollster's average of presidential polls, while Sanders holds a narrow lead over Clinton in New Hampshire, which will host its primary the week after Iowa's contest.
Zach Carter is a co-host of the HuffPost Politics podcast "So That Happened." Subscribe here, or listen to the latest episode below:
Popular in the Community