In a call to arms designed to further affirm his populist credentials and distinguish himself in a crowded primary field, Sen. Bernie Sanders (I-Vt.) committed on Wednesday to reject contributions of $200 or more from executives at the country's pharmaceutical and health insurance companies, as well as the political action committees and lobbyists who represent them.
He then challenged his fellow contenders for the Democratic presidential nomination to pledge the same, dedicating a new webpage on his campaign site to the appeal.
"If we are going to break the stranglehold of corporate interests over the health care needs of the American people, we have got to confront a Washington culture that is corrupt ― that puts profits ahead of the needs of the American people," he said toward the end of a speech about "Medicare for All" to an audience of cheering supporters in Washington. "And that is why today I am calling on every Democratic candidate in this election to join me in rejecting money from the insurance and drug companies. Reject that money!"
Sanders went on to suggest that those who did not reject that money should have to explain why the health care industry sees their candidacy as a "good investment."
Sanders' rivals in the Democratic primary are already in compliance with key elements of his pledge. All 24 Democratic candidates have rejected corporate PAC money of all kinds; 14 of them, including the leaders in the polls, have also renounced contributions from federal lobbyists.
HuffPost asked a number of the leading presidential campaigns whether they were prepared to reject contributions over $200 from executives in the pharmaceutical and health insurance industries. The campaign of Sen. Elizabeth Warren (D-Mass.), a fellow proponent of Medicare for All, said it would do so.
Sen. Cory Booker (D-N.J.) has rejected donations from top pharmaceutical company executives and corporate board chairs since 2017, though his campaign did not immediately say whether he would do the same for health insurance companies.
The campaign of Sen. Kamala Harris (D-Calif.) said she already rejects the contributions of pharmaceutical executives, but likewise did not specify whether she would bar health insurance executives from doing so as well.
Following publication of this article, it came to HuffPost's attention that Harris had in fact received contributions over $200 from 14 people who appeared to be pharmaceutical executives. The Harris campaign told HuffPost it had already returned two of those donations and was in the process of returning 10 more. The campaign said it wasn't sure whether the other two are from pharmaceutical executives and is seeking clarification.
The campaigns of former Vice President Joe Biden, Sen. Kirsten Gillibrand (D-N.Y.), South Bend, Indiana, Mayor Pete Buttigieg, and former Rep. Beto O'Rourke (D-Texas) did not immediately respond to requests for comment.
Steve Ricchetti, Biden's campaign chairman, has lobbied for major pharmaceutical companies. Biden's campaign has also received contributions from 15 pharmaceutical and health insurance company executives.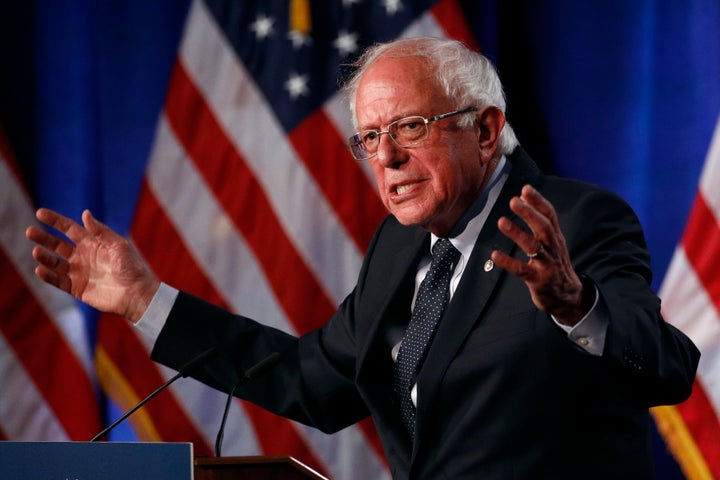 Aside from Sanders' pledge, however, the speech served as an implicit rebuttal to Biden and other Democrats who have adopted conservative talking points in their efforts to discredit Sanders' plan.
In his rollout of a health care plan on Monday that would create a public option for people to buy into Medicare, Biden described Medicare for All as both an attack on the Affordable Care Act, or "Obamacare," and traditional Medicare.
"I knew the Republicans would do everything in their power to try and repeal Obamacare," Biden said in an email to supporters Monday. "But I'm surprised that so many Democrats are running on getting rid of it."
Rather than replace the ACA and traditional Medicare with something less reliable, as Biden suggests, Sanders' legislation would enroll everyone in an expanded version of Medicare that covers vision and dental care, and no longer costs Americans anything at the point of service.
In his speech on Wednesday, Sanders focused on debunking arguments put forward by Biden and other centrist politicians and think tanks who have warned against a plan that forces people to give up the private health insurance they have in favor of something unknown.
Sanders argued, as he has before, that the middle class tax increases needed to pay for Medicare for All would be more than outweighed by the savings people would earn from the elimination of private health insurance plans' premiums, deductibles and co-payments.
Those fees, he argued, "are nothing less than taxes on the middle class."
Then, deploying his trademark sarcasm, Sanders panned the logic of Republicans and some Democrats who defend the current payment system.
"Now my Republican friends ― and some others ― seem to think the American people hate paying taxes, but they just love paying insurance premiums!"
"Now my Republican friends ― and some others ― seem to think the American people hate paying taxes, but they just love paying insurance premiums!" he mused, drawing laughs from the crowd.
Continuing, he mockingly imagined the conversation of a fictional couple excited to pay their monthly insurance premium: "Oh my god, dear, the insurance premium is here, what a wonderful day! Oh, wow!"
Sanders delivered the speech at a tenuous moment in his second presidential bid. His standing has dropped in many national- and state-level polls, putting Warren and Harris within striking distance of his second-place standing, as all three scramble to overcome the substantial lead Biden continues to enjoy.
In an effort to regain his footing, Sanders has sought to emphasize to voters that while other candidates, including Warren and Harris, have adopted signature policies like Medicare for All, the integrity with which he would fight for them is unrivaled.
Although the success of this approach has yet to manifest itself in the polls, Harris, in particular, has provided Sanders ample fodder to distinguish himself as a more genuine champion of single-payer health care.
Harris has repeatedly backtracked on whether she supports the most controversial elements of Sanders' plan: forcing Americans off of their private insurance and into the expanded Medicare program; and raising middle class taxes to finance the new program.
She raised her hand when asked whether she would abolish private insurance during the first Democratic presidential debate in Miami in late June, but subsequently disavowed the remark, claiming she had misheard the question.
Jeff Weaver, a senior adviser to the Sanders campaign, shot back on Wednesday, suggesting it was unrealistic. "Without unicorns, magic wands ... health care is not free," he said on MSNBC.
In keeping with Sanders' base-centric approach to turning his campaign's tide, he stuck to his standard populist script on Wednesday, mixing moral denunciations of corporate greed with snarky asides and paeans to the social democratic reforms of the mid-20th century. He insisted that the current health care system, in which millions of Americans go without the care they need as insurance executives earn multimillion-dollar compensation packages, is the result of corporate capture of the political system.
But he also expressed empathy for those frightened by a dramatic change in the system, encouraging them to see themselves in the traditions of presidents Harry Truman, John F. Kennedy and Lyndon Johnson, all of whom sought to expand health care coverage against the wishes of the private health care industry.
Johnson ultimately prevailed in 1965 against stiff industry resistance to create Medicare for seniors and people with disabilities, Sanders recalled.
"It was a difficult undertaking," he said. "What they succeeded and what they did has improved the lives and saved the lives of countless, countless people."
"But that was in the 1960s. Today we are in 2019," Sanders concluded. "In my view, now is the time, not for tinkering around the edges ... Now is the time to do what the American people want us to do, now is the time to pass a Medicare for All, single-payer program."
This article has been updated throughout, including with details about contributions to Harris' campaign.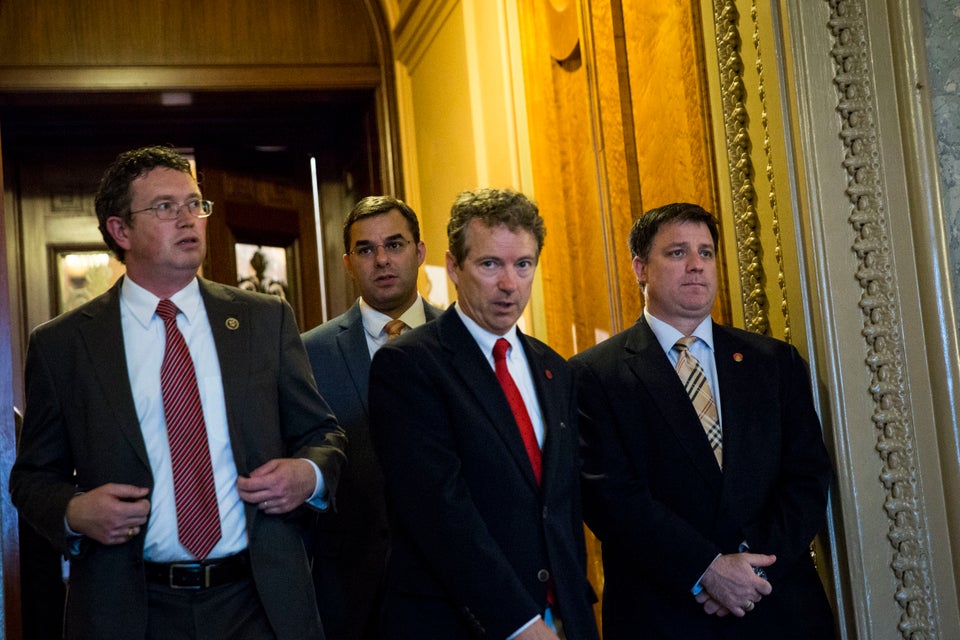 Scenes From Capitol Hill
Popular in the Community