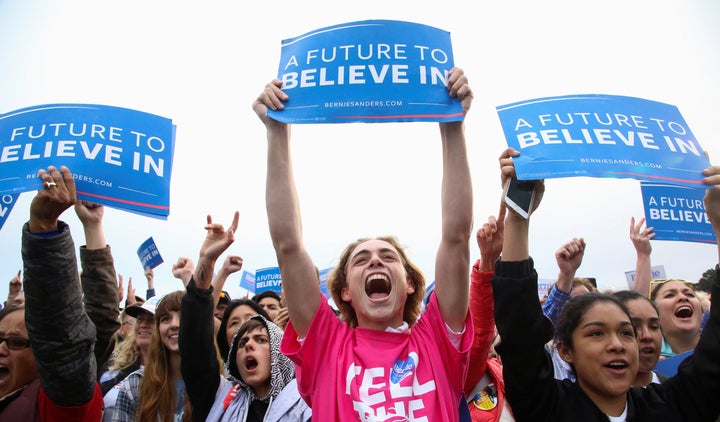 Even Sen. Bernie Sanders' (I-Vt.) stalwart supporters are admitting that yes, it looks like Hillary Clinton will be the Democratic presidential nominee, and it's time to figure out what happens next.
Neil Sroka, spokesman for the pro-Sanders group Democracy for America, wouldn't go so far as to call Clinton the presumptive Democratic nominee -- as the AP did Monday night --but he was willing to discuss what would happen "if" she is the nominee and what progressives would like to see.
"The big question as we move into the general election is, if Secretary Clinton is the nominee, she will have won the nomination based on making a series of promises about her willingness to fight for a number of different populist progressive positions ... and it will be important to see whether or not that rhetoric was just something that happened during the primary or will continue during the general election," Sroka said Tuesday afternoon.
The main issue for Sanders supporters now is what to do. There's general agreement that they want to see progressive policies continue to be a part of the discussion. That means making sure Clinton doesn't veer to the right in an attempt to win over moderate Republicans and trying to ensure the Democratic Party platform reflects the values of the Sanders movement. But specific actions are still scarce.
The most concrete example of progress is that the Democratic National Committee recently agreed to give Sanders six spots on the 15-member Platform Committee, a move intended to help heal any wounds remaining from the primary fight.
"The sooner that Platform Committee members publicly signal they will unify around a bold progressive agenda, the sooner Bernie Sanders and his supporters will know they have achieved the mission of helping to transform the future of America," the Progressive Change Campaign Committee said in a statement Monday night.
A group of prominent Sanders supporters will be meeting in Chicago later this month to hammer out exactly what their next steps will be. Former Ohio state Sen. Nina Turner (D), Rep. Raúl Grijalva (D-Ariz.) and National Nurses United Executive Director RoseAnn DeMoro will all be there to discuss how to continue the Vermont senator's movement even after his candidacy is over. (Sanders is also an invited speaker.)
"This campaign is about a mission of saying that there are big issues -- global warming, cash in politics, living wage jobs -- that we have to advance in a passionate and aggressive fashion," Sen. Jeff Merkley (D-Ore.), Sanders' only backer in the Senate, told MSNBC on Monday. "I think that the way that the campaigns carry on a discussion after Tuesday is about how you bring the party together and about how, in doing so, we position ourselves to aggressively take on those goals that have resonated so effectively in the grassroots."
"This campaign is about a mission of saying that there are big issues -- global warming, cash in politics, living wage jobs -- that we have to advance in a passionate and aggressive fashion."
A coming flashpoint could be whom Clinton decides to choose as her running mate. Progressives are keeping their fingers crossed for a kindred spirit, with Sen. Elizabeth Warren (D-Mass.) the beau ideal. Few people are really talking about Sanders as a vice presidential candidate, in part because there are more effective messengers out there who could satisfy the progressive base, better work with Clinton and champion the same policies Sanders talked about on the trail.
And ultimately, Clinton is still the one at the top of the ticket. Sroka said that rather than obsessing over the vice presidential nominee, DFA will focus on ensuring that Clinton maintains a progressive message -- and will turn its attention to down-ballot races. Russ Feingold's Senate bid in Wisconsin is a marquee contest for progressives, along with Zephyr Teachout's campaign in New York's 19th congressional district. There's also Tim Canova in Florida's 23rd district, who is running a long-shot bid to unseat DNC Chair Rep. Debbie Wasserman Schultz (D-Fla.), who has earned the ire of Sanders supporters for seeming to tip the scales in Clinton's favor.
Sanders supporters also bristled at the media's rush to declare Clinton the winner on Monday night, before all the primary contests were even over. Six states voted Tuesday, and the District of Columbia's primary isn't until June 14. But The Associated Press said that based on its count of superdelegates, Clinton had enough delegates to become the nominee.
"Don't let the cynical manipulation by the corporate media silence your voices. This is a movement, not a coronation, and every vote matters," DeMoro said Tuesday.
Many Sanders supporters have consistently decried the role of superdelegates, the party insiders who are free to choose whomever they want for president at the convention. But Clinton is also expected to clinch a majority of the pledged delegates after Tuesday's primaries. Monday's announcement by the AP wasn't the scenario the Clinton campaign wanted to see, either, since it would have looked better to claim the nomination based on pledged delegates rather than superdelegates.
Sanders has long vowed to continue his fight all the way to the convention in Philadelphia in July, even if it means convincing superdelegates to ignore the fact that Clinton won the most pledged delegates to back him instead.
But that scenario would likely cost him some support. Groups like MoveOn and DFA have long opposed allowing superdelegates to overturn the will of the people. For them, once the pledged delegates are in, it will be over.
"In my mind, once a candidate has a majority of the regular delegates and a majority of the vote," Merkley said on MSNBC, "that speaks for itself."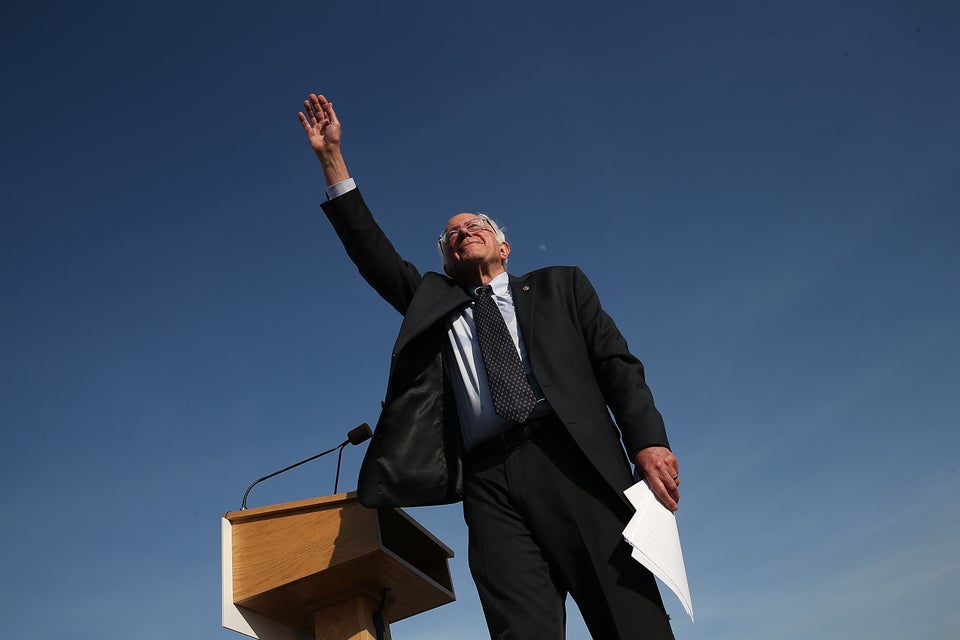 Bernie Sanders On The Campaign Trail