CHICAGO ― Last June, with the presidential primary season all but officially over, around 3,000 supporters of Sen. Bernie Sanders (I-Vt.) gathered for the first-ever People's Summit in Chicago to co-mingle feelings of elation and defeat.
Former Secretary of State Hillary Clinton was slated to be named the party nominee at the Democratic National Convention the following month. Many supporters indulged a fantasy of Sanders winning over superdelegates at the last minute to tip the scales in his favor, while others who resigned themselves to Clinton's victory were simply ecstatic that a candidate running on a platform of democratic socialism came this far.
Though everyone agreed their diverse grassroots movement would forge ahead and grow stronger, few predicted it would ultimately be in resistance to a Donald Trump agenda, rather than a Clinton one.
The result was especially frustrating for the progressive partisans sometimes known as Berniecrats. The disaster of a Trump presidency could have all been avoided, they thought, if Democrats had nominated Sanders, a true voice for the "forgotten men and women" Trump claimed to champion. That the Democratic National Committee put a thumb on the scale for Clinton was an especially sore point.
Anger soon gave way to organizing. Buoyed by the rallying cry-turned-cheeky internet meme "Bernie would have won," activists, under Sanders' guidance, vowed to carry on the legacy of his campaign with a bottom-up democratic socialist takeover of American politics.
Those efforts have started to bear fruit, with progressives in the Sanders mold notching victories at the state and local level ― or making important inroads in the electorate.
In May, former Sanders delegate Christine Pellegrino won a seat in the New York state assembly by flipping a district Trump had won by 23 percentage points. A week before, in Philadelphia, Pennsylvania, Sanders supporter Larry Krasner won the Democratic nomination for district attorney ― all but ensuring a general election win in the heavily blue area ― on a solidly progressive platform of criminal justice reform. Other pickups include a mayoralty in Jackson, Mississippi, and city council wins in nearby Meridian and South Fulton, Georgia.
Consequently, when the 2017 People's Summit began Friday in Chicago, it was not only bigger and stronger, it had a feeling that lacked from the year before: Vindication.
Just one day earlier, in the United Kingdom's snap election, the unabashedly socialist Labour Party Leader ― and rumpled Sanders doppelganger ― Jeremy Corbyn helped his party pick up 32 seats in parliament, denying Theresa May's Conservative Party an outright majority.
"It's like what Trump did when he flipped the Rust Belt," said 28-year-old Josh Youngerman, a former American expat in England, who volunteered for Corbyn's campaign remotely. He noted that Corbyn flipped the support of many "Leave" voters who supported Brexit.
"What that shows is that you don't win running as a moderate," Youngerman said. "[Corbyn] ran as unapologetically left-wing."
Krystal Ball, a political activist, former MSNBC host and one time Virginia congressional candidate who is among the speakers at the People's Summit, said Corbyn's win was validation the progressive movement is on the right track.
Fellow speaker Nomiki Konst, a former Sanders campaign surrogate, who is now a reporter for the Young Turks, said the U.K. election was also a morale boost.
"It validates a lot of our efforts as we're figuring out what it takes to win: things like a progressive message and a strong on-the-ground campaign," Konst said.
""What [Jeremy Corbyn's victory] shows is that you don't win running as a moderate.""
Corbyn's stunning performance has been such a jolt of positive energy to the American left precisely because the electoral record of candidates backed by Sanders at the national level has been decidedly less rosy than the performance of local candidates.
In an early attempt to steer the Democratic Party in a more progressive direction, Sanders and his followers got behind the bid of key ally Minnesota Rep. Keith Ellison to chair the Democratic National Committee. Party establishment figures like Senate Minority Leader Chuck Schumer (D-N.Y.) joined them, recognizing the importance of the Sanders movement. But with help from former President Barack Obama and his close confidantes, former Labor Secretary Tom Perez defeated Ellison by a slim margin in February.
"Ellison's loss was a slap in the face," observed Kenneth Coleman, an Oregon member of the Democratic Socialists of America. "It showed the [Democratic] party consciously rejected where all the energy was from."
Sanders' record in special congressional races has not been much better, albeit against much steeper odds. Last month, he barnstormed Montana, where Trump defeated Clinton by 20 percentage points, for House candidate Rob Quist, a folk musician and single-payer health care advocate who supported Sanders in the primary. Quist ultimately came up 6 points short in the May 25 special election, despite his Republican opponent Greg Gianforte's assault of a reporter the previous day.
Of course, Sanders followers acknowledge that high-profile, national electoral victories are often the end result of long-term organizing. A big reason Ellison came as close as he did to becoming DNC chair is because of progressive takeovers of state Democratic parties whose leaders can participate in the chairmanship election. Those efforts have proceeded apace since then, most recently with the narrow loss of a Sanders acolyte in the race to chair the California Democratic Party.
In his speech to the People's Summit on Saturday evening, Sanders plans to emphasize progress in the policy conversation, according to advance excerpts of the speech received by HuffPost. Among other things, he sees headway being made in the support of a majority of congressional Democrats for a $15 minimum wage, a cause for which he can rightly claim credit as an early champion.
"We may have lost the election in 2016 but, because of the grass-roots efforts of activists throughout the country, we have made enormous progress in advancing the progressive agenda," Sanders' prepared remarks state. "Ideas that, just a few years ago, seemed radical and unattainable are now part of Main Street discussion and, in fact, some of them are being implemented across the country as we speak."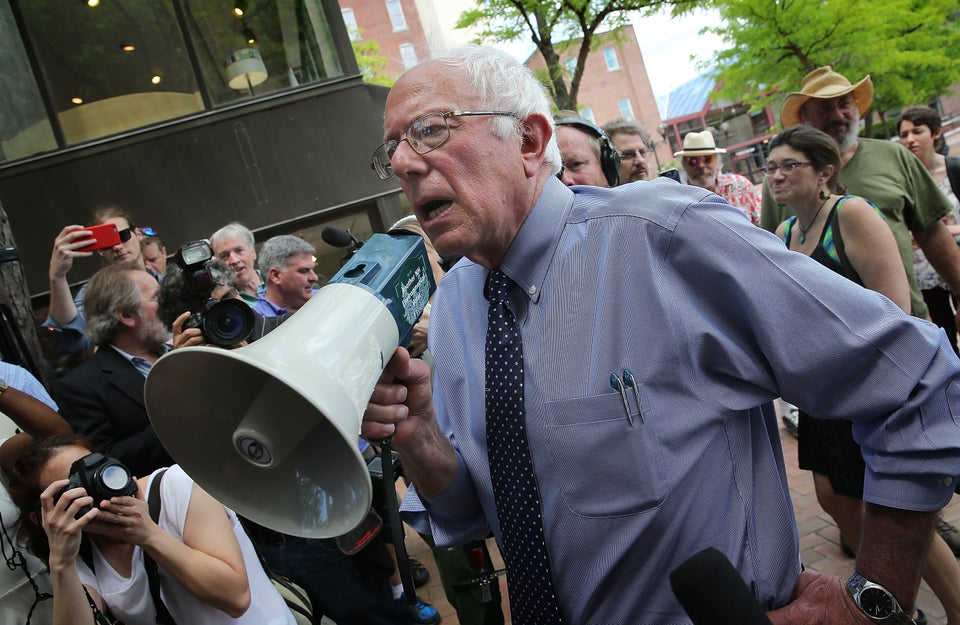 Bernie Sanders' Most Interesting Quotes