CHICAGO ― After Sen. Bernie Sanders (I-Vt.) finished his speech to a packed theater of his supporters on Saturday night, he took time to answer a few pre-taped questions from activists.
They wanted to know Sanders' advice for talking to kids about climate change, overcoming Republican gerrymandering in the South ― and how to deal with losing elections, something a questioner comically noted Sanders knew a thing or two about from his early years in politics.
"To those people who are losing right now, I'm sure they'd like to hear what got you through those dark times of losing over and over and over again. ... What got you through in those dark times?" television actor Kendrick Sampson asked, affectionately teasing Sanders.
"Thank you very much, Kendrick," Sander deadpanned, eliciting laughs from the audience. "Kendrick makes a good point: Don't get locked into a moment, because things change and sometimes they change very, very rapidly."
Sanders went on to recount how he lost several campaigns for governor and senator before finally securing a post as mayor of Burlington, Vermont, then after two attempts, a seat in the U.S. House of Representatives. Most recently, he won re-election to the Senate in 2012 with 71 percent of the vote.
"The point is really that persistence is extremely important," he concluded.
It was a light-hearted exchange, but it summed up the political philosophy Sanders has sought to impress upon the grassroots movement that he built over the course of his ultimately unsuccessful presidential campaign. Organize people around an unabashedly progressive political platform and eventually, you will win the power you need to implement it, Sanders maintains.
The more than 4,000 Sanders followers that gathered this weekend to talk strategy, commiserate and hear from the country's progressive rock stars at the second annual People's Summit conference in Chicago were largely ready to accept Sanders' vision of a long slog toward progress ― and his insistence that the best vehicle for the electoral component of those efforts remains the Democratic Party.
In fact, one Sanders fan in attendance appeared to be taking his advice about persistence quite seriously. Moments after Sanders spoke, Rob Quist, the Montana Democrat who lost his special House election on May 25, informed HuffPost that he was taking a hard look at running again in 2018.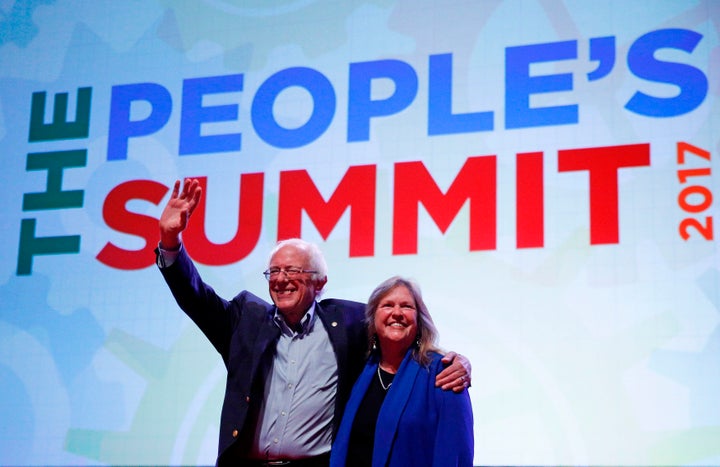 It helped Sanders' case that the conference began hours after U.K. left-wing Labour Party leader Jeremy Corbyn shocked the world with unexpected gains in the British election that deprived the Conservative Party of a majority. In his speech on Saturday night, Sanders encouraged his supporters to view Corbyn's win as an affirmation of the progressive long game in the United States.
"I want to tell you what you already know ― that the movement for economic, racial and environmental justice is not just growing here in the U.S. It is growing worldwide," Sanders declared. Judging by the cheers that followed, the audience didn't need much convincing.
In the United States, the Sanders movement has met with less success in some of its earliest electoral tests since the November election. Rep. Keith Ellison (D-Minn.), a top Sanders ally, lost his bid to chair the Democratic National Committee. The two Sanders supporters who have run in special congressional elections ― Quist in Montana, and before that, James Thompson in Kansas ― were narrowly defeated, albeit in districts long held by Republicans.
A recent Berniecrat effort to take over the California Democratic Party was similarly disappointing. Although Sanders activists mobilized en masse to win delegate spots to the state convention, their preferred candidate for chair, Kimberly Ellis, lost by a handful of votes to establishment favorite Eric Bauman. (Ellis and her backers are calling for an independent audit of the votes, alleging there were irregularities in the way proxy votes were counted.)
"It's not gonna be a sudden change. Some change happens fast; some change happens slow," said Dan Gordon, a 34-year-old Los Angeles-based voice-over actor and Berniecrat delegate to the California Democratic Party convention.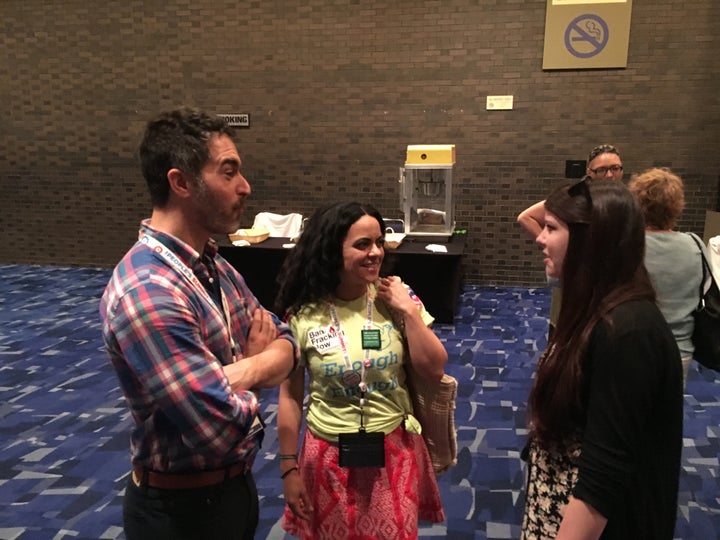 Speakers and attendees at the People's Summit instead celebrated the victories of a number of state and local lawmakers in the Sanders mold, including Democratic district attorney nominee Larry Krasner in Philadelphia; Mayor Chokwe Lumumba of Jackson, Mississippi; and New York State Assemblywoman Christine Pellegrino.
Other points of pride were the majority support for a $15 minimum wage among congressional Democrats, and the small but growing consensus in the party behind single-payer health insurance, a version of which the California state Senate recently passed.
In keeping with the ground-up theme, parts of the People's Summit functioned like a boot camp for activists looking to bring the Sanders revolution to their small towns and cities, one candidate or issue referendum at a time. Between speeches, panel discussions and at least one blowout dance party, there were "classes" taught by Sanders campaign veterans and successful progressive elected officials on tactics like digital organizing, nonviolent direct action and "transforming" the Democratic Party.
"People are organizing all over the country right now ... and we are developing the action plan," said Winnie Wong, a co-founder of the People for Bernie and a top conference organizer. "So we are occupying the position now of a sort of CENTCOM dashboard of the people who are giving calls to actions for people to plug into."
Danielle Kyle, a 19-year-old political science student at Western Illinois University who convinced her once-moderate mother to join her at the summit, said a workshop on "building progressive power in rural America" was especially helpful.
A native of the Chicago suburbs, Kyle plans to stick around in rural Macomb, Illinois, after graduation and is considering a run for city council there in 2019.
"I got a lot of different perspectives from people in West Virginia, people in rural Wyoming that I didn't know," she said of the class on rural organizing. "They told me that I'm not their urban savior. I shouldn't go in there and fix things for them."
The left-wing confab in Chicago's McCormick Place boasted attendees from all 50 states and a smattering of like-minded activists from Norway and Spain.
Given the limited number of spots allotted for general registration, conference organizers considered people's race, gender and motivation for coming when deciding who to admit.
They also developed an elaborate system to ensure that financial need was not a barrier to participation. The labor union and influential Sanders backer National Nurses United covered the cost of the building rental, staff and amenities of the conference itself, including customized banners and swag, a mobile app for scheduling updates, three square meals for everyone and a handful of shopping-mall-style photo stations for goofy group pictures.
Conference attendees were allowed to contribute to the costs of transportation and lodging on a sliding scale, with wealthier participants subsidizing busing and dorm-style accommodations for lower income activists to the tune of $220,000.
"This is a representation of a democratizing movement. Having people here who could not afford to be here I think was very important," Wong said, likening it to a real-life incarnation of the type of socialism she and her peers want to see on a national scale.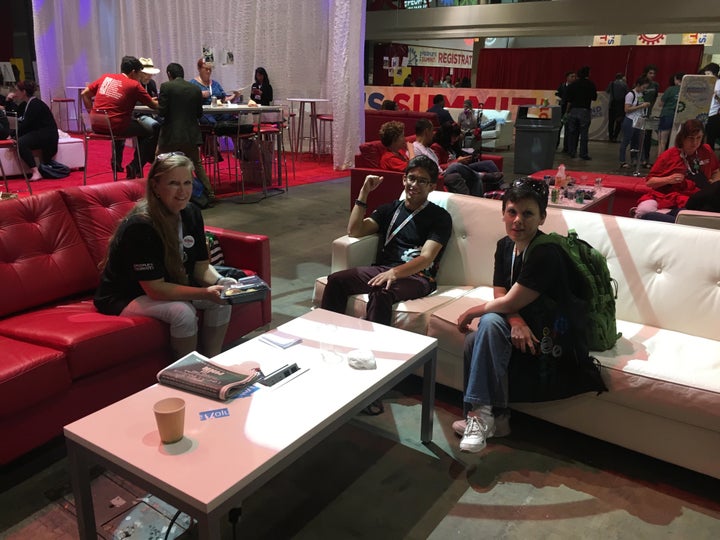 For all of the conference's discussion of ― and attempts to embody ― idealistic policies, however, the focus was overwhelmingly on issue-based organizing and taking over the Democratic Party to push it to the left, rather than rallying behind third-party efforts.
At the same time, the Berniecrats' vision for the party and plan for taking back power is strikingly different from that of their mainstream Democratic peers. Unlike on Capitol Hill and the talk shows of MSNBC, there was little interest in the investigation into ties between the Russian government and campaign associates of President Donald Trump. Some participants openly expressed doubt about the evidence of Russian influence in the election or welcomed the leaked Democratic National Committee emails for exposing the DNC staff's bias toward former Secretary of State Hillary Clinton. Others simply argued that focusing disproportionately on Trump's foibles would be no more successful now than it was during Clinton's losing campaign.
"They're definitely still stuck in the idea that Trump's gonna be thrown out of office. So they're yet to take the steps forward in trying to move their own policies," said Antonio Rodriguez, a 23-year-old psychology student at the University of Illinois, Chicago.
A key part of the Berniecrats' disagreement with other Democrats is their belief that the party's embrace of business-friendly "neoliberal" policies since the 1990s led to an exodus of working people of all races from the party and laid the seeds for someone like Trump, who frequently relies on racist rhetoric, to pit the increasingly disenchanted working classes against one another.
The only answer, attendees maintained, was to mobilize voters around class, and direct their anger toward the corporations and ultra-rich people blocking more equitable policies.
Nick Martin, a 28-year-old liberal Mennonite activist sporting a Carhartt camouflage hat, claimed that his organization, Lancaster Stands Up, was using the tactic to recruit Trump supporters to a fight against a natural gas pipeline in the area.
"We find that organizing people around the issues and having a narrative that talks about who the real enemy is as the billionaires, the ruling class, cuts across false divisions," he said.
"Kudos and congratulations to all the achievements, but it's going too slow and there are limits to how much we can achieve as progressives within the Democratic Party."
Not everyone at the People's Summit was still willing to work within the bounds of the Democratic Party though. There were dozens of people advertising their affiliation with "Draft Bernie for a People's Party," a new movement asking Sanders to start his own political party.
At times the "Draft Bernie" partisans' scorn for Democrats led them to turn on Sanders himself, booing Sanders' calls for reforming the Democratic Party during his speech on Saturday night.
Rod Brana, a 61-year-old architect from Washington, D.C., admitted to being one of the people who jeered, describing it as an almost involuntary bodily impulse. (His son Nick, a former junior staff member on the Sanders campaign, started the "Draft Bernie" initiative.)
"It just comes out," Brana said of the boos.
The local and state-level wins Sanders highlighted paled in comparison to higher-profile failures to infiltrate the party, according to Brana ― especially Ellison's defeat in the race for DNC chair and the results of the recent California Democratic Party chair election.
"Kudos and congratulations to all the achievements, but it's going too slow and there are limits to how much we can achieve as progressives within the Democratic Party," he said.
The People's Summit organizers were tolerant of dissenting views about the Democratic Party, including by welcoming the Green Party to set up a booth in the exhibit hall.
In private conversations though, leading figures in the Berniecrat orbit fretted about third-party advocates' lack of pragmatism, emphasizing the basic barriers third parties face in getting on the ballot in 50 states.
Claire Sandberg, a former senior organizer on the Sanders campaign who had just returned from advising Corbyn in the U.K., also lamented the impulse to view leaving the Democratic Party as a panacea.
"They're missing the fact that there is no shortcut to building a broad social consensus in favor of the policies that we need," she said. "We're actually in a battle for the common sense of America and we can't do an end-run around that by starting a new formation and getting in the back door."
Sign up for the HuffPost Must Reads newsletter. Each Sunday, we will bring you the best original reporting, long form writing and breaking news from The Huffington Post and around the web, plus behind-the-scenes looks at how it's all made. Click here to sign up!
Before You Go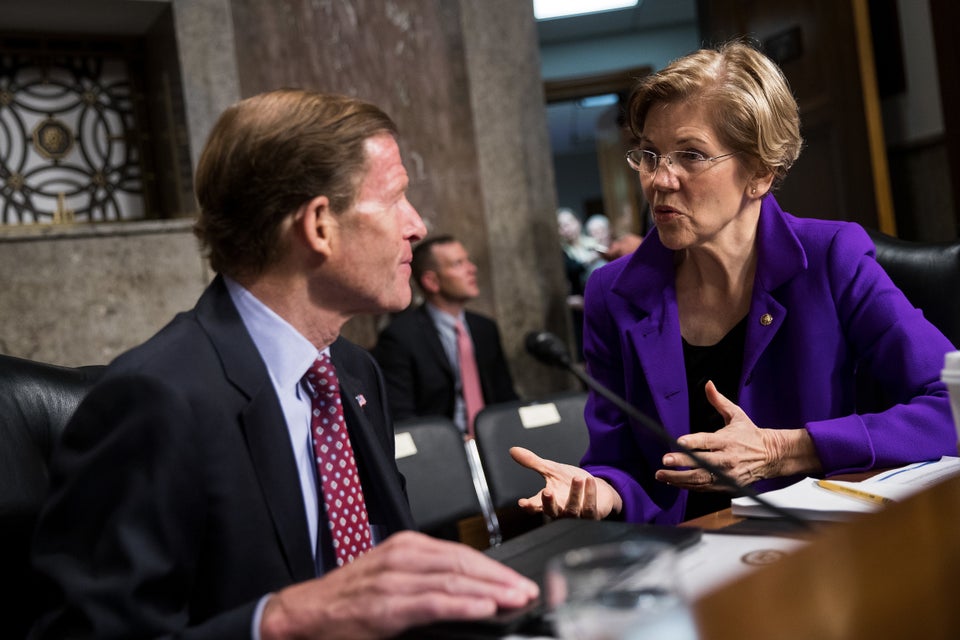 2017 Scenes From Congress & Capitol Hill
Popular in the Community