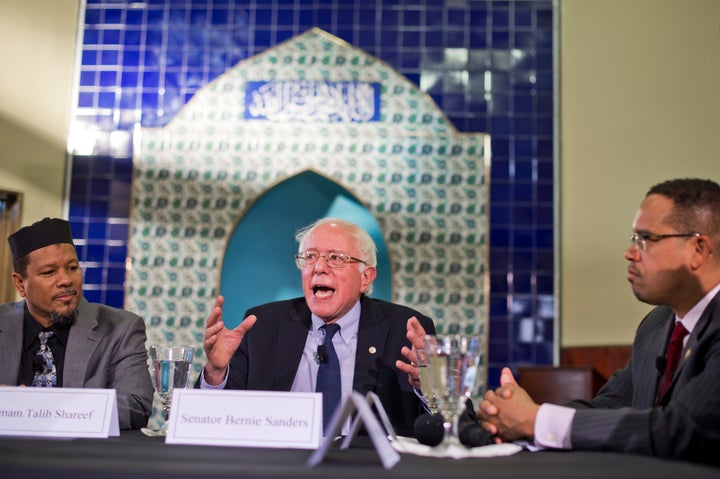 WASHINGTON -- Sen. Bernie Sanders (I-Vt.) participated in an interfaith roundtable at a mosque in Washington on Wednesday to demonstrate his commitment to rejecting the anti-Muslim rhetoric espoused by his GOP counterparts.
The event was a response to businessman and Republican presidential candidate Donald Trump's call to bar all Muslims from the United States after two Muslim shooters killed 14 people in San Bernardino, California, on Dec. 2.
At the Masjid Muhammad, otherwise known as "The Nation's Mosque," Sanders said Republicans like Trump were preying upon people's "fears and anxieties."
"There are demagogues out there, people like Donald Trump, who once again are attempting to divide us up in xenophobic and racist ways," he said. "They want us to believe that people coming from Mexico into this country are rapists and criminals. They want us believe that the average Muslim is a terrorist, and they want us to stop Muslims from coming into this country."
The senator, who sat at a table across from Muslim, Jewish and Christian faith leaders as well as progressive Rep. Keith Ellison (D-Minn.), who is Muslim, suggested that issues such as income inequality, mass incarceration, climate change and international terrorism all require "bringing people together to find real solutions."
"Our people are deeply concerned, justly so, about the threats of international terrorism. They are also worried about the state of the economy and the future of their children," Sanders said. "Do we come together, or do we allow demagogues to divide us up? That is the issue of the moment."
Both Trump and Republican rival Ben Carson have advocated for surveilling mosques -- and Trump has even called for certain mosques to be closed as a counterterrorism measure. Carson said he believes Islam is "inconsistent with the values and principles of America."
Though Republican hopeful Jeb Bush said during the GOP primary debate on Tuesday that Trump's Muslim ban "is not a serious proposal" and the United States needs "to engage with the Arab world" to defeat ISIS, he has advocated that support should be focused on Christian refugees coming from Syria rather than Muslims.
At the mosque, Sanders compared GOP candidates' stance toward Muslims, Latinos, and other groups to historical persecution against Jews, Rwandans, Bosnians, Native Americans, African-Americans, and Japanese-Americans during World War II, among others. He urged other politicians to reject such anti-Muslim rhetoric.
"I am calling on all of us in public life, including our candidates for president, and all Americans, to stand together and condemn the anti-Muslim rhetoric and hatred that we are hearing, to say 'No' to those who promote this hatred," Sanders said.
He noted that there's been a noticeable increase in hate speech and attacks on the Muslim community since the San Bernardino shooting and the Paris terror attacks that killed 130 people on Nov. 13.
The senator was the second of the three Democratic presidential candidates to visit a mosque. Former Maryland Gov. Martin O'Malley stopped by a mosque and community center in Sterling, Virginia, on Friday to show solidarity with American Muslims. On the same day, Republican Sen. Jeff Flake of Arizona visited a mosque in his home state.
In wrapping up his remarks, Sanders quoted Dr. Martin Luther King Jr., arguing that the nation has made too much progress on intercultural and inter-religious understanding to regress now.
"Look to a day when people will not be judged by the color of their skin but by the content of their character -- and, I would add, not judged by their religion or their nation of origin," Sanders said.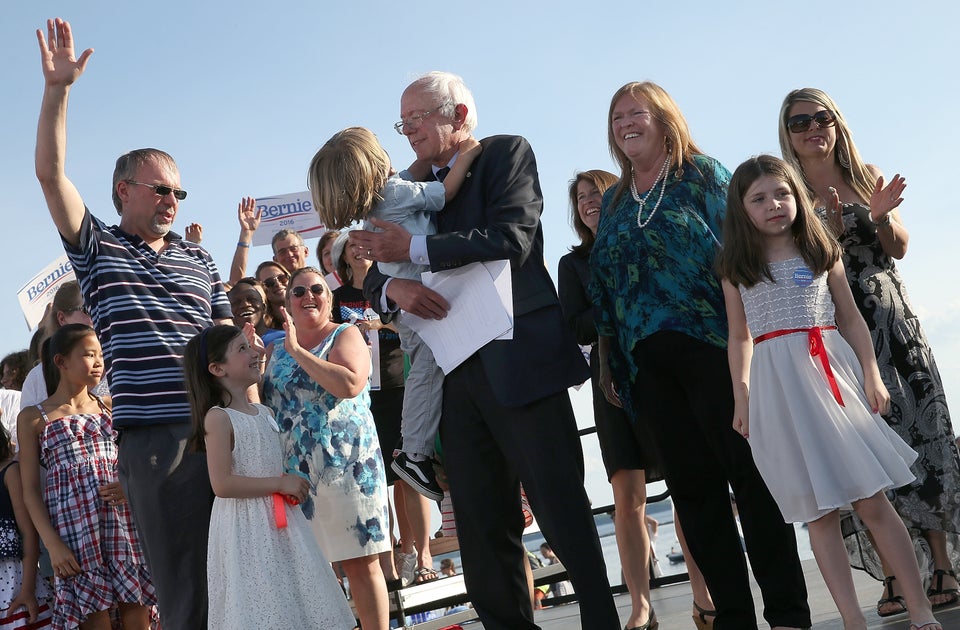 Bernie Sanders On The Campaign Trail
Popular in the Community