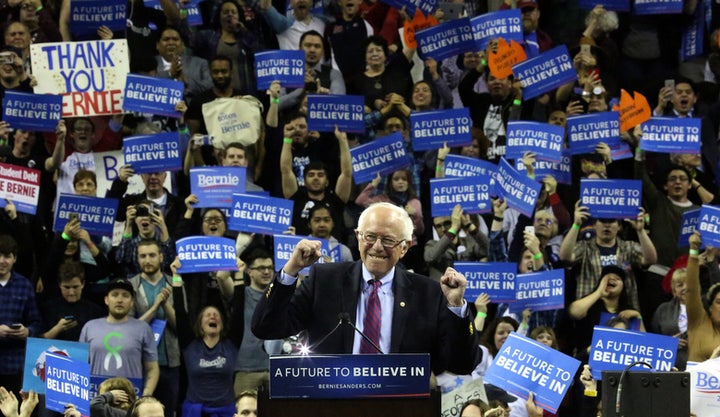 Although you won't hear this often from The Daily Beast, Slate or other publications Ready for Hillary, Bernie Sanders faces an opponent who has fewer than 2,383 pledged delegates. Bernie's opponent also has an ongoing FBI criminal investigation; the White House and a federal judge used the term. In one week, the White House press secretary and a judge used the word "criminal" to describe the FBI's ongoing investigation into Clinton's email server.
Therefore, when your opponent risks the legal repercussions of a criminal investigation, it's only prudent to stay in a race for the presidency. What does Vermont's Senator have to lose by waiting for the FBI to disclose its findings? Bernie Sanders must stay in the presidential race, especially since the FBI will likely disclose the findings of its year-long investigation before the Democratic Convention.
First, according to POLITICO, Judge Emmett Sullivan stated Bryan Pagliano's immunity deal is linked to the government's "criminal" investigation:
A former information technology aide to Hillary Clinton received immunity from the Justice Department in connection with a criminal investigation, a federal judge confirmed Tuesday.

Bryan Pagliano, a computer expert who worked at the State Department while Clinton was secretary of state and was also paid privately by her, was previously reported to have received immunity in connection with statements he gave to the FBI about Clinton's private server set-up.

However, there had been no explicit confirmation that the investigation—which Clinton has repeatedly referred to as a "security review"—is actually a criminal probe.

"The privacy interests at stake are high because the government's criminal investigation through which Mr. Pagliano received limited immunity is ongoing and confidential," U.S. District Court Judge Emmet Sullivan wrote in an order issued Tuesday.
Although the vast majority of pundits believe that Clinton will circumvent legal repercussions, nobody has a crystal ball. Of course Bernie Sanders must keep his campaign alive, especially since Judge Emmett Sullivan states "The privacy interests at stake are high because the government's criminal investigation through which Mr. Pagliano received limited immunity is ongoing and confidential."
Just several days before Judge Sullivan's statement, White House press secretary Josh Earnest is quoted by The Daily Caller (you can see the video as well) using the same word:
James Rosen said to Earnest, "So when a career prosecutor or an FBI agent working on the Clinton investigation hears this President speak openly about how he wants Hillary Clinton to succeed him, you don't think that that career prosecutor or that FBI agent takes that as some indication as to how the president wants to see this case resolved?"


Earnest replied, "No. I think those career prosecutors understand that they have job to do, and that that job they are supposed to do — which is to follow the facts, to pursue the evidence to a logical conclusion — that's a job that they are responsible for doing without any sort of political interference. And the president expects them to do that job, this is the reason that we actually ask career federal prosecutors to take the lead on these kinds of matters. They don't have political jobs. They have career jobs as law enforcement officers and as prosecutors and investigators. That's what their responsibility is."


"And that's why the President, when discussing this issue in each stage has reiterated his commitment to this principle that any criminal investigation should be conducted independent of any sort of political interference and that people should be treated the same way before the law regardless of their political influence, regardless of their political party, regardless of their political stature and regardless of what political figure has endorsed them," Earnest said.
So, before a federal judge confirmed the FBI's investigation was criminal in nature, the White House used the same terminology. If Hillary Clinton faced a political opponent under criminal investigation, would she concede?
Finally, the FBI's James Comey stated categorically that his organization doesn't conduct "security reviews," as quoted by ABC News:
Even though Hillary Clinton has repeatedly described the FBI probe over her use of a private email server as a "security inquiry," FBI Director James Comey today questioned the use of that phrase.

"I don't know what that means," Comey told reporters today in Washington, D.C. "We're conducting an investigation. That's the bureau's business. That's what we do."

One reporter noted that former Secretary of State Clinton often refers to it as a "security inquiry."

The word "investigation" -- "it's in our name," Comey responded. "And I'm not familiar with the term 'security inquiry.'"

In the past several months, Comey has repeatedly referred to this probe as an "investigation," including in a legal document filed in a freedom of information lawsuit related to her email case, related to Clinton's use of a private email server for official communication during her tenure as secretary of state.

Law enforcement officials confirmed to ABC News last week that the FBI had just finished interviewing a handful of Clinton's closest aides and advisers as part of the investigation and that next it plans to ask Clinton herself for an interview, suggesting the review is nearing or entering its final stages.
With all this talk of Bernie uniting with Clinton to defeat Trump, how many people know the FBI doesn't conduct security reviews? Again, Bernie Sanders will continue to stay in the race, and I explain in this YouTube segment why Bernie can't say the true reason he'll be waiting until July 25th.
As for why Clinton will eventually face legal repercussions, I explain in my recent MSNBC appearance that her email controversy is riddled with euphemism. I also highlight during my CNN New Day appearance that only Clinton could endure such polarizing controversy. Whether or not you think I'm nuts for believing Clinton will face consequences from this criminal investigation, the point is that nobody can predict the future. Since Bernie Sanders and Hillary Clinton don't know how James Comey's criminal investigation will unfold, Vermont's Senator must wait, and expect to win. Stranger things have happened than people facing FBI criminal probes, actually facing the consequences of these investigations.
REAL LIFE. REAL NEWS. REAL VOICES.
Help us tell more of the stories that matter from voices that too often remain unheard.