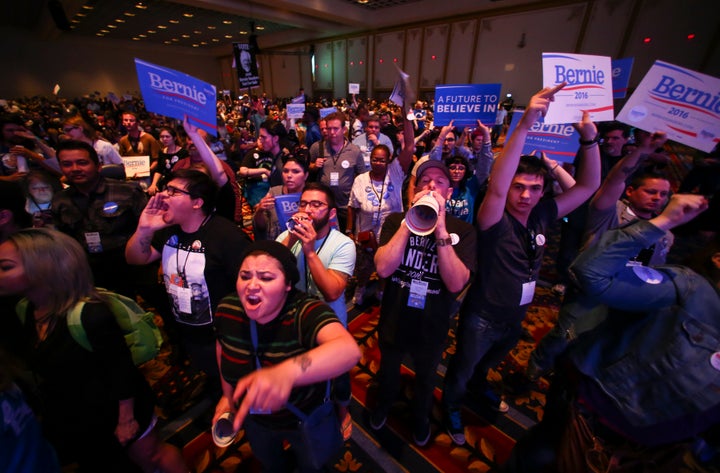 It's no secret that some supporters of Sen. Bernie Sanders (I-Vt.) are deeply convinced the Democratic Party's presidential nomination process is rigged, unethical and inherently corrupt.
They've protested front-runner Hillary Clinton's wins in a number of states under the guise that the rules are too restrictive and the party too partial for the results to be valid. Some have legitimate grievances about the primary process, while others are just tapping into conspiracy theories. The end result is the same: increasingly nasty attacks on officials in the Democratic Party.
The worst bits of this surfaced on Saturday at the Nevada Democratic Party convention, when a near-riot broke out. The state party chairwoman, Roberta Lange, has been deluged with threatening and sexist voicemails and text messages in the days since.
At issue was an attempt by the Sanders campaign to try to change convention rules and seat additional delegates. When roughly 60 potential delegates were deemed ineligible because they had not registered as Democrats by the deadline, tempers flared. Then, the convention was forced to end abruptly around 10 p.m. because security staff said delegates couldn't stay any later. (For a more thorough breakdown of what happened, read Jon Ralston's take.)
Sanders supporters blamed Lange for undermining their efforts, and they lashed out accordingly. Some of the reaction was reported Monday by The New York Times.
But that was just the tip of the iceberg. The Huffington Post obtained additional texts and voicemails sent to Lange, as well as footage from inside the Paris Las Vegas Hotel, where the convention was held.
The texts and calls, which came after Lange's phone number and address were posted on Twitter, threatened violence and contained sexist epithets. One person threatened to buy a home near Lange, while another encouraged her to "prepare for hell."
Here are some of the texts Lange received: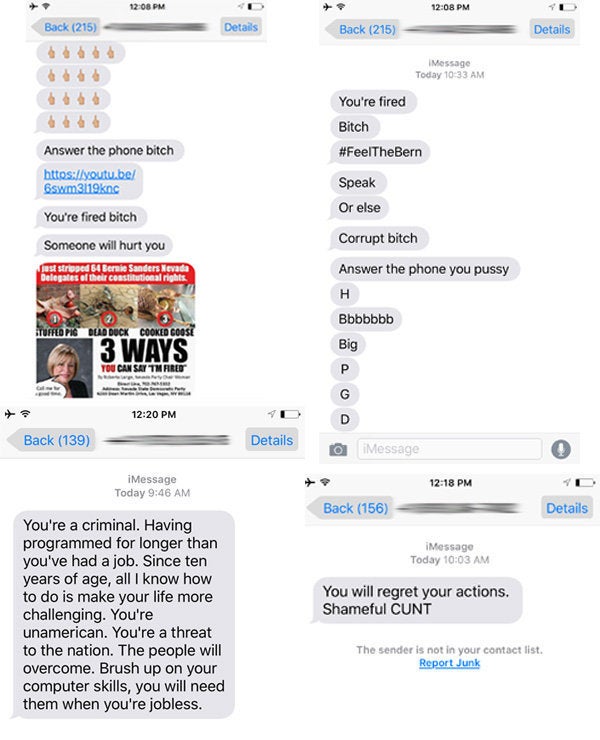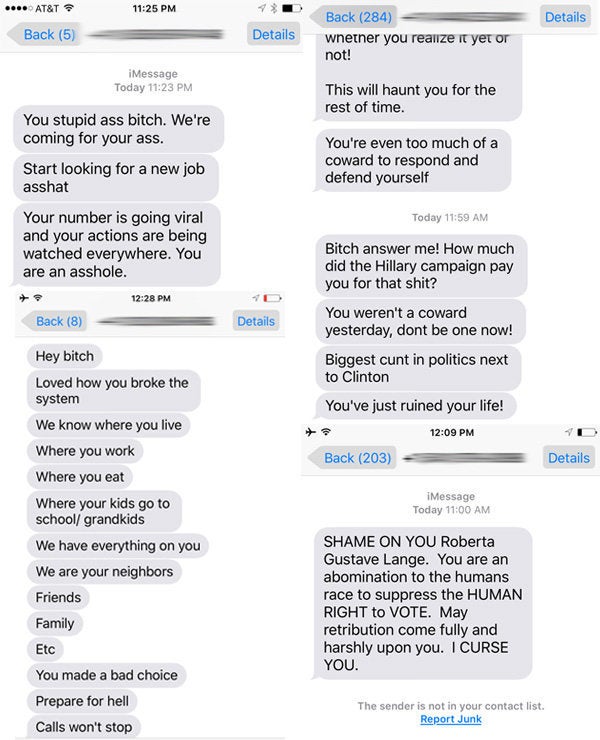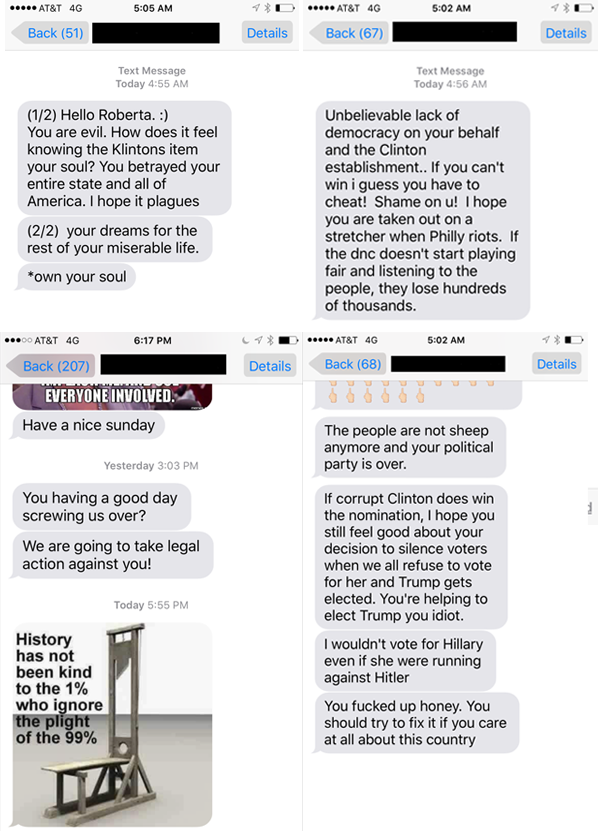 The voicemails (some of which were posted by Ralston) were more jarring. "You are a sick, twisted piece of shit and I hope you burn for this!" one said. Here are recordings of that one and 10 others.
One caller even told Lange to commit suicide, in a voicemail her aide described as the most threatening one received.
"You should be tried for treason, stripped of all authority that you think that you have. All your property, everything. You should be hung in the middle of town, till dead. You are a disgrace to the American people. You should just commit suicide. You're a disgrace. You're horrible. Nobody wants you in power. You are a dirt bag. You are the reason why we are voting for Bernie Sanders," the caller said.
The Sanders campaign has responded to the threats by saying it doesn't condone violence, as well as by encouraging Democrats to "figure out a way to welcome people who have been energized and excited by his campaign into the party." Some Democrats have deemed this an insufficient attempt to tamp down the rhetoric and emotions.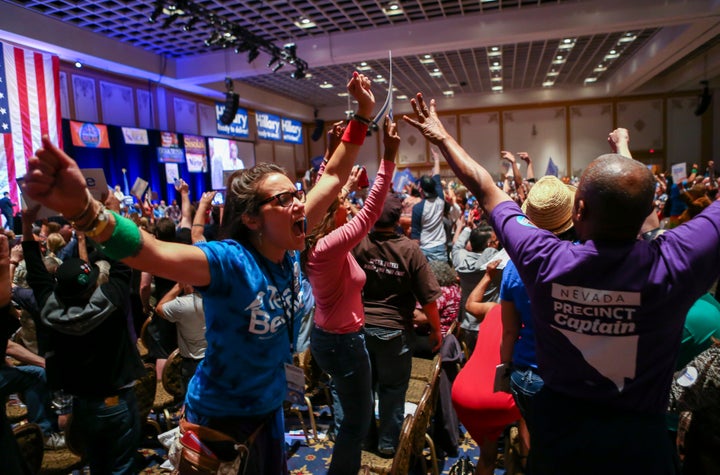 However, Senate Minority Leader Harry Reid (D-Nev.) said Tuesday that he talked to Sanders the day before, and the two had a "very good" conversation.
"He said that he condemns that, and I'm confident he does," Reid told reporters. "This is a test of leadership."
But Sanders ducked a question on the Las Vegas incident while on the trail Tuesday. And Lange, in an interview with MSNBC on Tuesday, said she had not heard from the Sanders campaign.
Later on Tuesday afternoon, Sanders campaign press secretary Michael Briggs released a lengthy and largely unapologetic statement on the incident in which Sanders urged the party to be more accommodating to his supporters and said leaders in Nevada had used their power "to prevent a fair and transparent process from taking place." He simultaneously said he disavows violence and harassment and that his campaign "believes in non-violent change."
In the meantime, the anger unleashed Saturday has spilled beyond the political realm. Tom Gallagher, a majority partner in the tavern where Lange serves as operations manager, said the bar has been getting threatening phone calls since 3 a.m. Sunday. Eventually, they had to shut down their phones, only to watch as they were bombarded online.
The tavern's Facebook page and website were overtaken by people demanding that Lange be fired. Someone created a phony Facebook account for Lange that accused her of "scurrilous stuff" -- as Gallagher put it -- and claimed her husband had committed crimes against children. Someone managed to alter the Google search results so it appeared the tavern was permanently closed.
"I've been in politics for 50 years now," said Gallagher, who ran for Congress in 2004. "And I think Bernie is losing control of his people. These are folks out there who have no concept about rational political discourse. Now a lot of Bernie's folks are really good friends of mine and they're embarrassed by this. But there are crazies out there that are truly a little scary."
Sanders' statement released Tuesday afternoon read in part:
Within the last few days there have been a number of criticisms made against my campaign organization. Party leaders in Nevada, for example, claim that the Sanders campaign has a 'penchant for violence.' That is nonsense. Our campaign has held giant rallies all across this country, including in high-crime areas, and there have been zero reports of violence. Our campaign of course believes in non-violent change and it goes without saying that I condemn any and all forms of violence, including the personal harassment of individuals. But, when we speak of violence, I should add here that months ago, during the Nevada campaign, shots were fired into my campaign office in Nevada and apartment housing complex my campaign staff lived in was broken into and ransacked.

If the Democratic Party is to be successful in November, it is imperative that all state parties treat our campaign supporters with fairness and the respect that they have earned. I am happy to say that has been the case at state conventions in Maine, Alaska, Colorado and Hawaii where good discussions were held and democratic decisions were reached. Unfortunately, that was not the case at the Nevada convention. At that convention the Democratic leadership used its power to prevent a fair and transparent process from taking place.
This post has been updated with a Sanders campaign statement and comment from Harry Reid.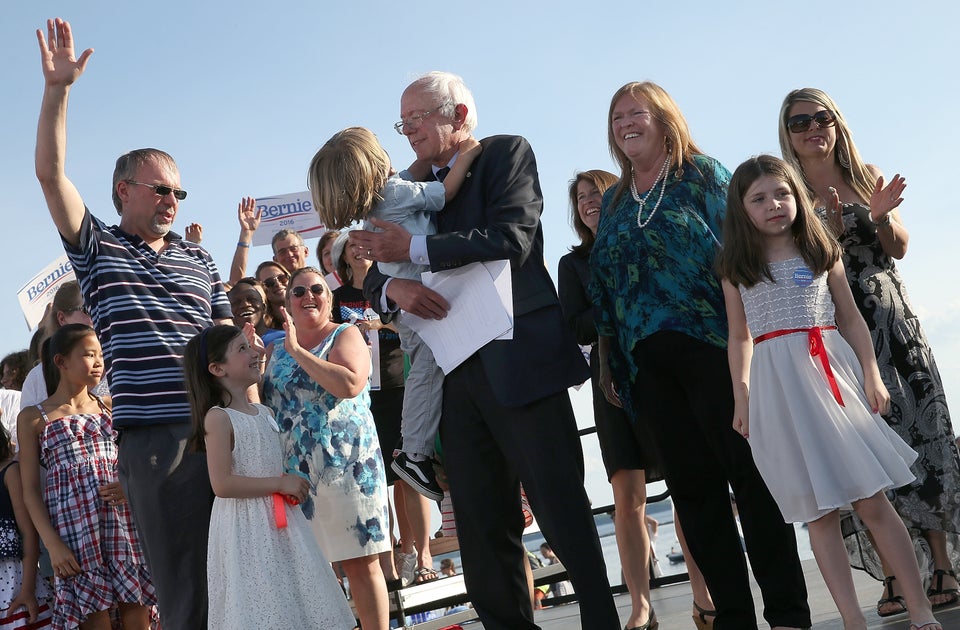 Bernie Sanders On The Campaign Trail
Popular in the Community