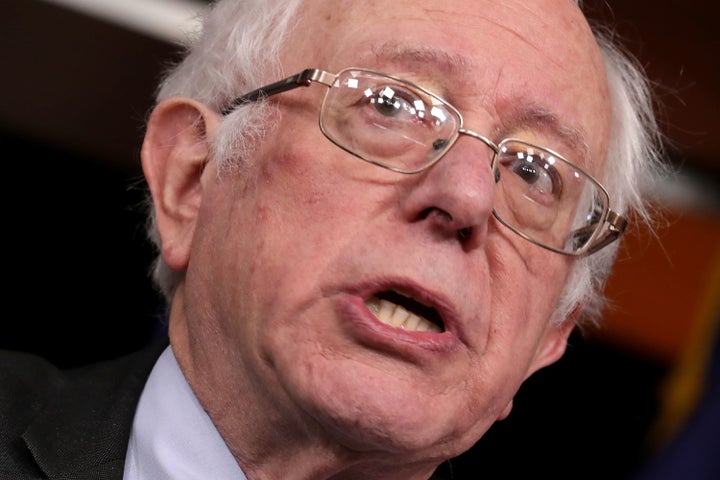 WASHINGTON -- Though Sen. Bernie Sanders (I-Vt.) is leading former Secretary of State Hillary Clinton in successive polls of Democratic voters inNew Hampshire andIowa, his campaign faces significantly more difficult terrain outside those two states.
The problem for Sanders is a demographic one. In the South, where a number of states hold primaries in February and the first half of March, Clinton still has a lock on nonwhite Democrats. (A great table from FiveThirtyEight illustrates how Vermont and New Hampshire are especially unrepresentative of the Democratic electorate writ large, since the Democratic voters there are predominantly white and liberal.)
The demographics of base voters in Southern states could make all the difference for Clinton, whose team is already building a "firewall" to wrap up the nomination soon after Iowa and New Hampshire.
On March 1, primary voters in Alabama, Arkansas, Georgia, Oklahoma, Tennessee, Texas and Virginia -- all states where Clinton is expected to come out ahead -- will go to the polls. Voters in Colorado, Massachusetts, Minnesota and Sanders' home state of Vermont will as well, and though Sanders has a chance of winning any of those states, their delegate counts pale in comparison to those in a larger state like Texas.
The Clinton campaign's focus on what's beyond the first four primary and caucus states of Iowa, New Hampshire, Nevada and South Carolina is a lesson learned from the 2008 Democratic presidential primary, when President Barack Obama's team methodically built up more of an infrastructure in later states than she did.
To undercut the perception that Clinton has a massive advantage in the Southern states that will guarantee her the nomination, Sanders' campaign has argued it could still pick up delegates in states he doesn't win. It has also suggested that momentum generated by winning Iowa and/or New Hampshire could help propel him to victory in later contests.
But, as of now, the advantage Clinton has among black voters who are crucial to winning in Southern states is undeniable. A Gallup poll from this summer found that 80 percent of black voters approved of her, while Sanders had just a 23 percent approval rating. Ninety-two percent of black voters were familiar with her; in contrast, just one-third of black voters were familiar with Sanders.
Sanders' team has explicitly acknowledged that it needs to do more to communicate his values to minority voters. His rhetoric on the stump about race issues has certainly evolved since Black Lives Matter activists interrupted him in July and cut short one of his speeches in August. Since then, he has given speeches specifically naming unarmed black people shot by police, begun to frequently mentions the high rate of black youth unemployment, met with leaders of the Black Lives Matter movement and released a racial justice platform.
Andra Gillespie, an associate professor of political science at Emory University, noted there are "historic rifts" between white progressives and civil rights activists on the importance of front-loading race-related issues, as Sanders has been pushed to do. She suggested African-American voters may be hesitant to support him even if they are attracted to some elements of his platform.
"Clinton hopes to capitalize on her greater name recognition, greater familiarity and being more moderate," Gillespie added. "She's hoping to appeal to a demographic that's probably ideologically more conservative than Sanders is. Southerners who may have heard that Bernie Sanders is a socialist may be turned off by that on the merits, or they may oppose him for strategic purposes, thinking he wouldn't win in a general election."
Larry Sabato, the director of the University of Virginia's Center for Politics, echoed Gillespie's suggestion that electability is a problem for Sanders, while adding that minorities look likely to stick with Clinton unless the controversy over her use of a private email server while at the State Department takes a more serious turn. He agreed that Sanders wins in Iowa and/or New Hampshire would help the senator with minority voters, though to what degree "is anyone's guess."
"Minorities were actually pretty loyal to Hillary in 2007," he noted. "They only began to break away when they saw Obama start winning -- and realized that he might actually have a good chance to become the first African-American president. This time, it's more difficult to see a full-scale defection, unless of course Clinton were indicted or something on that scale. The Clinton name is still a revered one among minorities."
Two other factors, according to Sabato, make a firmer prediction about Sanders' chances with minorities more difficult: Whether Vice President Joe Biden decides to join the primary and how well Sanders ultimately performs in Iowa and New Hampshire.
All of those as-yet-unknown factors, Sabato said, lead back to the stand-by for political analysts: "We'll have to wait and see."
Popular in the Community