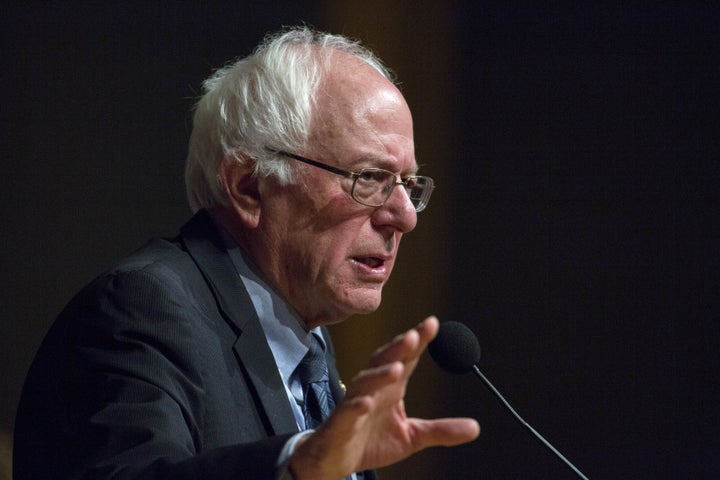 Mike Elk has led an outspoken campaign to unionize Politico since arriving at the publication last year. On Tuesday, the labor reporter broached the topic of media unionization during a question-and-answer session with Democratic presidential candidate Bernie Sanders during a meeting of the International Association of Sheet Metal, Air, Rail and Transportation Workers in Washington.
"There's been a lot of organizing drives in the media industry. There's been a lot of intimidation recently in new media," Elk said. "Do you think it would help the media if it was better unionized?"
"Yes," Sanders responded.
Elk then asked the Vermont senator whether employers should agree to "card-check neutrality," which allows employees to unionize by signing union cards rather than by holding a secret-ballot election.
"The answer's yes," Sanders said. "I think all workers in whatever area -- it's not just the media -- do have a right to form a union without harassment on the part of their employers."
Sanders also elaborated on the drawbacks of increased media consolidation, citing the lack of coverage about the Trans-Pacific Partnership -- a controversial trade agreement now being negotiated by the U.S. -- as one example.
"It is hard to have a vibrant democracy, where people are hearing all kinds of ideas from different perspectives, when you have a handful of multinational corporations controlling the flow of information," Sanders said.
"There was almost no coverage on network news about the most important trade agreement in the history of this country," he added. "Is that an accident? Who determined that the TPP, covering 40 percent of the world's economy, was not a significant issue?"
Support HuffPost
The Stakes Have Never Been Higher
Related
Popular in the Community