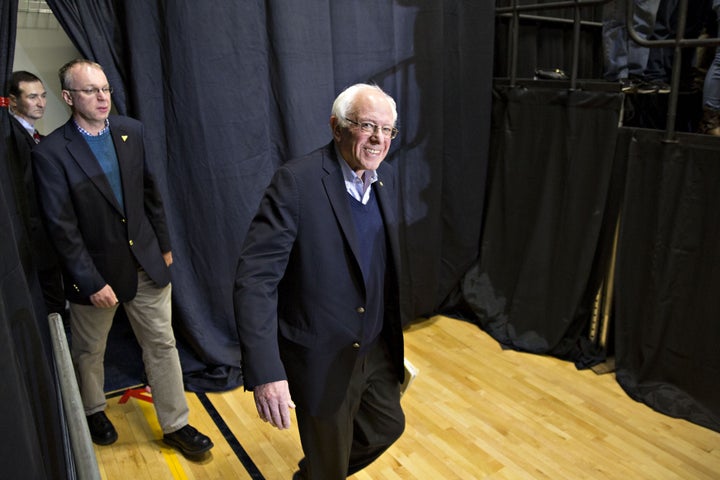 The Bernie Sanders campaign is boosting its polling budget, but it's hard to tell exactly how much candidates are spending. Nonwhite voters may be up for grabs in Nevada and South Carolina. And favorability ratings show why Trump might have problems in a general election. This is HuffPollster for Thursday, February 11, 2016.
BERNIE SANDERS TURNING SERIOUS ABOUT POLLING - HuffPollster with Ryan Grim: "Presidential candidate Sen. Bernie Sanders (I-Vt.) famously eschewed polling in the runup to his bid, instead drawing on his decades of well-known political positioning to put together a platform. It appears he has had a change of heart.... MSNBC reported last week that Sanders spent $500,000 on polling last quarter, up from the $52,000 he spent in the previous quarter….A Huffington Post analysis of Sanders' campaign filings from last year found that he spent at least $500,000, and perhaps as much as $1 million, on polling….Sanders' increased poll spending is a sign that his campaign has gained momentum, said Lonna Atkeson, the director of the Center for the Study of Voting, Elections and Democracy at the University of New Mexico."  [HuffPost]
Other candidates are spending big on polls too, but it's hard to say how much - Federal Election Commission filing codes make it difficult to interpret exactly how much any candidate is paying for polls. Some candidates file poll expenditures under codes like "polling" or "survey research" and others show no direct evidence of poll spending, leaving the possibility that they're filing under other codes, like "strategy consulting." Viveca Novak, the editorial and communications director at the Center for Responsive Politics, told the Huffington Post that candidates can report in polling expenditures in lump sums under such codes so it's difficult to say how the money is being used.
Estimates show considerable variation in spending - HuffPollster sifted through the data and created a range of estimates for each candidate. The minimum calculation includes campaign expenses defined as some variation of "polling," "survey[s]," or "research" on polls. The maximum includes expenditures classified under some variation of "strategic consulting," which may or may not include polls. Hillary Clinton may have spent anywhere from $2.8 million to $3.3 million. Ted Cruz may have spent the most money on the Republican side at anywhere from $600,000 to $3.7 million, with $3.1 million going to the data firm Cambridge Analytica. An additional 1.5 million was allocated to other strategy analysis.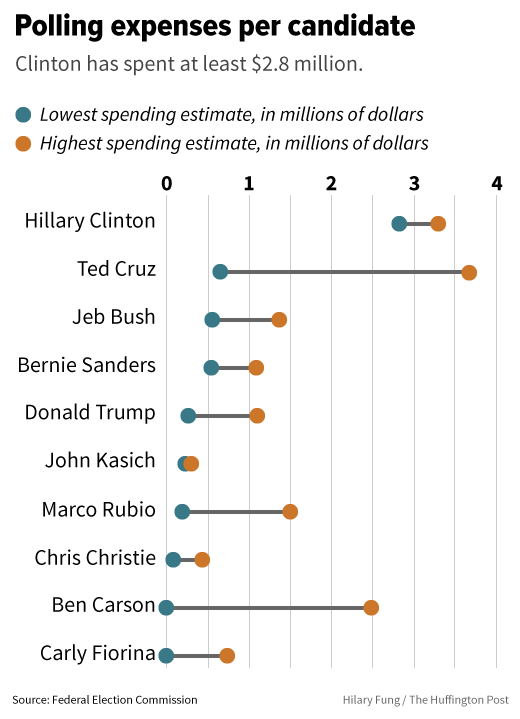 HOW BERNIE SANDERS COULD WIN OVER NONWHITE VOTERS - Nate Cohn: "[I]t is clear that Mr. Sanders is faring much better among less educated and working-class white voters than Barack Obama did in 2008, or than other idealistic liberal candidates like Howard Dean and Bill Bradley did….The exit polls show Mr. Sanders doing best among less affluent voters — and it's not just because young voters, with whom he's very popular, make less money. The actual returns also show that Mr. Sanders fared well in many of the places where Mr. Obama was weakest, like far western Iowa and southeastern New Hampshire….Mr. Sanders's success with white working-class Democrats at least raises the possibility that he could make similar gains among nonwhite voters, who are less affluent than white voters. Whether he could make enough gains to win the nomination is an entirely separate question. We'll find out the answer soon enough, in Nevada and South Carolina — the first two states with a meaningful number of nonwhite voters." [NYTimes]
DONALD TRUMP COULD LOSE MANY SWING STATES IN A GENERAL ELECTION - Matt Dabrowski (R): "Gallup's venerable Frank Newport has noted that Trump would be the least popular major-party nominee in that firm's long history of tracking such data….But as long as presidents are chosen by the electoral college, we need state-level data….Trump's best (lowest) unfavorable is 51%, from Florida Atlantic's survey. Trump's worst (highest) rating came in New Hampshire, where Tom Jensen's PPP team reported him at 64% unfavorable (!) in their January survey. If our rule of thumb is accurate, Trump is set to lose all seven swing states, since his unfavorable number is over 50% in each. In 2008, John McCain lost all these states. In 2012, Mitt Romney won one (North Carolina). So based on this (very incomplete) data, Trump may do at least as well as John McCain." [HuffPost]
HUFFPOLLSTER VIA EMAIL! - You can receive this daily update every weekday morning via email! Just click here, enter your email address, and click "sign up." That's all there is to it (and you can unsubscribe anytime).
THURSDAY'S 'OUTLIERS' - Links to the best of news at the intersection of polling, politics and political data:
-Utah residents are the most confident about their economy, while Illinois residents are the least. [Gallup]
-"Unbound" delegates complicate how votes translate into delegates in New Hampshire. [FHQ]
-Hillary Clinton should fare better in more diverse primary states, unless Bernie Sanders is able to make inroads with minorities. [Center for Politics]
-Michelle Hackman finds that Bernie Sanders won demographic groups in New Hampshire that should have been easy wins for Hillary Clinton. [Vox]
-Amy Walter explains why Marco Rubio is the most likely Republican to emerge as the establishment candidate. [Cook Political Report]
Josh Barro says former Arizona Gov.Jan Brewer foreshadowed the rise of Donald Trump. [NYT]
-Kayla N. Jordan and James W. Pennebaker say the Democratic debates are associated with more formal and logical thinking than the Republican debates. [WashPost]
Hilary Fung contributed reporting. 
Calling all HuffPost superfans!
Sign up for membership to become a founding member and help shape HuffPost's next chapter