But he isn't climbing as quickly in other parts of the country. While Sanders is rising, Clinton still leads him by nearly 20 percentage points in the HuffPost Pollster national chart and in most recent national polls.
Sanders' slower national climb is likely due, at least in part, to his lack of name recognition across the country. Democrats in the critical early primary states -- like New Hampshire and Iowa -- know him better than those elsewhere.
Only 12 percent of Democrats in New Hampshire and 15 percent of Democrats in Iowa say they haven't heard enough about Sanders to rate him in favorability questions. But nationally, that share jumps to 38 percent.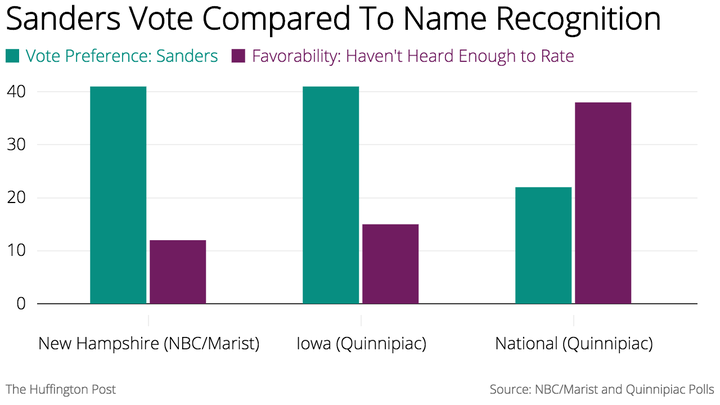 Sanders is especially well-known in New Hampshire since his entire political career has been based in neighboring Vermont, and he has been campaigning heavily in Iowa.
What stands out in the national chart is that Clinton's lead has diminished sharply over the summer -- faster than Sanders has made gains. Even though he hasn't publicly decided whether to run, Vice President Joe Biden is pulling an increasingly large share of Clinton's supporters. According to a new ABC/Washington Post poll, the former secretary of state's support drops 14 points -- from 56 percent to 42 percent -- when Biden is in the race. In July, Clinton was losing only 5 percent of her support to Biden.
It's entirely possible that Sanders' numbers could rise nationally as people become more familiar with him. But Sanders supporters shouldn't get too excited, nor should Clinton supporters get too fearful, based on these early surveys. While the polls show how the race stands right now, it's likely the numbers will change drastically between today and when actualy voting starts in New Hampshire and Iowa. Early primary polls are good measures of how well-known the candidates are, but they aren't very good at predicting eventual winners.
The NBC/Marist Poll cited in the infographic was conducted Aug. 26-Sept. 2, and the results are based on 356 respondents identified as likely to vote in the primary. It had a margin of error of +/- 5.2 percentage points. The Iowa Quinnipiac poll was conducted Aug. 27-Sept. 8, with 832 likely Democratic caucus participants and a margin of error of +/- 3.4 points. The national Quinnipiac poll was conducted Aug. 20-25, with 647 registered voters who identified as Democrats or leaning toward the Democratic Party, and a margin of error of +/- 3.9 points.
The ABC/Washington Post poll was conducted Sept. 7-10, with results based on 356 registered voters who identified as Democrats or leaning toward the Democratic Party, and a margin of error of +/- 6 points (adjusted for design error). All four polls used a national randomly generated sample of Americans and contacted respondents via landline and cell phone.
Popular in the Community