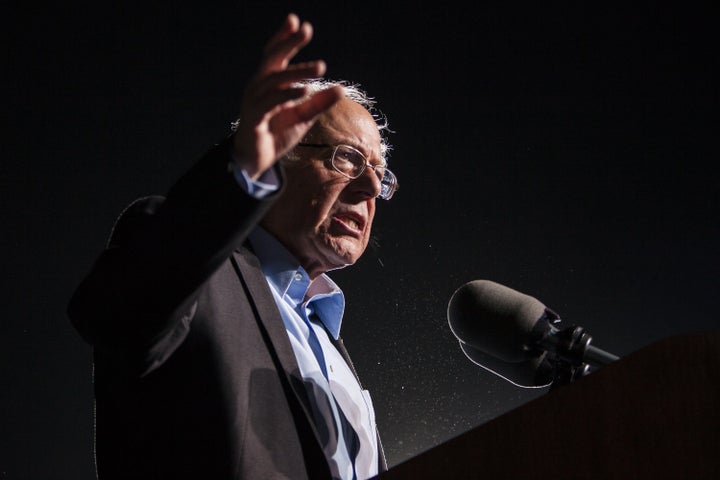 WASHINGTON -- Senator and Democratic presidential hopeful Bernie Sanders (I-Vt.) introduced legislation on Thursday that promises to ban government contracts for privately run prisons and jails within three years. Implementing such a plan would be an ambitious effort, as it would give authorities more than 100,000 additional inmates to manage -- the number held in private facilities as of 2013. The bill's immigration provisions are similarly bold.
"We have got to do everything that we can as a nation to end that reality of locking up so many people, and we have got to do it as rapidly as possible," Sanders said at a press conference on Thursday.
The Justice Is Not For Sale Act, introduced in the House by Rep. Raúl Grijalva (D-Ariz.) and other lawmakers, would ban federal, state and local governments from contracting with private companies to run prisons and other detention facilities. Within three years, facilities housing prisoners must be under government control.
Ruthie Epstein, a legislative policy analyst at the ACLU, characterized this part of the bill as "extremely ambitious." Her organization is opposed to the use of private prisons, but she said that the end of private prisons has to go hand-in-hand with a decline in the overall prison population and decarceration. (Part of the bill could decrease the prison population by reinstating the federal parole system, which was abolished in 1984.)
"We don't want to see private prisons just replaced by government-built prisons," she said.
Privately run prisons are unpopular among many criminal justice reform advocates because they have a financial incentive to keep people locked up. Companies like the Corrections Corporation of America (CCA) have emerged as major lobbying forces. Idaho took over a CCA-run prison last year after multiple lawsuits against the prison. But government-run facilities are not immune from allegations of abuse, as damning reports on the Rikers Island jail complex in New York City have shown.
Inmates will "absolutely" be better served in state and federal facilities, Grijalva told the Huffington Post in an email. "For-profit prisons cut corners to turn a buck; that means less well-trained staff to manage the prisons which puts the prisoners, guards and the public's safety at risk," he said.
Jonathan Burns, a spokesman for CCA, said his company keeps communities safe, supports reentry programs and saves taxpayers money. "It's unfortunate that politicians advocate against these benefits without themselves providing any solutions," he said in an email.
Paul DeMuro, an expert on confinement conditions who reviewed a summary of the bill in advance (but not the full text) said that "getting the financial incentive out of locking people up or keeping them on parole is fundamentally the right thing and the fair thing to do."
"Would it be difficult? Would it be time-consuming?" he said. "Lots of things are and government could do this, I think, rather readily."
When a corporation takes over a state-run facility, it often hires a good deal of people working at the facility already, DeMuro pointed out. The bill would provide a transition the other way. "It's not a matter of building new facilities," he added. "It isn't as massive a relocation, it's a massive governance change."
"The idea that we're paying a middle man to perform a job that was fulfilled fine before is absurd," Grijalva said.
The ban on private prison contracts also extends to immigrant detention centers, some of which are run by the same companies that operate criminal facilities. The legislation also aims to eliminate the use of family detaining families and end a bed mandate for detention centers.
The bed mandate and use of private prison contractors, in particular, are incentives for immigration agents to apprehend and detain as many people as possible, according to advocates for reform. The government is required to maintain 34,000 beds to hold immigrants who are undergoing deportation proceedings.
Officials say they consider that mandate to refer to having the capacity to detain that number, not actually having those beds full at all times. But more people in detention means more money for the companies housing immigrants awaiting deportation, because 62 percent of beds are in privately run facilities, according to the civil rights group Grassroots Leadership.
Detention of women and children has increased exponentially over the past year and a half, with two large new facilities opening to supplement a center that holds less than 100 people. The two newer detention centers are run by CCA and the GEO Group, both of which have been accused of inadequately caring for the women and children inside.
Rep. Keith Ellison (D-Minn.), who co-chairs the Congressional Progressive Caucus with Grijalva, said women who were detained in those facilities told him they were poorly treated, and he suspects the profit motives are part of the reason.
"They were denied adequate health care, denied adequate food," Ellison said after the press conference. "Of course they were. Because this company is trying to make money."
Given the proportion of people who are held in privately run facilities, implementing Sanders' and Grijalva's bill on the immigration side would be a heavy lift. But it's something critics of mass immigrant detention -- including Grijalva himself -- have for years said is possible. Many of the immigrants in detention could be released and monitored, whether it be through ankle bracelets or required check-ins with immigration agents, they argue. Government officials say they are already moving toward that strategy for women and children in detention.
But the government should be doing that more quickly and across the board, said Mary Small, policy director at Detention Watch Network. One of the best features of the bill, she said, is that it instructs officials to use alternatives to detention whenever possible, which is less invasive for the immigrant undergoing deportation proceedings and less expensive for taxpayers.
"It actually is a little ridiculous that it's requiring legislation or some kind of policy change from the administration to make that happen," she said.
Popular in the Community