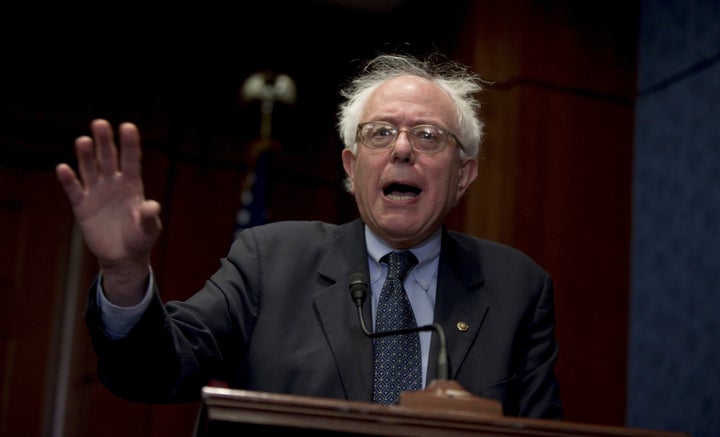 WASHINGTON -- Bernie Sanders (I-Vt.) told thousands of Americans that if Republicans "run over us now, there is no stopping these guys," and called on activists across the country to sink Obama's tax cut compromise.
"At the end of the day, the only way we transform America is through grassroots activism," Sanders said on a conference call hosted by Democracy for America late Tuesday night. "We have to do events like this. We have to knock on doors."
Sanders has emerged as the most outspoken opponent of President Obama's tax cut compromise, threatening to filibuster the legislation in the Senate and calling on Americans to take to the streets, or at least to their phones.
"Talk to people who do not agree with you on everything," he said. "Run for city council, run for the school board, write the letters to the editor."
The Vermont Independent said that on Tuesday his office received almost a thousand telephone calls about Obama's tax cut compromise, and that 99% of callers opposed the president's plan.
"People are frustrated that at a time when wealthy people are making out like bandits, the middle class is collapsing," he said on a call hosted by DFA, the group started by former Vermont Gov. Howard Dean's campaign in 2004.
Sanders encouraged callers to do "what progressives have been doing forever -- you educate and you organize."
"If millions of people say to the president, 'Mr. President you struck a bad deal!' -- we'll win this fight!" he said.
Sanders vowed to do everything he can on Capitol Hill to block Obama's deal from going through, but conceded that he will need some Republican support to kill the bill.
"Our goal now is to start peeling off some Republicans," said Sanders. But, he added, citizens also have a role to play in pressuring GOP deficit hawks to fight the bill.
"Tie up those lines!" he said. "E-mail people! Our position should be very, very clear."
While winning over a handful of Republicans may be ambitious, retiring Sen. George Voinovich (R-Ohio) has already vowed to defeat any tax bill, arguing nobody should have any tax breaks extended with the deficit at $13.7 trillion, and Sen. Jim DeMint (R-S.C.) has also came out in opposition to Obama's agreement.
"I don't think we need to extend unemployment any further without paying for it, and without making some modifications such as turning it into a loan at some point," he told the Hugh Hewitt radio show on Tuesday.
Though DeMint's support would seem to constitute an unlikely alliance, such Republican dissent could pose a significant threat to Obama's plan, sending Democrats back to the drawing board with tax cuts for the middle class set to expire in a matter of weeks.

Calling all HuffPost superfans!
Sign up for membership to become a founding member and help shape HuffPost's next chapter