In a speech indicting President Donald Trump's vision and policies on Tuesday night, Sen. Bernie Sanders (I-Vt.) lauded an upswell of progressive activism, dubbing it "the beginning of a political revolution."
But, in a reflection of the diverse chorus of Democratic voices eager to make their mark, several other progressive leaders, including Sanders, joined the fray.
Acting as a de facto spokesman for the left wing of the Democratic Party and the motley mix of disenchanted populists who flocked to his 2016 presidential campaign, Sanders' speech was, true to brand, far more radical in its proposals, indignant in its tone and saturated with policy details than the two official responses delivered by Kennedy and Guzman. Streamed live online, it was also nearly twice as long as either of their orations ― and, unlike his Democratic counterparts, Sanders chose not to refer to God in his closing.
He divided his comments into three parts: a description of the campaign promises Trump has failed to uphold; the "major crises facing our country that, regrettably, President Trump chose not to discuss;" and a discussion of Sanders' own ambitious progressive vision for the country.
Sanders argued that while Trump claims to be helping American workers, the overwhelming share of income gains in the economy continue to go to the richest slice of the country.
"Since March of last year, the three richest people in America saw their wealth increase by more than $68 billion. Three people," he declared incredulously. "A $68 billion increase in wealth. Meanwhile, the average worker saw an increase of 4 cents an hour."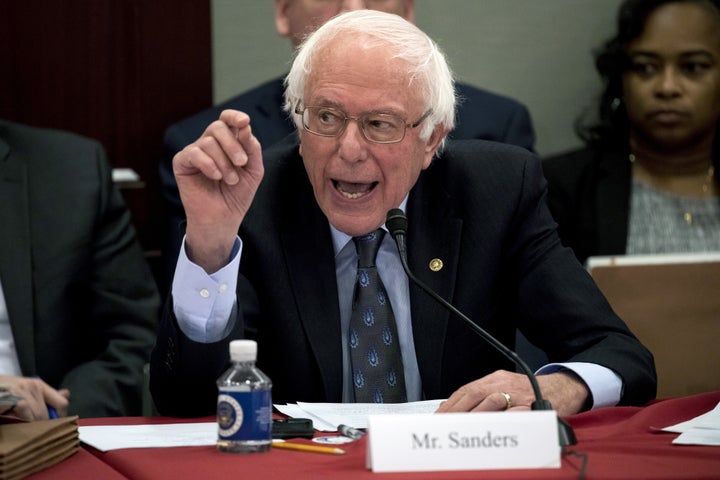 Exposing Trump as a false populist is a favorite pastime for Sanders, whom observers sometimes lump together with Trump as a figure who channeled the anti-establishment zeitgeist in the 2016 election.
Sanders' message was that Trump's everyman schtick on the campaign trail has turned out to be a fraud. Among other disparities between his campaign promises and governance, Sanders took Trump to task for claiming he would bring down prescription drug prices before appointing a former pharmaceutical executive, Alex Azar, to lead the Department of Health and Human Services.
As a candidate, Trump also made noise about taking on the titans of Wall Street, Sanders noted. Not so once in office, the Vermont senator said.
"As president, not only has Trump not taken on Wall Street, he has appointed more Wall Street billionaires to his administration than any president in history," Sanders stated. "And now, on behalf of Wall Street, he is trying to repeal the modest provisions of the Dodd-Frank legislation, which provide consumer protections against Wall Street thievery."
"These candidates understand that the United States has got to join the rest of the industrialized world and guarantee health care to all as a right, not a privilege, through a Medicare for all, single-payer program."
Equally offensive to Sanders was Trump's omission of climate change and other pressing topics from his State of the Union address. (Democrats also left it out of their two official responses.)
"No, Mr. Trump, climate change is not a 'hoax,'" Sanders said. "It is a reality which is causing devastating harm all over our country and all over the world, and you are dead wrong when you appoint administrators at the EPA and other agencies who are trying to decimate environmental protection rules and slow down the transition to sustainable energy."
Like other Democrats, Sanders spoke passionately about the need to stand up to Trump's attempts to "divide us up based on the color of our skin, our nation of origin, our religion, our gender, or our sexual orientation." He also expounded on the need to allow the Dreamers, or undocumented immigrants who arrived in the U.S. as children, to stay in the country.
But the social-democratic agenda that Sanders advocated in his speech went far beyond that. His vision for the country is one in which all residents have access to an expanded Medicare program, workers earn at least $15 an hour, families have access to paid child care and students can attend public college for free.
Concluding on a positive note, Sanders said he saw, in the anti-Trump activism on display during the Women's March the day after Trump's inauguration, a grassroots movement to not only take on the president, but enact the comprehensive progressive agenda Sanders advocates.
"We are starting to see the beginning of a political revolution, something long overdue," he said. "And these candidates, from coast to coast, are standing tall for a progressive agenda, an agenda that works for the working families of our country and not just the billionaire class.
"These candidates understand that the United States has got to join the rest of the industrialized world and guarantee health care to all as a right, not a privilege, through a Medicare for all, single-payer program," he continued.
Of course, the truth is a bit more complicated. The masses of Democratic voters who have taken to the streets, as well as new candidates running for office, include a fair number of mainstream liberals and even moderates. And Democratic Party leaders have remained adept at keeping left-wing mavericks away from the levers of power.
But Sanders' populist agenda has picked up momentum ― and had some successes at the ballot box.
In fact, one dyed-in-the-wool progressive who backed Sanders' 2016 presidential bid is Guzman, the Virginia state lawmaker chosen to deliver the official Democratic State of the Union response in Spanish.
"He said if we really believe in his message about the working class ... policies and laws are taking place at the state and local level. And if we really wanted to create change, then we needed to run for office," Guzman said. And so she did.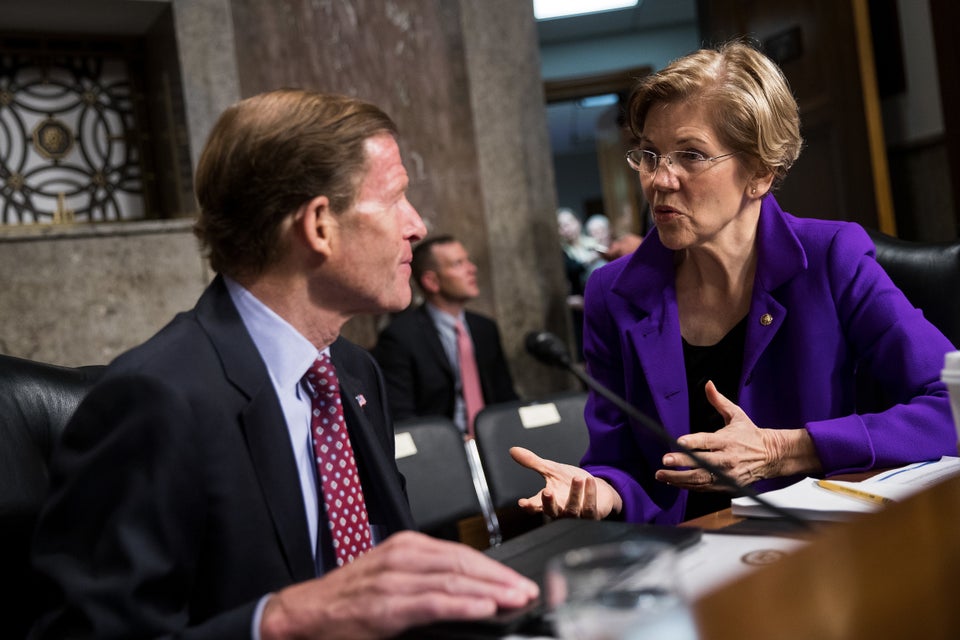 2017 Scenes From Congress & Capitol Hill