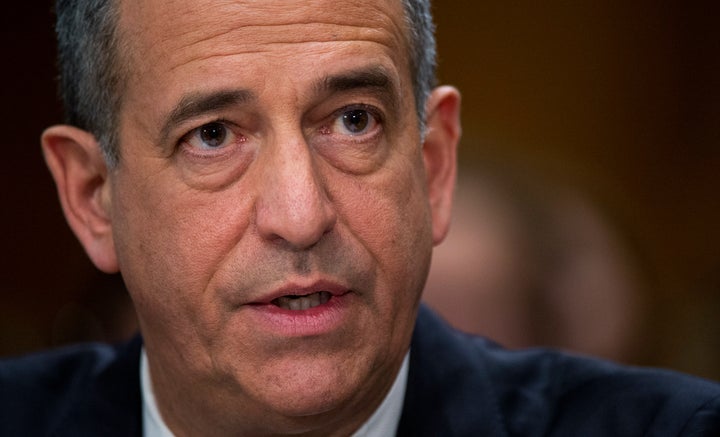 Sen. Bernie Sanders (I-Vt.) is giving a boost to Russ Feingold in his bid to return to the Senate. The Democratic presidential candidate sent out an email to his national list of supporters Thursday to raise money for the progressive Democrat.
"We are going to have to elect candidates up and down the ballot who recognize that it is too late for establishment politics and economics," Sanders wrote. "Candidates like my friend, former U.S. Sen. Russ Feingold."
"Russ led the fight with me to make the Affordable Care Act much stronger in 2009. He voted against the USA Patriot Act and the war in Iraq," he added. "He authored and passed landmark campaign finance reform legislation and his campaign is powered by small-dollar contributions like ours."
Feingold is running to retake his seat from Sen. Ron Johnson (R-Wis.), who was swept into office in the tea party wave of 2010. He's considered one of the most vulnerable GOP incumbents in this election cycle, and HuffPost Pollster's average of polling in the race shows Feingold with a slight lead.
In April, Sanders' senior adviser Tad Devine told MSNBC that the senator's efforts to turn out young voters could help candidates like Feingold. 
"I mean, look how many young people we had in Wisconsin -- more 18- to 29-year-olds than voters 65-plus," Devine said. "You know, if Russ Feingold wins in November, in part he should thank Bernie Sanders for registering all those young people." 
Hillary Clinton frequently stresses her work in helping build the Democratic Party infrastructure, but Sanders has recently started to endorse progressive candidates up and down the ballot, including law professor Tim Canova, who is challenging Democratic National Committee Chair Rep. Debbie Wasserman Schultz (Fla.) in a primary.
Senate Minority Leader Harry Reid (D-Nev.) advised Democrats eager to see Sanders drop out of the presidential race to "lay off" Tuesday, specifically noting his support of Feingold. 
"I'm very happy that Sen. Sanders is supporting him big time," Reid said.
Calling all HuffPost superfans!
Sign up for membership to become a founding member and help shape HuffPost's next chapter
BEFORE YOU GO