In a heated exchange during Pruitt's Wednesday confirmation hearing, Sanders grilled Pruitt, President-elect Donald Trump's choice to lead the Environment Protection Agency, on his climate change record. 
Sanders began by asking Pruitt whether he believed climate change is caused by carbon emissions linked to human activity.
"So you are applying for a job as administrator for the EPA, to protect our environment, an overwhelming majority of scientists say we have got to act boldly and you're telling me there needs to be more debate on this issue and we should not be acting boldly?" Sanders asked.
The Vermont senator went on to ask a pair of pointed questions aimed at Pruitt's personal opinion on climate science, which the nominee dodged, saying: "My personal opinion is immaterial to the job."
That response appeared to openly frustrate Sanders, who noted that the "vast majority" of scientists have come to agreement that climate change is directly caused by human activity.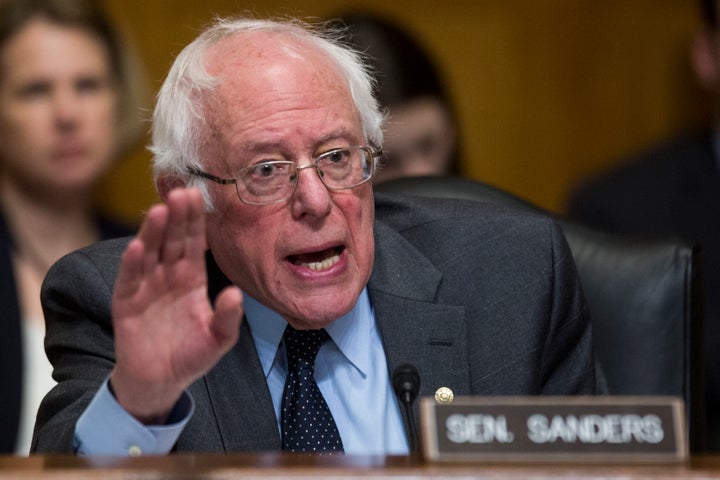 Pruitt went on to say that he believes regulating carbon dioxide emissions is "an important role" for the incoming EPA administrator, but Sanders appeared to be unimpressed, concluding his speaking time by stating that Pruitt would not have his vote.
Pruitt's previous expressions of climate change skepticism raised concerns among environmentalists ahead of Wednesday's hearing.
In May, Pruitt claimed that climate science is "far from settled" in a National Review op-ed he cowrote with Alabama Attorney General Luther Strange (R).
In that piece, Pruitt and Strange labeled a group of Democratic attorneys general ― who are investigating allegations that Exxon Mobil and other gas and oil companies misled their investors and the public on the risk of climate change ― a "climate-change gang" working to "intimidate citizens into silence."
Pruitt has also participated in what the New York Times described as an "unprecedented, secretive" alliance with oil and gas companies, accepting large donations from the industry while pushing for softer environmental regulations of the industry.
Meanwhile, two federal agencies, NASA and the National Oceanic and Atmospheric Administration, announced earlier Wednesday that 2016 marked the third consecutive year that the planet reached record-high temperatures, and the 40th year in a row of above-average global temperatures.
Joseph Erbentraut covers promising innovations and challenges in the areas of food and water. In addition, Erbentraut explores the evolving ways Americans are identifying and defining themselves. Follow Erbentraut on Twitter at @robojojo. Tips? Email joseph.erbentraut@huffingtonpost.com.
Calling all HuffPost superfans!
Sign up for membership to become a founding member and help shape HuffPost's next chapter
BEFORE YOU GO
PHOTO GALLERY
What You Can Do Right Now To Stop Donald Trump's Dangerous Climate Agenda