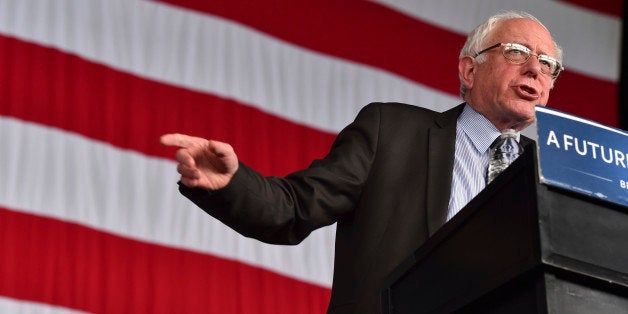 During Monday night's The Young Turks' live coverage of the CNN town hall, the main host, Cenk Uygur, took a few minutes to bemoan the lack of response by Bernie Sanders' campaign team, who the network has tried to 'ask a hundred times' to set up an interview with the candidate.
Uygur, Ana Kasparian, John Iadarola and the other co-hosts have made TYT one of the only major news channel that has consistently and objectively argued for the Vermont senator's positions during this election cycle, and has repeatedly exposed failings in his opponents' past policies and decisions.
Today, The Young Turks is the largest online news network in the world, with over 2 million subscribers, over 60 million views per month and almost 2.5 billion views during its ten-year lifetime. The show airs live on YouTube every weekday and has a large, progressive audience, almost mirroring the one voting for the Vermont Senator in this election.
Uygur has extensively covered the Senator during the past decade, praising his progressive policies in Vermont and echoing his positions on campaign finance reform and wealth inequality long before the mainstream media ever mentioned these words. He also called for him to run for president years before the general public knew that he existed, and predicted a Bernie Sanders revolution when other news channels were refusing to even include his name in their survey polls.
It is understandable that Sanders currently prefers to address the mainstream media audience that is not yet inclined to vote for him, but there is only so much you can repeat on the same major television networks, particularly when they regularly attempt to portray you as a dangerous radical leftist.
Sanders has, so far, done better than Clinton with millennials, but he has yet to reach the heights of President Obama's incredible run for office, which brought out record numbers of young people to the polling stations.
It is therefore critical for the Senator to reach out to his loyal supporters and to address TYT's young audience, whose presence is felt on the Internet more than any other demographic.
It puzzles me that in an age where online social media has influenced political events at unforeseen levels, Sanders' campaign still refuses to engage with the largest online news source of them all.
Bernie Sanders not appearing on TYT is the equivalent of a staunch conservative not appearing on Fox News. It just doesn't make sense to avoid your base and it has to change before it is too late.
It should be noted that Senator Sanders has spoken to Cenk Uygur before-- only this time it was in 2011 on MSNBC:
Supporters of the network have started a petition urging Sanders to be interviewed by TYT.
Calling all HuffPost superfans!
Sign up for membership to become a founding member and help shape HuffPost's next chapter