Sen. Bernie Sanders (I-Vt.) and Rep. Peter DeFazio (D-Ore.) introduced a bill on Thursday to expand Social Security benefits by lifting the cap on earnings subject to payroll taxes.
The progressive lawmakers presented their proposal on the day that Americans with wages of $1 million or more stop paying into Social Security for the year.
Workers now contribute to Social Security based on the first $127,200 they earn every year. The new legislation would apply the 6.2-percent payroll tax to ordinary earnings of $250,000 or more, as well as to unearned income, like capital gains and dividends, above that threshold.
Rather than increase benefits for those high-earning workers based on their additional contributions, the bill would use the revenue to extend Social Security's solvency until 2078, and to boost benefits across the board with a disproportionate impact on low earners.
"We can expand benefits, we can extend the life of Social Security, if we have the guts to tell the millionaires and billionaires, yes, they are going to have to pay a bit more in taxes," Sanders said at a press conference on Capitol Hill.
Sanders was joined by DeFazio; Democratic Sens. Ron Wyden (Ore.) and Elizabeth Warren (Mass.); Democratic Reps. Jan Schakowsky (Ill.) and Paul Tonko (N.Y.); and representatives of progressive organizations like Social Security Works, the National Committee to Preserve Social Security and Medicare, and the Alliance for Retired Americans.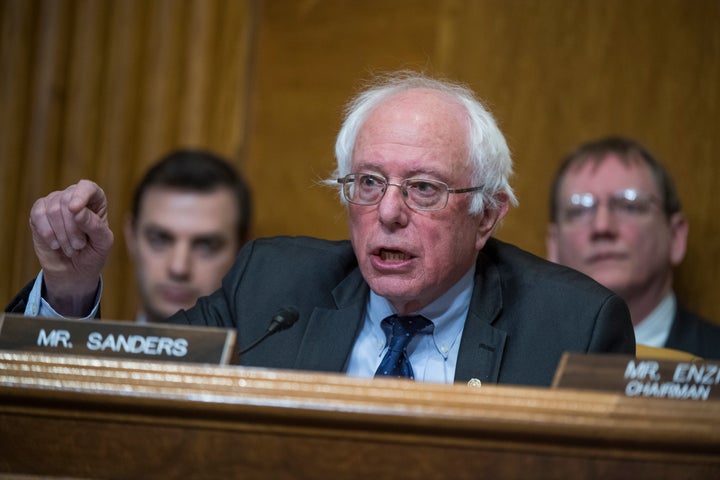 There has been a cap, or taxable maximum, on the amount of pay subject to the payroll taxes that fund Social Security since the government began collecting the tax in 1937.
The cap rises with the average wage index. The share of the country's ordinary earnings covered by the cap, however, has declined to just under 83 percent in 2014 from 90 percent in 1983.
This drop is the result of the disproportionate wage growth of those with earnings above the cap, and stagnant pay growth for the vast majority of workers, according to an analysis by the Center for American Progress released Thursday. An accompanying study published by the Center for Economic and Policy Research found that just 1.6 percent of American workers make $250,000 a year or more, suggesting that Sanders' bill would affect relatively few people.
There is virtually no chance of the legislation advancing in the Republican-controlled Congress.
Instead, the release of the bill was another opportunity for Democrats to hammer President Donald Trump for going soft on campaign promises not to cut Social Security and Medicare. Trump has not discussed his plans for the two programs since the election, but his proposals to invest in infrastructure, increase defense spending and reduce taxes will put him under enormous pressure to find savings elsewhere.
Warren said at Thursday's press conference that Trump's appointment of Rep. Mick Mulvaney (R-S.C.) as director of the White House Office of Management and Budget shows that Trump "has already turned his back on his promise to protect Social Security." The Senate confirmed Mulvaney on Thursday morning in a 51-49 vote.
In his confirmation hearing last month, Mulvaney refused to disavow a previous claim that Social Security is a "Ponzi scheme," and reaffirmed his support for benefit cuts, such as an increase in the retirement age. Warren noted those positions in her comments.
"That's who Donald Trump put in charge of delivering a budget to the American Congress," Warren said, referring to Mulvaney. "Well, I'm here to say, those budgets that cut Social Security will go down in flames. We will fight back."
Before You Go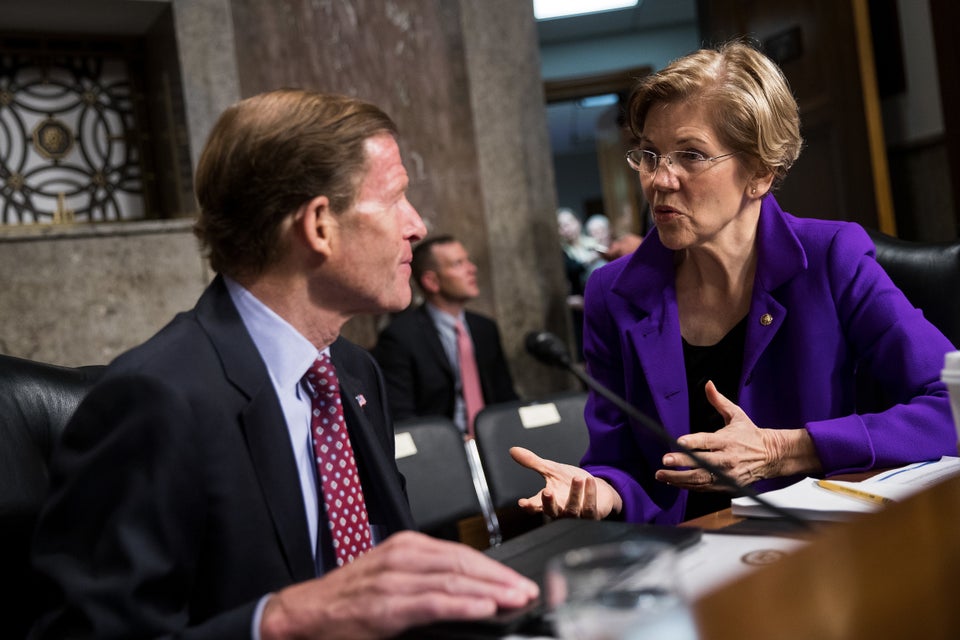 2017 Scenes From Congress & Capitol Hill
Popular in the Community