WASHINGTON -- Democratic presidential candidate Bernie Sanders sought to contextualize his self-described "democratic socialism" on Thursday by pointing out that many of the programs Americans use today -- such as unemployment insurance, Social Security and Medicare -- were considered radical when they were introduced decades ago.
Sanders' widely anticipated speech explaining what democratic socialism means to him was hosted at Georgetown University's new Institute of Politics and Public Service at the McCourt School of Public Policy. The independent senator from Vermont was greeted with rapturous applause by students who had waited in line in the pouring rain to hear his remarks.
Sanders' speech invoked Franklin Delano Roosevelt's 1944 State of the Union address, in which the president described "a second Bill of Rights" to provide more economic security for the American people. Sanders quoted Roosevelt, who said that "true individual freedom cannot exist without economic security and independence. Necessitous men are not free men."
"In other words, real freedom must include economic security," Sanders said.
Channelling FDR has become somewhat of a trope in this Democratic primary. The leading candidate for the Democratic nomination, former Secretary of State Hillary Clinton, held her first rally of the 2016 race earlier this year at the Franklin D. Roosevelt Four Freedoms Park on New York's Roosevelt Island.
Sanders noted that policies FDR advocated for, such as Social Security, a federal minimum wage, the 40-hour workweek, the eradication of child labor, collective bargaining, banking regulations and other measures, were derided as "socialist" at the time.
"Against the ferocious opposition of the ruling class of his day, people he called economic royalists, Roosevelt implemented a series of programs that put millions of people back to work, took them out of poverty and restored their faith in government," Sanders said. "He redefined the relationship of the federal government to the people of our country. He combated cynicism, fear and despair. He reinvigorated democracy. He transformed the country. And that is what we have to do today."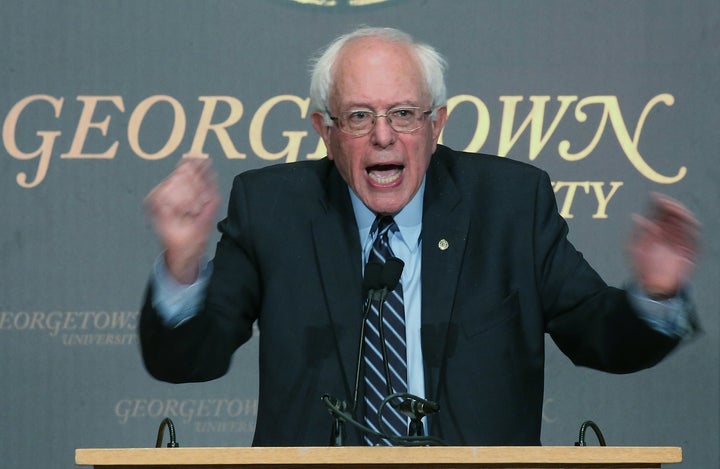 The senator joked that the students need to remember his actual policy positions "the next time you hear me attacked as a socialist, like tomorrow."
"I don't believe government should own the means of production, but I do believe that the middle class and the working families of this country who produce the wealth of this country deserve a decent standard of living and that their incomes should go up and not down," he said. "I'm not running for president because it's my turn, but because it's the turn of all of us to live in a nation of hope and opportunity not for some, not for the few, but for all."
Transitioning into familiar aspects of his stump speech, Sanders said new investments are needed to prevent increasing income inequality. He relied on FDR's legacy to make arguments for universal health care, free public college, a $15 minimum wage, campaign finance reform, infrastructure spending, mass incarceration reform, a guarantee of paid family and medical leave, the fight against climate change, tax reform and automatic voter registration, beginning each argument with "Democratic socialism means…"
"If we are serious about transforming our country, if we are serious about rebuilding the middle class, if we are serious about reinvigorating our democracy, we need to develop a political movement which, once again, is prepared to take on and defeat a ruling class whose greed is destroying our nation," he said. "The billionaire class cannot have it all. Our government belongs to all of us, and not just the 1 percent."
In an expected but still somewhat awkward transition, Sanders spent the last third of his speech discussing Friday's terror attacks in Paris and the United States' fight against the Islamic State group, also known as ISIS. Sanders' campaign website didn't contain a foreign policy page until September, and his rhetoric on the issue has, until the Paris attacks, focused on his vote against the Iraq War. (And Clinton's vote for it.) So this segment of his speech was an acknowledgment that more Democrats may be concerned about terrorism following the Paris attacks.
Clinton outlined her own proposals for how to "defeat and destroy" ISIS Thursday morning. While Sanders has rejected Clinton's call for a no-fly zone in Syria, he echoed much of what Clinton said in her speech, emphasizing that he believes, as she does, that America's role in the fight against ISIS must be as part of a coalition.
"A new and strong coalition of Western powers, Muslim nations, and countries like Russia must come together in a strongly coordinated way to combat ISIS, to seal the borders that fighters are currently flowing across, to share counter-terrorism intelligence, to turn off the spigot of terrorist financing, and to end support for exporting radical ideologies," he said.
"Wealthy and powerful Muslim nations in the region can no longer sit on the sidelines and expect the United States to do their work for them," he continued. "As we develop a strongly coordinated effort, we need a commitment from these countries that the fight against ISIS takes precedence over the religious and ideological differences that hamper the kind of cooperation that we desperately need."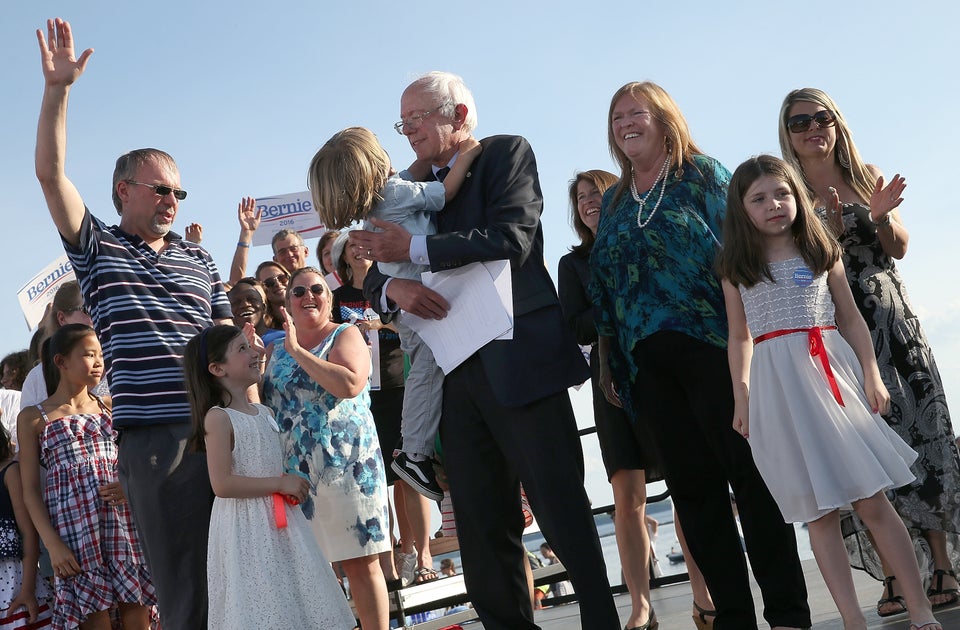 Bernie Sanders On The Campaign Trail
Popular in the Community