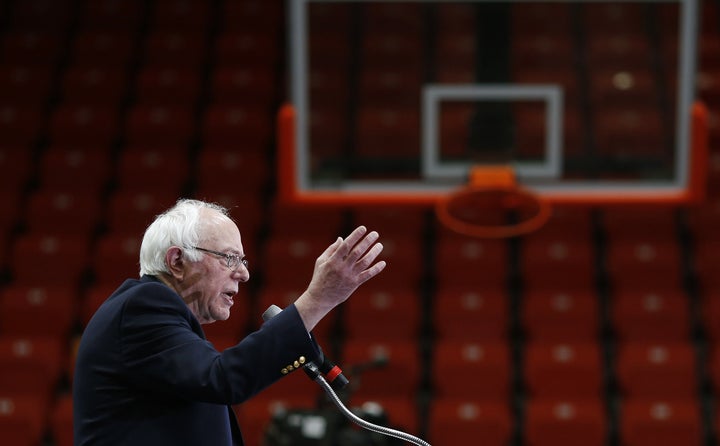 COLUMBIA, SOUTH CAROLINA -- On the eve of South Carolina's Democratic presidential primary, Sen. Bernie Sanders (I-Vt.) spoke in a mostly empty gymnasium at the historically black Claflin University in Orangeburg. It was an unusual sight for those accustomed to massive rallies for Sanders packed with thousands upon thousands of screaming supporters.
Sanders, as candidates tend to do, spun the appearance as an auditorium-half-full, rather than half-empty, moment.
"When we first came here, we knew very few people," he said. "But in the last nine months, we have come a very long way, and that's because of your support."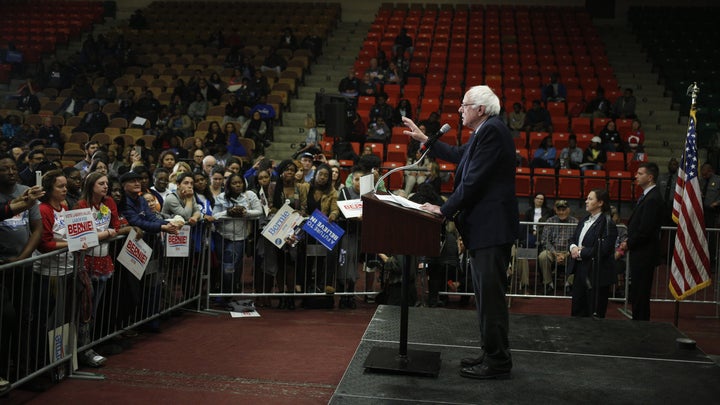 Nearly every poll in the contest between Sanders and former Secretary of State Hillary Clinton here has had Clinton up by 20 points or more. One major reason for Clinton's persistent leads here is her popularity among African-American voters, who make up more than half of the Democratic primary electorate.
But conversations with young black Sanders supporters after his rally at Claflin revealed a generational divide, with many attributing Clinton's support here to her husband, Bill Clinton, and his popularity among their parents and grandparents given the economic gains they made when he was president in the 1990s.
"I know particularly for my family, Bill Clinton kinda has the glaze of the glory days, everyone talks about the surplus," Eddie Massey, a 23-year-old student from Orangeburg and self-identified "C-span addict" told HuffPost. "My parents' generation, they're stuck on that."
Sanders' young supporters find his message of eradicating income inequality, making college free and enacting criminal justice reforms more appealing. But they can't convince their parents otherwise.
"I told my mom I was coming to the rally and she was like, 'Oh so you're still on the Bernie train?' She speaks highly of Bill, there was a lot of economic growth with him," said Britney White, a 25-year-old graduate student at Claflin.
White's friend Shiann Bradley echoed the sentiment.
"All of our parents grew up with President Clinton," Bradley said. "We don't really know [the Clintons] the way they know them, we just know what we hear on social media."
Clinton herself mentioned how the economy fared under her husband soon after she began speaking to hundreds at a large rally in Columbia at which Bill introduced her Friday evening.
"It won't surprise you to hear me say that I know the last two Democratic presidents pretty well," she joked, to laughter and applause. "I want you to remember and remind your Republican friends they both inherited economic problems from their Republican predecessors. At the end of Bill's eight years we had 23 million new jobs and incomes went up for everybody, not just those at the top … The median family income went up 17 percent and the median African-American income went up 33 percent. Everybody rose together."
Sanders' campaign this week sent the senator to other states that hold contests Tuesday and later in March, like Oklahoma, Minnesota, Illinois, Ohio and Texas. It's an apparent admission that his chances to come close to Clinton here are slim and that he needs to rack up delegates elsewhere to have a shot at the nomination.
"He's kinda given up on South Carolina, it was like New Hampshire for him," said Jerry Emanuel, a substitute teacher in Columbia who was working a volunteer phone bank for Clinton at the campaign's office. New Hampshire, where Sanders won by more than 22 points, was largely seen as a given for the candidate.
"She has got to win big today," Emanuel added. "I don't mean 20 percent. I mean big. She's got to make a statement that she's made a mark, she's here to stay and she's on her way."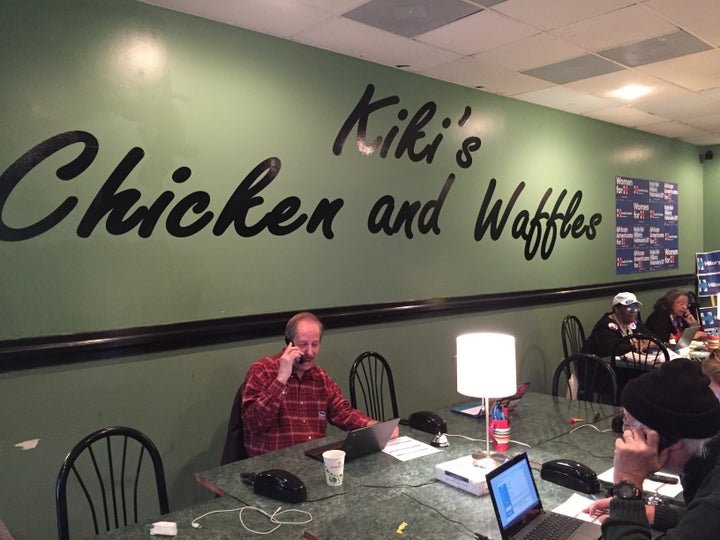 Sanders' trips elsewhere, however, don't mean that his campaign hasn't tried to do well in the state: As Bloomberg reported, Sanders has roughly 200 paid staffers working in South Carolina -- more than in Iowa, where he nearly tied Clinton on Feb. 1 -- and has spent about $1 million on ads here in the past month.
The Huffington Post struggled to find a Sanders supporter who would say, just for the heck of it, that they thought he would beat Clinton. Nathaniel Bell, a 37-year-old assistant professor at the University of South Carolina's nursing school, said at a coffee shop in Columbia that while he was optimistic, "this is historically Clinton territory because of Bill."
Bill Clinton, as it happens, had dropped by that very coffee house minutes before with the city's mayor to get some decaf and work the room.
"I vote for who I want to win, not for whom I think is going to win," Bell said.
BEFORE YOU GO
PHOTO GALLERY
Bernie Sanders And Hillary Clinton Face Off