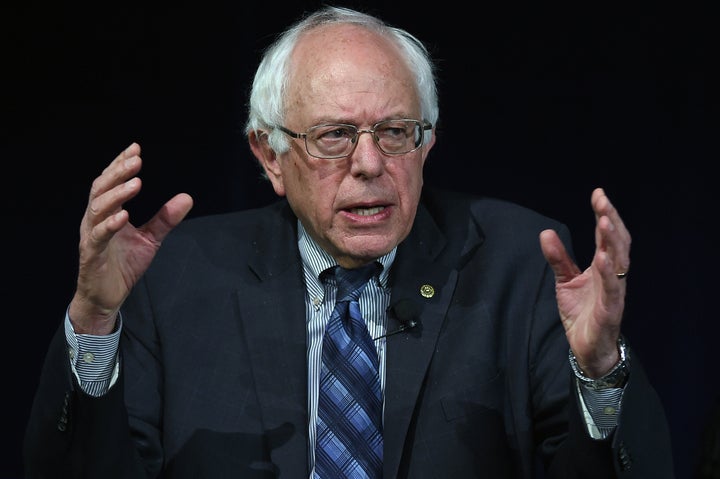 Sen. Bernie Sanders (I-Vt.) has not asked a super PAC supporting his presidential campaign to stop spending money on his behalf, though he's repeatedly criticized the influence such groups have on elections.
In an interview Monday with CNN, Sanders suggested that National Nurses United for Patient Protection, which has spent at least $569,000 on print and online ads backing him, is different from the kinds of groups supporting his opponents in the Democratic primary.
"What I have said over and over again is that I have not and will not raise a nickel for a super PAC," Sanders said. "I am the only Democratic candidate who does not have a super PAC. I will not have a super PAC. They are nurses and they are fighting for the health care of their people. They are doing what they think is appropriate. I do not have a super PAC."
The nurses super PAC is affiliated with National Nurses United, which endorsed Sanders in August. The union represents 185,000 nurses. Deborah Burger, co-president of National Nurses United, told CNN the super PAC is "proud to support Bernie Sanders and will continue to do so." The super PAC funds its political activities with union dues.
Though Sanders isn't able to directly coordinate with the super PAC, he could have taken the opportunity in the interview to explicitly say that he wanted the nurses group to stop spending in the early presidential states, as his campaign manager, Jeff Weaver, suggested when he told CNN earlier this month that the campaign stood by "our position that we do not want the help of a super PAC."
Spending by outside groups such as super PACs has surpassed $64 million in the 2016 presidential race, with 90 percent of that total coming from single-candidate groups, according to the Center for Responsive Politics.
A super PAC backing former Maryland Gov. Martin O'Malley, called Generation Forward, has raised relatively small sums and recently laid off field organizers in Iowa. 
At a candidate forum hosted by MSNBC earlier this month, Sanders accused Clinton of being hypocritical on campaign finance reform.
"I don't think it's good enough just to talk the talk on campaign finance reform," Sanders told MSNBC host Rachel Maddow. "You've gotta walk the walk."
Democratic campaigns, including Clinton's, have generally taken the position that they cannot "unilaterally disarm" from the super PAC race, even as they propose various campaign finance reform measures, including rolling back Citizens United. That controversial 2010 Supreme Court decision opened the door to corporations, unions and wealthy individuals raising unlimited sums for candidates as long as they do not coordinate with candidates to determine how to spend the money. This principle has been interpreted broadly, as candidates such as former Florida Gov. Jeb Bush (R) have abandoned the illusion of independence by directly staffing their affiliated super PACs and fundraising for them before officially throwing their hats into the presidential race.
PHOTO GALLERY
Bernie Sanders On The Campaign Trail
Calling all HuffPost superfans!
Sign up for membership to become a founding member and help shape HuffPost's next chapter