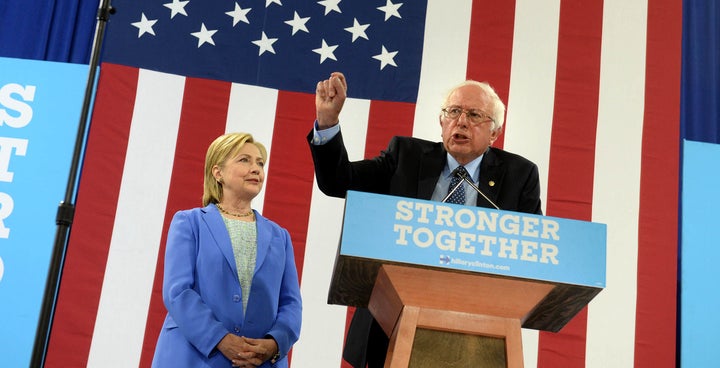 WASHINGTON ―  Some of Bernie Sanders' most ardent supporters have gone from feeling the Bern to feeling — how do you say this in English — burned.
The Vermont senator finally endorsed presumptive Democratic nominee Hillary Clinton on Tuesday, weeks after Democratic primary voting ended. When he took the podium in New Hampshire, Sanders laid out the case for Clinton very much in his own terms: noting the achievements he made in advancing the party's platform and praising Clinton, but sticking largely to policy points.
Though one recent survey shows Sanders supporters shifting to Clinton, not all of his boosters were convinced.
"Senator Sanders had to play ball with a political machine and in many ways chose a noble path, considering he could have easily torn down this machine at the convention," emailed H.A. Goodman, a widely read pro-Sanders blogger whose takes on the senator's electoral inevitability went viral and, in some quarters, provoked genuine amusement.
"I will always love Bernie, and respect all he's done to make a positive impact in the world and within the Democratic Party," Goodman added. "However, neocons and Henry Kissinger are on Clinton's team, and I feel Clinton is lying about the TPP and the notion she'd ever put Wall Street bankers in jail, along with other concerns. Since I feel Clinton is more militant than even Trump, and since she voted for Iraq and just recently advocated sending American ground troops abroad, I actually view Trump as the lesser evil."
Goodman added that he would vote for the Green Party's Jill Stein or perhaps write in Sanders when he casts a ballot in November. "I truly fear Clinton," he said.
The blogger is very much in the minority. For all the talk of disunity in the ranks, Sanders supporters have followed the usual patterns of campaigns past. According to a recent Pew Survey, they've flocked to Clinton more quickly than Clinton supporters moved to Obama in 2008. Those numbers will only improve for Clinton as the election nears.
But the sense of disappointment that some of these Sanders supporters felt ― bordering on abandonment and dismay ― underscored that there is a universe of politically attuned people who will just want no part of this campaign now that their candidate is gone. And one liberal group has even said it will stage a bean-fueled "fart in" at the Democratic National Convention this month.  
Tim Black, a progressive podcast and video host based in Maryland, said Tuesday that he's struggling with Sanders' endorsement of Clinton. 
"It feels like politics. It feels like Bernie said what he needed to say, and I just can't get behind that," Black said.
Black added that the Democratic Party platform concessions Sanders has won could be "wooden nickels" and that he didn't like Clinton's reticence on decriminalizing marijuana, among other things. But he said he hadn't totally made up his mind to vote for Jill Stein and is willing to at least listen to Clinton between now and November.
"She's saying the right things," Black said, "but we have to feel that we can believe that she would bring those things to fruition."
Calling all HuffPost superfans!
Sign up for membership to become a founding member and help shape HuffPost's next chapter
BEFORE YOU GO
PHOTO GALLERY
Bernie Sanders And Hillary Clinton Face Off