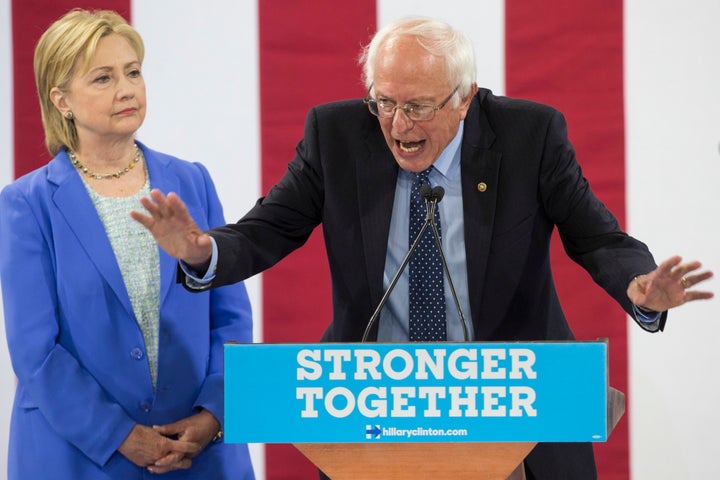 After Bernie Sanders endorsed Democratic primary opponent Hillary Clinton on Tuesday, die-hard fans of the senator threatened that they wouldn't be as willing to transfer their allegiances to the presumptive nominee. But for all the talk of Sanders supporters moving to the Green Party, staying home or even voting for GOP candidate Donald Trump instead, already some of his backers are lining up behind Clinton.
Her campaign announced a spate of endorsements in the day after Sanders said he was backing her for president. It is also holding what it's calling "Stronger Together" events this week in swing states to emphasize the need for Democrats to come together behind her, some of them featuring those former Sanders supporters.
Rep. Keith Ellison (D-Minn.) endorsed Clinton on Wednesday, writing in a blog post that he "was feeling the Bern" but that Clinton "offers strong progressive values, a remarkable tenacity of spirit, and has demonstrated a capacity to listen."
Eleven current and former elected officials from his state, most of whom endorsed Sanders, signed onto a letter backing Clinton on Wednesday, along with other progressives in the state.
In Michigan, three Sanders delegates issued a statement on Wednesday urging their fellow Sanders supporters to join Clinton. Three Pennsylvania delegates for the senator did the same on Tuesday, as did three Florida student leaders.
And in Colorado on Thursday, a Clinton press conference is to feature four Democrats who caucused for Sanders: former state House Speaker Terrence Carroll, state Sen. John Kefalas, Hillary for Colorado Campus Coordinator Spencer Carnes, and retired teacher Nancy Perlmutter.
Braddock, Pennsylvania, Mayor John Fetterman (D) appeared in a Clinton campaign video released Tuesday to explain why he supported her, calling himself "a proud former Bernie supporter" and saying "there is far too much at stake in this election to stand on the sidelines."
After a long primary battle, the Clinton campaign is clearly eager to unify Democrats behind a single candidate, particularly with the Democratic National Convention coming up later this month. Sanders has not technically dropped out of the race, but his endorsement was an acknowledgement that he lost the nomination process and that it is important to now work together to defeat Trump.
"Secretary Clinton has won the Democratic nominating process, and I congratulate her for that," Sanders said on Tuesday. "She will be the Democratic nominee for president and I intend to do everything I can to make certain she will be the next president of the United States."
Many of his backers expressed disappointment with his endorsement, and some said they would vote for Green Party candidate Jill Stein instead.
More broadly, evidence suggests Sanders supporters will stick with Democrats. Pew Research Center polling found that 85 percent of his Democratic and Democratic-leaning supporters planned to vote for Clinton in the general election ― an even greater proportion than supporters of Clinton in 2008 who said they would vote for President Barack Obama. Only 9 percent of Sanders supporters this year said they would support Trump; 6 percent said they would vote for another candidate or were unsure, according to Pew. 
The Clinton campaign has been working to bring Sanders supporters on board through direct appeals, events and efforts to adopt some of his messages. The former Sanders backers now urging support for Clinton touted his influence on the race, tying the two Democratic candidates together on issues.  
"We are proud that she and Senator Sanders worked together on drafting the most progressive party platform ever put forward by the Democratic Party," Minnesota Democrats wrote.
More switched endorsements are likely to come. Even before Sanders' endorsement, the 700,000-person labor union Communications Workers of America moved its support to Clinton on Monday, but other unions that backed Sanders have not yet done so.
Trump seems to be making a play for Sanders supporters to move to him, pumping out press releases and tweets pointing out Sanders' past criticisms of Clinton. 
For the Sanders supporters now backing Clinton, though, Trump's main influence is motivating them to join together to defeat him. 
"We face a fundamental choice this election and I call on all Bernie Sanders supporters to unify behind Hillary Clinton," Michigan convention delegate Ethan Petzold said in a statement via the Clinton campaign. "There is no other way to defeat Donald Trump. Bernie Sanders believes this, and I am with him." 
REAL LIFE. REAL NEWS. REAL VOICES.
Help us tell more of the stories that matter from voices that too often remain unheard.
BEFORE YOU GO