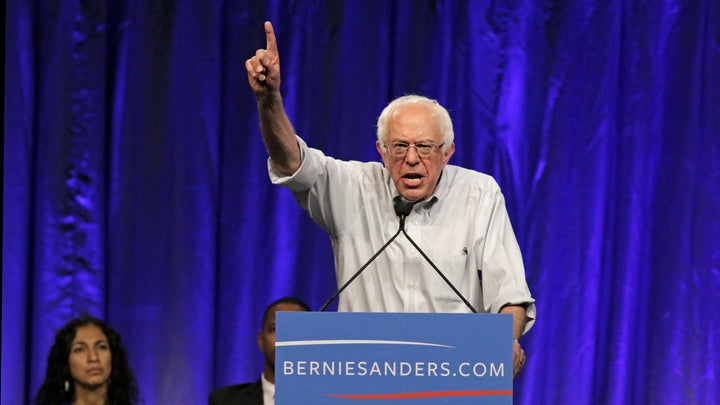 Sen. Bernie Sanders (I-Vt.) is surging across the country, as his improbable bid for the Democratic nomination for president draws ever-larger crowds in critical early states. Growing from the hundreds to the thousands to the tens of thousands, the audience size has been matched with some key endorsements, including the 185,000-member National Nurses United this week.
The union's executive director, RoseAnn DeMoro, told The Huffington Post that Sanders had earned the support of NNU's board and had won by a wide margin in a poll of membership.
"We were stunned by the results," DeMoro said. "It was so overwhelming for Bernie Sanders."
Now, the enthusiasm for Sanders' campaign is also reflected in at least one new survey, which shows him for the first time pulling slightly ahead of Hillary Clinton in New Hampshire's Democratic primary.
In a Franklin Pierce-Boston Herald poll released late Tuesday night, Sanders leads his Democratic rival with 44 percent to Clinton's 37 percent, within the survey's margin of error. Vice President Joe Biden, who has not entered the race, places third, with 9 percent of the vote, and all other Democratic candidates place below 1 percent.
Although a majority of New Hampshire Democrats see Clinton as the most likely nominee, only 35 percent say they are enthusiastic about her. Fifty-one percent say they could support her, but are not excited about her run.
Comparatively, only 11 percent of likely Democratic voters say they could see Sanders as the eventual nominee. Still, he captures greater enthusiasm among Democrats -- 44 percent say they're excited for Sanders' candidacy, and 36 percent say they "support some of his ideas" but don't think he could win in the general election.
While Clinton's lead against Sanders has narrowed in recent months, this latest poll is the first to show Sanders ahead of Clinton during this election cycle in New Hampshire. A UNH/WMUR poll conducted at the end of July had Sanders trailing Clinton by 6 percent in the state, and no other survey to date has shown her with less than a 4-point lead. HuffPost Pollster, which aggregates all publicly available polls, now shows the two candidates effectively tied in New Hampshire, with Sanders at about 41 percent, and Clinton at just over 42 percent.
The Clinton campaign has long been concerned that Sanders could perform well in New Hampshire, which borders his home state of Vermont and responds to a New Englander approach to politics that doesn't necessarily resonate as well in places such as Iowa.
Sanders has also gained support in Iowa in recent months, but by a narrower margin. He trails Clinton by nearly 27 percentage points in that state, according to HuffPost Pollster's average. Nationally, Clinton continues to hold a commanding lead.
The Franklin Pierce University/Boston Herald poll surveyed 442 likely New Hampshire Democratic primary voters through live interviews via landline and cell phone on August 7 through 10.
Correction: A previous version of this story implied that Hillary Clinton and John Edwards ran in the 2012 presidential elections. They ran in 2008.
Popular in the Community