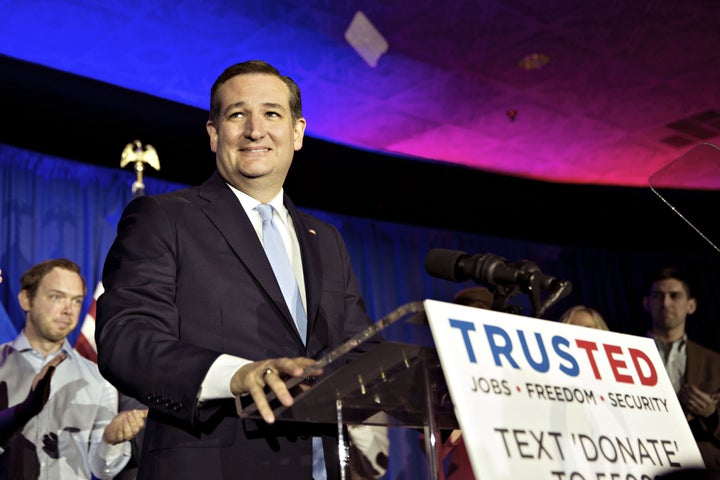 Ted Cruz and Bernie Sanders win the Wisconsin primaries by larger margins than many polls predicted. The results make it less likely Donald Trump can sew up the GOP nomination, but don't change much on the Democratic side. And millennials are driving President Obama's rising approval ratings. This is HuffPollster for Wednesday, April 6, 2016.
CRUZ TAKES BIGGER-THAN-EXPECTED VICTORY IN WISCONSIN - Sen. Ted Cruz (R-Texas) came out on top in Wisconsin's GOP primary on Tuesday, as polls indicated he would. But the margins of victory were much larger than polls had anticipated. Cruz won 48 percent of the vote to Trump's 35 percent. Ohio Gov. John Kasich trailed with only 14 percent. Most polls had estimated Cruz winning by a far smaller margin. Polls from Marquette Law School and Fox News had put Cruz up by 10 points on Trump, but most others showed a much smaller margin. The HuffPost Pollster average showed Cruz leading by 3 points over Trump, a long way from his actual 13-point victory. Kasich had 21 percent support in the average, which overshot his actual vote by 7 points.
Were people voting strategically? - Clare Malone: "A small little slice of the demographic in exit polls that might indicate just how strategic voters are getting as the race moves along: Cruz won voters with a postgraduate degree in Wisconsin, a group that Kasich has traditionally done very well with. Cruz got 54 percent of these voters in Wisconsin, while Kasich got only 18 percent. By contrast, in Michigan, another upper Midwestern state, Kasich won voters with postgraduate degrees, getting 37 percent of the vote, while Cruz only got 19 percent support." [538]
Most delegates went to Cruz - The results translate into 33 delegates for Cruz, 3 for Trump and none for Kasich, with a few still not allocated by Wednesday morning. Wisconsin's primary results gave Cruz a chunk of delegates that Trump badly needed in order to get to the 1,237 majority needed to win the nomination outright. According to FiveThirtyEight, Trump was already 6 percent behind the number of delegates he needs to be on track to win the nomination. The deficit in Wisconsin, where he needed to win 18 delegates to stay on target, pushes him even farther behind. If Trump fails to get to 1,237 delegates, the nomination remains up for grabs.
HUFFPOLLSTER VIA EMAIL! - You can receive this daily update every weekday morning via email! Just click here, enter your email address, and click "sign up." That's all there is to it (and you can unsubscribe anytime).
SANDERS ALSO OVERSHOOTS EXPECTATIONS - On the Democratic side, Vermont Sen. Bernie Sanders racked up a 13-point win over Hillary Clinton. The HuffPost Pollster average had put Sanders only 3 points ahead, with 49 percent to Clinton's 46 percent, and no poll had Sanders ahead by more than 8 points. Sanders has been awarded 45 delegates to Clinton's 31 delegates so far.
The momentum probably won't be enough to get Sanders to the nomination - Philip Bump: "Sanders's path to victory is now about as cumbersome as Ted Cruz's. Like Cruz, Sanders has almost no way to get the delegate total he needs before the convention; like Cruz, Sanders is hoping that convention delegates will be moved by his late charge to hand him the nomination if both he and Clinton come up short. Part of that argument depends on Sanders continuing to charge, which means continuing to win states even as the calendar turns against him. After Wyoming this weekend, Sanders is projected to win two of the next eight Democratic contests, though Pennsylvania may be close….Momentum feels important….But here, in the hard math of the Democratic delegate process, in a series of contests where Clinton's still gotten millions more votes than Sanders -- that momentum is mostly a mirage." [WashPost]
MILLENNIALS ARE FUELING OBAMA'S APPROVAL RATING IMPROVEMENTS - Samantha Smith: "During much of Barack Obama's presidency, Millennials have been some of his strongest supporters, rating his job performance much more positively than those in older generations. And today — with Obama's overall approval rating at 51%, the highest in nearly three years – the generation gap in approval is among the widest since he took office in 2009. About six-in-ten (62%) Millennials (adults born after 1980) approve of the job Obama is doing. By comparison, half of Generation Xers (born 1965-1980), 43% of Boomers (born 1946-1964) and just 37% of Silents (born 1928-1945) offer positive ratings of the president's job performance….Over the past year, Obama's ratings among Millennials have risen, while the ratings of older generations (particularly Boomers and Silents) are little changed." [Pew]
WEDNESDAY'S 'OUTLIERS' - Links to the best of news at the intersection of polling, politics and political data:
-Chris Cillizza highlights the difficult delegate math for Bernie Sanders. [WashPost]
-Joshua Darr finds that local Wisconsin media was far less obsessed with Trump coverage than the national media. [538]
-Four in five Republicans oppose a contested convention. [Marist]
-Daniel Byrd and Loren Collingwood investigate racial resentment among Sanders supporters. [Telesur]
-David Wasserman explains how delegate rules favor Donald Trump moving forward. [538]
-A newly published study explains what behaviors people think are "creepy." [Slate]
Popular in the Community