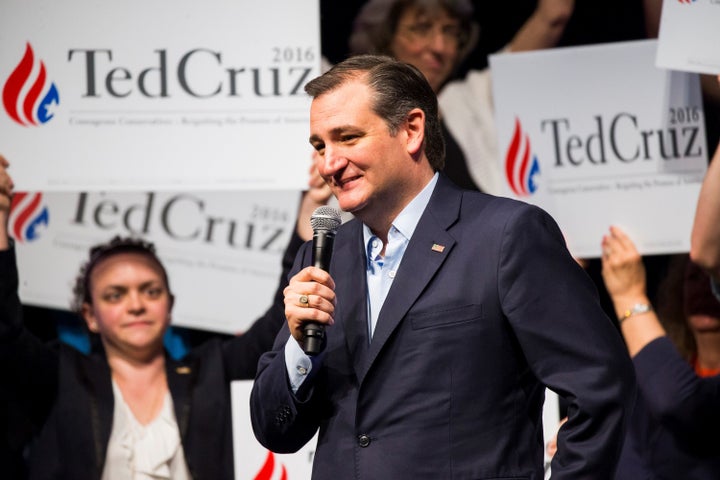 Both Donald Trump and Hillary Clinton seem likely to lose in Wisconsin, but it won't do much damage to their delegate leads. Republicans don't want someone who hasn't been running -- like Paul Ryan -- to become the nominee in a contested convention. And more than three quarters of Republicans think America has lost its identity. This is HuffPollster for Tuesday, April 5, 2016.
CRUZ LEADS IN WISCONSIN GOP POLLING - Five of six polls conducted in the last week show Texas Sen. Ted Cruz ahead of Donald Trump by margins of 1 to 10 points. While all the remaining candidates have seen their support grow as other hopefuls dropped out of the race, Cruz has been the biggest beneficiary, more than doubling his support in the state since mid-January. HuffPost Pollster, which includes all publicly available polling, gives Cruz an average 41 percent of the vote to Trump's 38 percent, while Kasich averages 21 percent.
But one poll tells a different story - An American Research Group poll released Monday found Trump leading Cruz by 10 percentage points. The only other recent poll to show Trump ahead in Wisconsin was from the Republican firm 0ptimus, which gave the businessman a 4 point lead but also showed about a fifth of voters still undecided. It's possible that the poll, which is the most recent survey of the state, caught late movement among Republicans. It's more likely, though, that it's simply an outlier. Excluding the poll from the HuffPost Pollster average doesn't change things much -- Cruz's lead increases to 5 points.
DEMOCRATIC RACE IS CLOSE IN WISCONSIN - Vermont Sen. Bernie Sanders holds a slight lead over Hillary Clinton in the HuffPost Pollster average, with 49 percent support to Clinton's 46 percent. Sanders has only emerged as the leader in the last two weeks, jumping a full 5 percentage points in the Pollster average between March 22 and March 28. In the final week of polling, his margin has varied from 6 points behind Clinton to 8 points ahead of her.
WISCONSIN PROBABLY WON'T CHANGE DELEGATE PICTURE MUCH - There are 42 delegates up for grabs for the GOP candidates, and 96 for the Democrats to split. Candidates not named Clinton or Trump need to win big to put a dent in their delegate deficits. Jonathan Martin and Nate Cohn: "If Mr. Cruz wins easily — say, by more than 10 percentage points — few will argue that it was anything but a good showing for him. But a closer contest could be followed by a debate about whether Mr. Trump had really lost ground or merely hit a speed bump on his road to the nomination….Mr. Sanders's overall deficit — he trails Mrs. Clinton by about 230 delegates — is becoming so large that winning only modest victories puts the Democratic nomination farther out of his reach. He needs to win around 57 percent of the outstanding vote to win a majority of pledged delegates. If he falls short of that bar in Wisconsin, his target in later states will be ratcheted up even higher." [NYT]
REPUBLICANS DON'T WANT A NEW CANDIDATE TO BE CONSIDERED IN A CONTESTED CONVENTION - Lesley Clark: "A majority of Republican voters want Trump to get their presidential nomination if he's ahead but short of a majority heading into their convention, according to a new McClatchy-Marist poll. And a big majority want any contested convention to be off limits to politicians who didn't first run in the primaries - such as House Speaker Paul Ryan of Wisconsin or 2012 nominee Mitt Romney….Fifty-two percent of Republicans said the party should nominate Trump if he has more delegates than any rival heading into the convention, with only 40 percent saying the party should look elsewhere." [McClatchy]
TRUMP SUPPORTERS FAVOR SOME OF HIS FOREIGN POLICY PROPOSALS - Kathy Frankovic: "Trump has claimed that he opposed the 2003 war in Iraq before it began, expressed serious doubts about the value of NATO membership for the United States, in the same interview questioned an activist foreign policy, and would close U.S. borders against Muslim immigrants.  Is he reflecting his supporters? Only sometimes. Most Trump supporters clearly side with their candidate when it comes to their opinion of NATO….Trump supporters are less likely than supporters of the other two remaining Republican candidates to believe the U.S. has a responsibility to give military assistance in trouble spots around the world when it is asked to do so by its allies….Trump's position opposing Muslims traveling to the United States gets the support of 90% of his voters (and that position is also shared by 78% of all Republican primary voters). " [YouGov]
NEARLY 8-IN-10 REPUBLICANS THINK AMERICA HAS LOST ITS WAY - Quinnipiac University: "There is a deep well of dissatisfaction among American voters who say the U.S. has lost its identity, that they are falling behind financially, that their beliefs and values are under attack and that public officials don't care what they think... A total of 57 percent of all voters 'strongly agree' or 'somewhat agree' with the statement, 'America has lost its identity,' as 43 percent 'somewhat disagree' or 'strongly disagree.' Among all Republicans, 79 percent agree, while only 36 percent of Democrats agree. The highest level of agreement is expressed by GOP supporters of Donald Trump, as 85 percent 'agree'." [Quinnipiac]
HUFFPOLLSTER VIA EMAIL! - You can receive this daily update every weekday morning via email! Just click here, enter your email address, and click "sign up." That's all there is to it (and you can unsubscribe anytime).
TUESDAY'S 'OUTLIERS' - Links to the best of news at the intersection of polling, politics and political data:
-Donald Trump dips 3 points in a new SurveyMonkey national poll. [NBC]
-Matthew Yglesias notes Republicans have faced more ideological motivated primary challenges than Democrats. [Vox] 
-A FIveThirtyEight interactive allows users to estimate Trump's delegate wins in remaining states. [538]
 -Vicki Needham looks at political models that predict Trump would win in a general election. [The Hill]
-David Folkenflik interviews Jennifer Dineen and Ann Selzer on the reliability of polls and their impact on public opinion. [WNPR]  
-A survey finds that 80 percent of business executives support a minimum wage increase in their state. [WashPost]  
-American college students want free speech on campus, but not hate speech. [HuffPost]
-The Democratic primary for Maryland's open senate seat shows racial and gender divides. [WashPost]
Calling all HuffPost superfans!
Sign up for membership to become a founding member and help shape HuffPost's next chapter