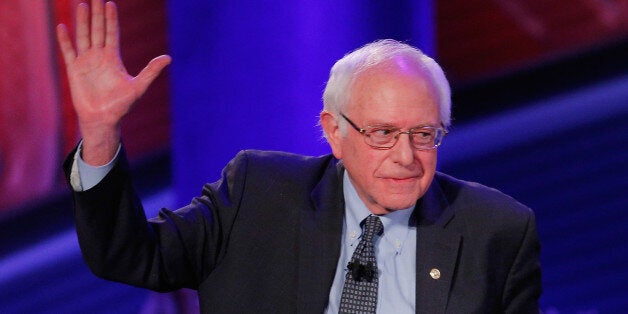 Bernie Sanders keeps refusing to run the way that the pundits think he should -- that's what makes this primary so interesting and perhaps a turning point in American politics.
You could see it last night in the Democratic town hall. Before they let, you know, sensible people ask questions, there was CNN moderator Chris Cuomo. Cuomo, of course, wanted to know if Bernie Sanders was going to "bring back the era of big government." This is exactly the kind of frame that pundits have been trying to put on American politics for about as long as I can remember, which is at least back to the Carter era.
This question is supposed to be a kind of kryptonite that causes Democratic politicians to sweat and turn pallid and immediately explain that no, they're for efficient government or some such. It's the kind of question that turned Bill Clinton into a triangulating centrist who cut welfare to the bone and elevated corporate power with a series of disastrous trade agreements. Everyone in Washington knows that "big government" is always bad.
Bernie wasted no time in saying that he was going to bring back the era when government helped care for people.
But Bernie wasted no time in saying that he was going to bring back the era when government helped care for people. He thinks government should help people go to college and pay for their medical care, which is what big government does in every other industrialized country in the world. He even -- in an ad released earlier in the day -- dared to advocate that people who have spent their lives working might deserve the chance to relax and be grandparents at the end of the day.
This kind of stuff makes the keepers of our political order crazy. In the last few days, we've seen folks such as Paul Krugman in the New York Times and Paul Starr in Politico patiently explain that Bernie is too far to the left to be president. It's like they're dumping water on the Wicked Witch of the West and waiting for her to shriek, "I'm melting!" But actually, he's just shrugging it off, like a duck. As Cuomo tried to get him to confess to his socialism, his team just tweeted out a list of "socialist" accomplishments: Social Security, the minimum wage, Medicare, the 40-hour workweek.
The Beltway polls don't quite get how much America has changed -- how unequal and desperate it's become. Sanders has spent his career on the back roads of Vermont, which is America's second-most rural state. That means he's met a lot of poor people and a lot of desperate people -- a lot of people like the woman who started crying at his event in Iowa earlier in the day. The Washington Post reporter described it as "a remarkably moving thing," which it was. But since Post political reporters only meet actual people during those rare moments in a four-year cycle when they happen to intersect with presidential candidates, he perhaps imagined it as rare. This is what life is like.
Which is probably why actual people are also less worried about the other half of the "serious people" test imposed by pundits. Cuomo's next question for Sanders was about if Hillary's experience trumps his. This was pretty much the same question Hillary herself posed to Barack Obama with her infamous "3 a.m." ad eight years ago. In the D.C. world, "experience" is crucial. It doesn't matter what you believe -- it matters how much power you've exercised. Do your time, and you're in the club.
But again Bernie refused to melt. Yes, he said, she's very experienced -- an obvious concession made with the graciousness that's marked his campaign. ("People are sick and tired of hearing about your damn emails.") But, hey, experience isn't everything. If it was, we'd elect Dick Cheney to every possible office, because he's had the most experience of all. Instead, as Bernie pointed out, judgment is really more important.
A leader is someone who figures out where the future is going, not someone who joins the party once it's underway.
That is why, he added, it is relevant that he opposed the Iraq War when she supported it. And he opposed the Keystone pipeline when she supported it. He could have gone on for a long time with that list: why did she set up a wing of the State Department to spread fracking around the planet, for instance? Why was she against gay marriage for years? But the point is clear. A leader is someone who figures out where the future is going, not someone who joins the party once it's underway. A canny politician, by contrast, is precisely someone who waits until it's safe and then runs up to lead the parade.
If it was a year for canny politicians, then Hillary would be a shoo-in. She's spent decades perfecting that approach.
But it's not, perhaps, a year for canny politicians. Our Earth is becoming hopelessly unequal (a report last week showed that 62 people owned more assets than the poorest 3.5 billion on the planet) and hopelessly hot. It's a year, perhaps, for people who insist on telling the truth, even if it's in a Brooklyn accent.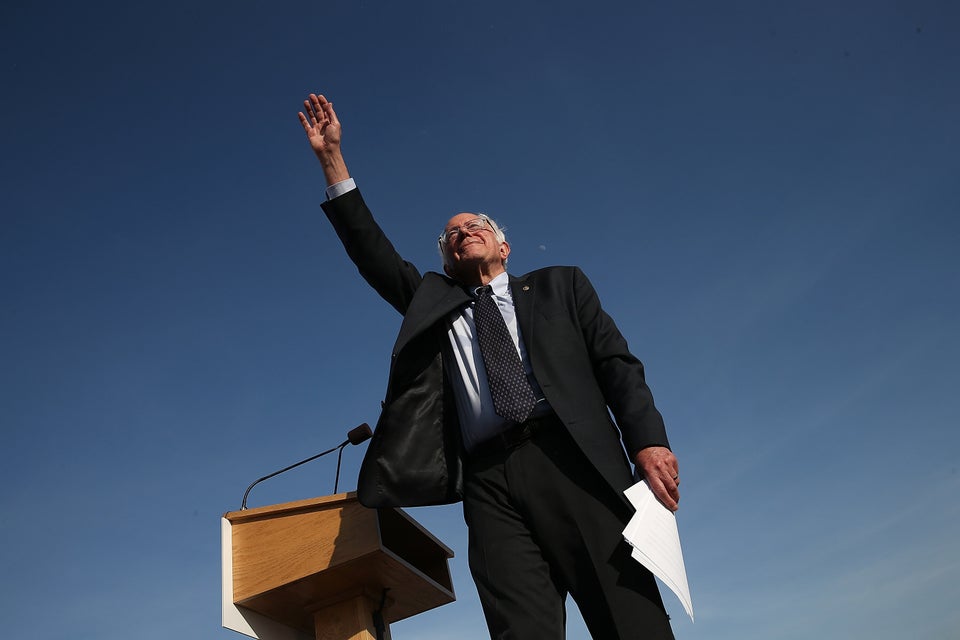 Bernie Sanders On The Campaign Trail
Popular in the Community