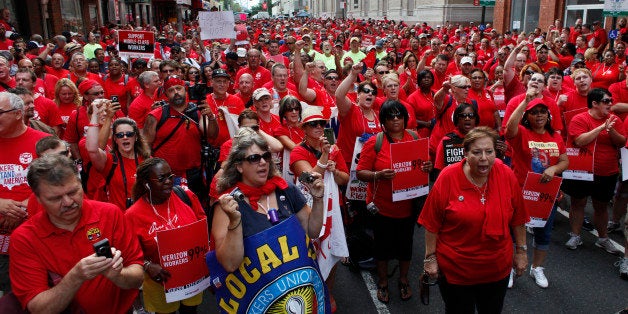 I grew up in a row house in North Philadelphia, owned by my great grand mother who was famous for saying, "I'll watch your feet not your mouth." Today I am proud to stand with Senator Bernie Sanders and hundreds of Verizon Workers at a Wireless retail store in Manhattan as 39,000 CWA and IBEW members battle for their contract and the organizing and bargaining rights of Verizon Wireless workers.
Few Senators or major candidates for President have ever sided with workers in these epic battles. We have come to accept neutrality from democrats as enough while Republicans openly side with management. Bernie said it clearly enough in a written message read to 12,000 Verizon members as they rallied on a Saturday in August right before the contract expired, "I am hopeful you will reach a fair contract. But if you run into roadblocks, as in years past, know that I will be there with you until a fair contract is negotiated."
Today Bernie is delivering on that promise. And he is delivering with his feet as well as his words. He will stand with CWA leaders and members. He will stand with Bianca Cunningham, fired from her retail job at Verizon Wireless in Brooklyn after leading the effort of retail workers at seven Brooklyn stores to organize in 2014. Bianca's story is too typical. Management like Verizon look for ways to make examples of amazing women and men who lead these all too heroic drives by firing them. But Bianca's demand to get her job back, and a first contract for those retail workers is supported not only by her colleagues at the wireless stores but also by all the union members at the parent company.
On Labor Day week end, Bernie marched with workers at Penford Products in Cedar Rapids, Iowa, recently acquired by Ingredion, a global firm intent on cutting the pay and benefits of the BCTGM union members at Penford while reportedly paying their own CEO $8 million. The greed of Ingredion has become a symbol throughout Iowa, and just as importantly so has Bernie's willingness to take on management.
Bernie is comfortable walking with working families whether they are union or not. But for those of us who have a union we need to insist that candidates we support walk with us and not just talk with us.
Popular in the Community