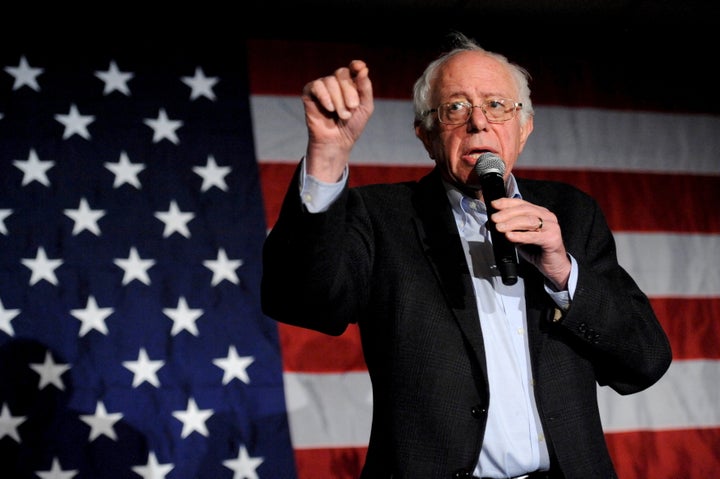 For months now, Sen. Bernie Sanders (I-Vt.) has ridden a message of concern and anger over the indulgences of the U.S. banking industry to greats heights in the Democratic primary. Now, as that primary hits its closing stretch, and as Sanders is in need of an upset win, he's competing in the one state where his cause célèbre comes with real complications.
New York is the epicenter of the big banks. The state, according to an official with its Department of Labor, employs more than 108,200 people in the "depository credit intermediation" industry -- such as commercial & savings banks, and credit unions. If you add related industries, from securities and commodities to investment banking, that figure rises by hundreds of thousands, according to federal data.
In short, a lot of people in New York work for the companies that Sanders doesn't exactly place on a pedestal. They also, likely, vote. And it stands to reason that a good chunk of them do so in the Democratic primary (this being New York and all).
Sanders isn't about to change his message for the sake of picking up a few more backers. Undoubtedly, he's gained substantially more support outside the Empire State than he's lost inside of it by preaching his regulatory reform values. Perhaps he's gained the backing of more New Yorkers because of it too.
But to understand just how much antipathy there is for the Vermonter among those who work in the banking industry, all you have to do is pick up a phone.
"Oh, that's impossible," said one high-ranking analyst at a top bank, when asked if she could put The Huffington Post in touch with any colleagues who supported Bernie. "There has been a lot of politics discussion but I have not heard one person come out in support of Bernie Sanders."
Or, you could just glance at the numbers.  
Taking campaign finance data through February, HuffPost isolated donations from individuals who worked for the nine of the biggest banks: Bank of America Merrill Lynch, Barclays, Citigroup, Credit Suisse, Goldman Sachs, JPMorgan Chase, Morgan Stanley, UBS and Wells Fargo.
All told, just 248 people employed by those banks across the entire country made contributions worth more than $200 to Sanders ($200 is the amount after which you must disclose your name and employer). And that's out of the more than two million people who have made contributions to the campaign.
In New York, there were just 34 such individuals. By contrast, the number of New York-based major bank employees who gave to Hillary Clinton was 295.
And yet, like droplets of paint on a vast canvas, there are Sanders' devotees inside the banking universe. They aren't pariahs. Nor are they treated as lepers by their co-workers -- on the occasion that they let their Bernie-backing-ways be known to them. They're just inclined to see their employers in a similar, albeit slightly less, critical light as the candidate they support.
"I've definitely had conversations with coworkers and there is definitely a healthy debate about being a Bernie supporter. But I do find that my colleagues on this side are open minded. They realize that there are issues out there that he speaks to," said a lawyer for one of the big banks who spoke on condition of anonymity.
"I love all the focus on income inequality. I love his stance on environmental issues. Having been in finance for a very long time and work on issues related to the financial crisis for a long time, there is plenty of blame to go around: the Congress, the banks, homeowners and mortgage brokers… That being said, everyone's line of rhetoric on breaking up the banks comes from a real place. It is obvious that some of these banks are too big to manage properly."
A close look at the Bernie-backing banking employees -- in New York and beyond -- shows that many of them aren't really in the money-managing part of the business. They are web developers, tellers, tech supporters, software engineers, programmers and IT architects -- the type of job functions that (abusing some stereotypes here) tend to draw more progressive and lower-income individuals. They often are self-reflective about their life choices.
"I work in IT and I work in Ohio. We aren't on Wall Street," said one JP Morgan Chase employee. "I work with a lot of young people and immigrants. Politics doesn't come up. People just don't talk about it. ... Personally, I struggle every day thinking, here I am working for a big bank. It is not exactly what I would prefer to be contributing to society. And I would support Bernie and his policies regardless. I'm a progressive liberal kind of guy."
Like most people interviewed for this piece, this JP Morgan Chase employee didn't want to speak on the record out of concern that it would get him in trouble at work. It wasn't so much a fear of backlash for supporting a candidate who's called their employer's business model fundamentally corrupt, as it was a respect for the public relations officials with whom they work. Still, there are those willing to have their names out there.
Janice Grudecki, a marketing manager at Wells Fargo in Minneapolis didn't just donate to Sanders. She's hosted a phone bank party that was listed publicly.
"I don't think there is any sense of contradiction," she said of working for one of the big banks that Sanders wants to break up. "I honestly think that a break up of the banks is good for everyone."
I don't think there is any sense of contradiction. I honestly think that a break up of the banks is good for everyone.

Janice Grudecki, a Bernie backer who happens to work for Wells Fargo.
Inside the city, those financial sector-based Bernie backers who are willing to be identified tend to be the more well-established types. Their professional status provides them a sense of security from ostracization. But they are also instinctively unconventional -- which explains some of their professional success -- and they've adopted that mindset to their political habits as well. In an October 2015 piece titled "Bankers for Bernie," Politico Magazine identified a few of these iconoclasts. And in a Guardian op-ed this week, another one of them, Asher Edelman, wrote "I'm the real-life Gordon Gekko and I support Bernie Sanders."
Taken collectively, these financial-sector supporters won't win Sanders New York's primary on Tuesday. But they do number enough to form a minyan or, perhaps, a support group. One member, Paul Ryan (no, not that Paul Ryan, the one who is the Managing Director at Tripoint Global Securities), was drawn to Sanders through a circuitous route. The Occupy Wall Street movement resonated with him in a profound and complicated way. And then, Sen. Elizabeth Warren (D-Mass.) burst on to the scene.
"You're wondering why you're sick and tired of the people you work with, the greed and stupidity of it all. You start to feel down about it. And all of a sudden someone crystallizes it. It's not a psychological failing. It is a political issue," Ryan explained.
Sanders is, for Ryan, the one actual change agent in the field; and certainly the only candidate speaking truth to excesses and problems he sees on Wall Street. "I'm not the wavy gravy type. I'm not bringing my bong to the Bernie Sanders rally," he explained (later he clarified that he owns a Martini glass but not a bong). "Policy wise I want someone who is going to make the big change. How he does it is a political issue and frankly Hillary shows no political will to do anything about it."
Ryan acknowledges that he's a bit of a canary in a coal mine on this stuff. Others in his field find the Occupy Wall Street movement misguided: Elizabeth Warren is an enemy and Bernie Sanders a rebel-rousing oddity. But the mood is changing, he argues. There is a growing "consciousness" about the problems Sanders is speaking to. When Edelman published his op-ed in the Guardian, Ryan sent him a note.
"Hey Asher," it read, "It is nice to know that you are out here in a fairly lonely club."
Calling all HuffPost superfans!
Sign up for membership to become a founding member and help shape HuffPost's next chapter