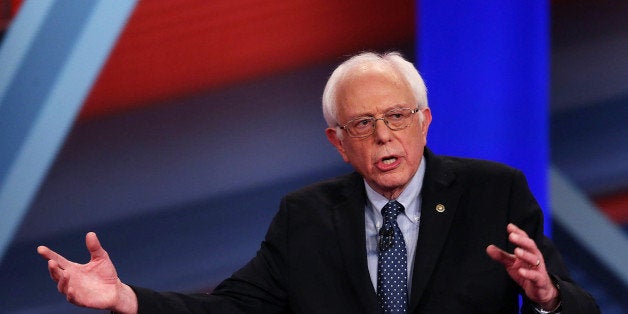 Nothing illustrates the primary difference between Bernie Sanders and Hillary Clinton better than the following Huffington Post article by Brad Johnson titled On Eve of Caucuses, Clinton Rakes in Fracking Cash:
Less than a week before the Iowa caucuses, Hillary Clinton attended a gala fundraiser in Philadelphia at the headquarters of Franklin Square Capital Partners, a major investor in the fossil-fuel industry, particularly domestic fracking. The controversial fracking industry is particularly powerful in Pennsylvania, which will host the Democratic National Convention this July.

Clinton has avoided taking any clear stand on fracking...

The pro-Clinton Super PAC Correct the Record, run by David Brock, touts Clinton's aggressive pro-fracking record.
Clinton's brazen acceptance of funding from interests promoting fracking, and all the hazards that result from fracking, speaks volumes. From an environmentalist's perspective, this is the equivalent of Hillary Clinton's prison lobbyist donors.
Bernie Sanders never accepted money from corporations involved in fracking, and certainly never accepted money from prison lobbyists. His challenger, on the other hand, is linked to oil and gas contributions that span across the globe. According to Reuters, "the Wall Street Journal reported that the Bill, Hillary and Chelsea Clinton Foundation and the Clinton Global Initiative have accepted large donations from major energy companies Exxon Mobil and Chevron." Clinton's foundations also accepted money from an office of the Canadian government linked to promoting Keystone XL.
For some reason, many Democrats overlook the fact that Clinton promises to uphold a progressive value system, while simultaneously accepting donations from corporations and governments working to undermine these principles.
When evaluating a future president, voters must look towards the candidate's value system. Nothing exemplifies the value system possessed by Bernie Sanders better than his desire to ban fracking. His plan to save America from the scourge of fracking is illustrated in a Washington Post piece titled Bernie Sanders puts forward ambitious plan to combat climate change:
Among other things, Sanders would ban Arctic oil drilling, ban offshore oil drilling, ban fracking for natural gas, stop exports of liquefied natural gas and crude oil and put a moratorium on nuclear power plant license renewals in the United States.

Sanders also proposes hefty investments in several clean energy sources, including solar. He seeks to increase fuel economy standards for automobiles, build electric vehicle charging stations, invest in a "state-of-the-art" rail system and make U.S. cities more walkable.
If this sounds like a dream candidate, that's because Sanders is a once in a lifetime politician. You won't find many leading political figures who openly advocate that America bans fracking.
In contrast, his challenger for the Democratic nomination once "sold" the concept of fracking to other countries. Clinton's affinity for this dangerous form of fossil fuel extraction is highlighted in a Mother Jones piece titled How Hillary Clinton's State Department Sold Fracking to the World:
Clinton urged Bulgarian officials to give fracking another chance...

Under her leadership, the State Department worked closely with energy companies to spread fracking around the globe -- part of a broader push to fight climate change, boost global energy supply, and undercut the power of adversaries such as Russia that use their energy resources as a cudgel.

But environmental groups fear that exporting fracking, which has been linked to drinking-water contamination and earthquakes at home, could wreak havoc in countries with scant environmental regulation.
If this sounds like the antithesis of Bernie Sanders, that's because Hillary Clinton is the antithesis of Sanders on fracking, and many other issues. Furthermore, exporting the dangers of fracking around the globe undermines the efforts of environmental groups in those regions.
Another major difference between Clinton and Sanders on this topic is evaluated in a brilliant piece by Michael Sainato in The Huffington Post titled Hillary Clinton Touted Fracking Across the Globe, and Only Bernie Sanders Can Be Trusted to Save Us From It:
When it comes to the environment, Senator Bernie Sanders has a much more extensive, honest, and clear record than Hillary Clinton. Any voter who has a penchant for environmentalism in any capacity should take these stark contrasts into consideration when debating between supporting Hillary Clinton or Bernie Sanders.
In 2016, the choice is clear for voters longing to fix structural issues, not just listen to lofty rhetoric about tackling climate change. Because of fracking, Oklahoma experiences more earthquakes than anywhere else in the world. Newsweek writes that Fracking Wells Tainting Drinking Water in Texas and Pennsylvania, Study Finds. As for flammable water, Time has a video titled Flaming Faucets: When Fracking Goes Wrong.
Ultimately, the difference between Bernie Sanders and Clinton involves a grandiose difference in urgency between both candidates. Sanders wants to transition the U.S. from a perpetual consumer of fossil fuels, into an innovator in cleaner energy. His goal is to ban fracking; end of story.
With Hillary Clinton, not only will she accept money from oil, gas, and coal companies (unlike Sanders), but Clinton will accept money from virtually any corporation. The money trail speaks volumes, especially when Mother Jones writes that one environmental activist told Clinton, "I'm disappointed about the answer you gave to climate change... I'm wondering if your answer... is due to contributions from the fossil fuel industry to your campaign."
Finally, don't take the word of a writer who believes Bernie Sanders is a once in a lifetime candidate. Experts in the field of environmental protection and the dangers of fracking have highlighted the problems with Hillary Clinton's climate plan. A POLITICO article titled The holes in Hillary's climate plan explains why Clinton's fracking dollars might lead to sub-par record on climate change as president:
She has avoided taking stands on Keystone XL, fracking, oil exports and Arctic offshore drilling...

"Clinton's climate plan is remarkable for what it doesn't say, yet," California-based environmental activist R.L. Miller, who founded the Climate Hawks Vote PAC, said in a statement. Specifically, she added, Clinton offered "no effort to keep fossil fuels in the ground, no price on carbon; no word on Keystone XL, Arctic oil or other carbon bombs; no word on fracking."

Even 350.org co-founder Bill McKibben, who aimed a torrent of anti-Keystone activism at Clinton's State Department and warned her in June that "many serious environmentalists currently distrust you," said her first crack at a climate plan got "half the way there."

"Now, we need Clinton to show she understands the other half of the climate change equation -- and prove she has the courage to stand up against fossil fuel projects like offshore and Arctic drilling, coal leasing in [Wyoming's] Powder River basin and the Keystone XL pipeline," he added in a statement.

After Clinton said Monday that she couldn't speak on Keystone "because I had a leading role in" the pipeline's administration review, McKibben said by email that her rationale was "silly" because "she's rightly full of insights about Iran, about Benghazi, about Korea, about a thousand other ongoing issues the State [Department] processes daily."
It's not difficult to see when a politician is uncomfortable addressing certain topics, and from Keystone XL to fracking, Clinton seems beholden to the interests that have helped fund her campaign. In contrast, Bernie Sanders has no problem whatsoever taking a bold, honest, and straightforward stance on these issues.
In 2016, America faces the prospect of Donald Trump (whose golf courses are environmental disasters) and Hillary Clinton upholding the status quo, or Bernie Sanders making climate change a central focus of his economic and energy policy. There's only one choice. If voters are serious about fixing the structural dilemmas pertaining to why corporate interests are so influential in promoting devastating hazards like fracking, they'll choose Sanders. While Clinton and Trump refuse to ban fracking outright, only Bernie Sanders is willing to ban fracking completely as president. I explain why Bernie Sanders is the only choice for Democrats on Tim Black TV, with my friend and fellow Bernie Sanders supporter Tim Black.
Popular in the Community