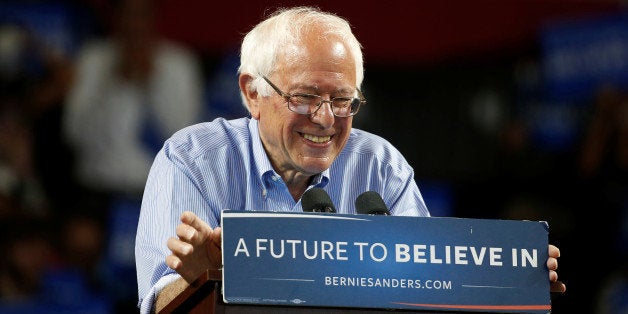 If Democrats want to win, Bernie Sanders will become Democratic nominee. If the Democratic establishment and superdelegates desire a Donald Trump presidency, they'll nominate Hillary Clinton. Democrats everywhere fear the prospect of President Trump, yet Clinton faces possible FBI indictments, and barely beats the New York billionaire in general election polls.
Bernie Sanders easily defeats Trump, without endless scandal and without assuming Americans will happily choose the "lesser" of two evils.
Before the FBI discloses its findings, Hillary Clinton defeats Donald Trump by only 1.5 point in an average of polls, according to Real Clear Politics:
RCP Average5/13 - 5/30
Clinton +1.5
Quinnipiac5/24 - 5/30
Clinton +4
Rasmussen Reports5/23 - 5/24
Clinton +1
ABC News/Wash Post5/16 - 5/19
Trump +2
NBC News/Wall St. Jrnl5/15 - 5/19
Clinton +3
FOX News5/14 - 5/17
Trump +3
CBS News/NY Times5/13 - 5/17
Clinton +6
Imagine what happens to Clinton's poll numbers when indictments hit, or when the FBI discloses its findings of a year-long criminal investigation pertaining to Clinton's emails.
In contrast, Bernie Sanders dominates Trump on average by 10.4 points, defeating him in every major poll, according to Real Clear Politics:
RCP Average5/6 - 5/30
Sanders +10.4
Quinnipiac5/24 - 5/30
Sanders +9
NBC News/Wall St. Jrnl5/15 - 5/19
Sanders +15
CBS News/NY Times5/13 - 5/17
Sanders +13
FOX News5/14 - 5/17
Sanders +4
PPP (D)5/6 - 5/9
Sanders +11
Bernie's poll number have nothing to do with being less "vetted" than Clinton. Vermont's Senator can type an email without scandal and speaks to crowds openly, without hiding transcripts. If anything, few Americans know the details of Clinton's email investigation, or the fact she transferred 22 Top Secret emails (with SAP intelligence) onto a private server.
According to HuffPost Pollster, Clinton beats Trump by only 2.3 points, after defeating him by over 10 points in early April.
In contrast, Bernie Sanders continues to dominate Donald Trump, and HuffPost Pollster shows Vermont's Senator up by 11.1 points.
Therefore, a question needs to be asked of everyone in the country claiming to fear Donald Trump, or care about progressive values.

Do you really want to win the White House?

Do you truly fear a Trump presidency?

Again, Bernie Sanders defeats Trump in every major poll. Hillary Clinton, even after the world knows Trump's character and value system, barely defeats the reality show star by (at best) 2.3 points.
Supredelegates exist to ensure the Democratic Party elects a candidate capable of winning, and defeating a Republican challenger. Voters should recognize the fact that Clinton's scandals make her an extremely flawed candidate, as highlighted in a recent Wall Street Journal article by Douglas E. Schoen titled Clinton Might Not Be the Nominee:
There is now more than a theoretical chance that Hillary Clinton may not be the Democratic nominee for president...

The inevitability behind Mrs. Clinton's nomination will be in large measure eviscerated if she loses the June 7 California primary to Bernie Sanders. That could well happen...

Another problem: In recent weeks the perception that Mrs. Clinton would be the strongest candidate against Donald Trump has evaporated. The Real Clear Politics polling average has Mrs. Clinton in a statistical tie with Mr. Trump, and recent surveys from ABC News/Washington Post and Fox News show her two and three points behind him, respectively.

Then there is that other crack in the argument for Mrs. Clinton's inevitability: Bernie Sanders consistently runs stronger than she does against Mr. Trump nationally, beating him by about 10 points in a number of recent surveys.

Mrs. Clinton also faces growing legal problems. The State Department inspector general's recent report on Mrs. Clinton's use of a private email server while she was secretary of state made it abundantly clear that she broke rules and has been far from forthright in her public statements. The damning findings buttressed concerns within the party that Mrs. Clinton and her aides may not get through the government's investigation without a finding of culpability somewhere.

With Mrs. Clinton reportedly soon to be interviewed by the FBI, suggesting that the investigation is winding up, a definitive ruling by the attorney general could be issued before the July 25 Democratic convention in Philadelphia. Given the inspector general's report, a clean bill of health from the Justice Department is unlikely.

Finally, with Mrs. Clinton's negative rating nearly as high as Donald Trump's, and with voters not trusting her by a ratio of 4 to 1, Democrats face an unnerving possibility.
Hillary Clinton's various leads, and advantages over Donald Trump, have dwindles exponentially over a short time period. Bernie is the far better candidate, but many Democrats remain loyal to a sinking ship, even after criminal indictments. Also, Clinton's negative favorability ratings are "nearly as high as Donald Trump's, and with voters not trusting her by a ratio of 4 to 1."
Simply yelling that Trump is dangerous won't help Clinton win the White House.

If people loyal to Hillary aren't worried yet, now is the time to show concern.
Furthermore, mainstream pundits have eviscerated Clinton's email defense, as illustrated by an article in Real Clear Politics titled Chuck Todd: "Convenience" Was Not The Reason Hillary Had A Private Server:
MSNBC's Chuck Todd comments on Hillary Clinton's attempt to triangulate an effective counterstrategy to Donald Trump, while trying to explain away the revelations about her private email server.

"By trying to come up with other reasons, that doesn't make sense. What was the most logical reason to do this? Convenience isn't it. It is not a convenient thing to have a server in your house. Nor is making it so it is outside the reach of the federal records law, that is the only logical reason to do it."
When Chuck Todd is beginning to sound like H. A. Goodman, the Clinton campaign has a problem. Clinton's "convenience" excuse has evaporated because of the recent State Department report, and the FBI will soon add more fuel to the media frenzy. Even if convenience was the only reason to own a server, I explain in this YouTube segment why Clinton jeopardized national security.
Finally, the Special Access Program intelligence on Clinton's private server will lead to indictments; making it impossible for Hillary Clinton to defeat Trump. An absolutely brilliant article in The Hill by Anthony DeChristopher highlights why SAP information is a game changer:
Special Access Programs (SAP) is a game changer. It is now undeniably clear that the results of the FBI investigation will be the end of one of two things: Hillary's bid for the White House or the legitimacy of the FBI--at least when it comes to prosecuting cases on the mishandling of classified material...

As more information from Hillary Clinton's server has been made available, it is clear that the contents of the server contained Imagery Intelligence (IMINT), Human Intelligence (HUMINT), and Signal Intelligence (SIGINT)...

Finally, SAP intelligence has been discovered on Clinton's private server, and many are now calling this the smoking gun. SAP is a specialized management system of additional security controls designed to protect SAR or Special Access Required. SAR has to do with extremely perishable operational methods and capabilities, and only selected individuals who are "read on" or "indoctrinated" are permitted access to these programs.

The mishandling of SAP can cause catastrophic damage to current collection methods, techniques and personnel.

In other words, if you have worked with classified material for more than a day, it seems highly implausible that someone could receive any of the aforementioned over an un-secure medium without alarm bells sounding.
As stated above, "alarm bells sounding" would be the initial consequence of SAP intelligence anywhere other than secure government networks.
As a result of Clinton's inability to type an email without scandal, I explain in this YouTube segment (120,000 views since May 21, and a favorite among The Daily Beast staff) why Hillary Clinton will receive indictments. Also, my latest MSNBC appearance explains why this email fiasco will hand the nomination to Bernie Sanders. If Democrats want to win, today's poll numbers, before the FBI ends its criminal investigation, explain exactly why Bernie Sanders must become Democratic nominee and save Democrats from President Trump.
Popular in the Community