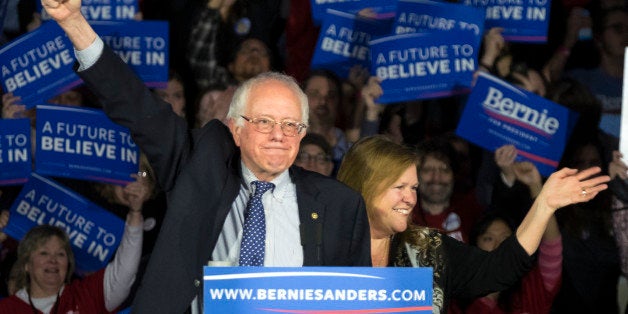 Winning the Iowa Caucus catapults presidential candidates into national prominence, and in this case, Bernie Sanders was able to win a crucial victory, even with a "virtual tie." Sanders battled a political machine capable of raising billions, and still won immense political momentum, while destroying any notion of Clinton's inevitability. If you enjoy all the advantages of Hillary Clinton, and barely achieve a tie, then political momentum shifts to Bernie Sanders. As stated in The Hill during his Iowa Caucus speech, "To chants of 'Bern-ie, Bern-ie,' the Vermont senator added, 'it looks like we'll have about half of the Iowa delegates.'"
While Bernie Sanders might officially end up winning the Iowa Democratic Caucus, there was still a "virtual tie" early Tuesday morning. It took what one CSPAN user referred to as "Clinton voter fraud in Polk County, Iowa Caucus" to get a draw.
Furthermore, Clinton needed six lucky coin flips to even tie Sanders. This bizarre form of American democracy is highlighted in an Atlanta Journal Constitution article titled Clinton or Sanders? Some Iowa precincts resort to coin tosses to award delegates:
Just how close was the race in Iowa for Democratic presidential hopefuls Hillary Clinton and Bernie Sanders?

At least six precincts reportedly awarded their delegates after tossing a coin.

In Ames, the decision to award delegates by coin toss was made after 60 caucus participants apparently disappeared from the results, according to a report from The Des Moines Register.

In all six precincts where coin tosses were used, Clinton won an extra delegate.
Since one delegate separates Bernie Sanders from Clinton, imagine what would have resulted if a couple coin flips went to the Sanders campaign.
Miraculously, in a feat of coin flipping brilliance, "In all six precincts where coin tosses were used, Clinton won an extra delegate."
Now go ahead, call six of your friends, ask them to flip a coin, and see if you can win all six coin flips.
Cruz, Rubio, or Trump won't be allowing Clinton to flip coins in a general election, nor will they refrain from attacking Clinton on the 22 "Top Secret" emails stored in a private server that circumvented U.S. government networks. The FBI's investigation of Clinton's emails will be a never-ending topic in every debate.
While the Clinton campaign is proficient in flipping coins, the Clinton political machine was defeated in Iowa, and any notion of Clinton's inevitability was shattered by the Sanders campaign. Decades of Hillary Clinton's connections, fundraising, and power within the Democratic Party resulted in essentially the same number of delegates as Sanders. In addition, Bernie Sanders showed that he could challenge a political machine, and win essential political momentum.
Hillary Clinton's political machine is analyzed by Walter Russell Mead, Bard College's James Clarke Chace Professor of Foreign Affairs, in an article titled The First Postmodern Political Machine:
The Clinton political machine, like all machines, ultimately runs on money. Somebody has to pay the apparatchiks and loyal technicians who keep the wheels turning...

Now that Hillary is running for President, the donors have an even better idea of what good things might come to them--or what problems and complications could develop if they cut the Clintons off...

Third, the Foundation vehicle allows the Clintons to attract enormous sums of money from foreign as well as domestic donors.

Unlike ordinary politicians, the Clintons can take money from foreign individuals, states and firms without breaking US laws. They can even sidestep much if not all of the odium that comes from running an American campaign with foreign money.
More analysis of the Clinton political machine puts the six miraculous coin flips in proper perspective.
It's this machine, with financial tentacles all across the globe, that Bernie Sanders defeated in Iowa, gaining nationwide momentum from the contest. It's this machine, as well, that neocons are "aligning themselves" to in 2016.
Furthermore, Clinton's former colleague believes that foreign nations have possession of her classified emails. This potential campaign-ending reality is highlighted in a Hill piece titled Ex-Pentagon chief: Iran, China or Russia may have gotten to Clinton server:
Former Defense Secretary Robert Gates says he believes foreign countries like Russia, China and Iran may have hacked the private email server Hillary Clinton used while secretary of State.

"Given the fact that the Pentagon acknowledges that they get attacked about 100,000 times a day, I think the odds are pretty high," he said...

Gates said he agreed with former acting CIA Director Mike Morell's claim that the server had probably been hacked by either Russia, China or Iran.

He added that the fact that classified intelligence has been found on the server was "a concern for me."
The FBI isn't part of the GOP and Robert Gates served as Obama's Secretary of Defense; his views on this controversy are objective and unbiased. While Bernie Sanders was too honorable to attack Clinton on the fact foreign nations hacked into her server, rest assured that GOP rivals will address this issue in its entirety during a general election.
Hillary Clinton has spent her entire political career aspiring to become president, and everyone from Debbie Wasserman Shultz (scheduling debates on weekends, etc.) to mainstream pundits promoted the inevitability myth. Few in America's political establishment believed Clinton would lose Iowa, and even fewer believed Bernie Sanders would win virtually as many delegates as a former First Lady, Senator, and Secretary of State.
Now, Clinton will have to face Sanders in states that don't allow coin flips to determine the winner.
The true winner of the Iowa Caucus was Bernie Sanders, primarily because he proved that Clinton needed luck, and a complicated electoral process, just to achieve a draw. Sanders is well-positioned to win the Democratic nomination and presidency, especially since Clinton's prison lobbyists and use of race and Islamophobia against Obama won't assure her the votes of non-white Democrats. I explain why I'm only voting for Bernie Sanders in this YouTube segment and why he'll win the presidency on The David Pakman Show and The Thom Hartmann Program.
CORRECTION: The voter fraud allegation and video referenced in the second paragraph of this post was originally credited to CSPAN. The video was posted and titled by an anonymous user, unaffiliated with CSPAN.
Popular in the Community