BOSTON, PHILADELPHIA — Among many Bernie Sanders supporters, there is no discernable resignation, but rather, a perpetuation of possibility.
"We are 'Berniecrats,'" pronounced a contingent of rallygoers departing Boston's South Station on the eve of the Democratic National Convention. Decked out in Sanders regalia, they are members of New Hampshire For Bernie, Cape Ann For Bernie, and New Hampshire Rebellion, a grassroots endeavor pledged to eradicate the influence of Big Money and special interests in politics. According to its website, this 15,000-strong movement, founded by Harvard Law School professor and former 2016 Democratic presidential candidate Lawrence Lessig, is part of Open Democracy/Open Democracy Action, a New Hampshire-based nonprofit founded by the late, iconic campaign reform activist Doris "Granny D" Haddock. In her honor, several wear the Dublin, New Hampshire cross-country walker's trademark hats.
"We are joining The March on the DNC tomorrow," states Berniecrat Corinne Dodge. Though these women can collectively count on one hand the number of times they've actually been in the same room as Sanders, they're braving a sleepless, 24-hour trip to 100° Philadelphia for the cause.
"We want Bernie to win, but want to also raise awareness that he is still running," said Joan DeYoreo. "He didn't concede."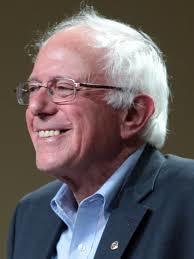 The release of Wikileaks-obtained DNC emails revealing tactics by which to denigrate and diminish Sanders' voter appeal is no surprise to these women, who vigorously phone banked and campaigned door-to-door for the Vermont senator's run. "There is no question that the DNC deliberately supported Bernie before it started," said Dodge. "They are supposed to be neutral," echoed Gail Gouveia. "But it is very clear that this was not the case," added Dodge. "This is supposed to be a free and fair election, yet with all of the problems going on in almost every state, where for example people were dropped from voter lists, and there were fewer voting places, no one in the Democratic Party spoke out. No one."
"The DNC significantly influenced the media," said Gouveia, who said that her group is going to Philadelphia to express support for Sanders running on a third party ticket. "He doesn't owe the Democratic Party anything," she said. "Rather, he brought people in — they owe him."
Sanders, they believe, has the power to move forward. "He's got the most energy and momentum, he's got the most voter and volunteer turnout, the most small donations, and he is the most well-liked," said DeYoreo, who noted that although Sanders, she felt, had the entire Democratic establishment working against him, he came very close. (Sanders ultimately lost by only about 12 points.)
"I think Bernie's strong showing is a testament to the power of people to overcome the power of money," said Ellen Read, who is running for State Representative for New Hampshire's District 17, which includes the Newmarket and Newfields region. "Sununu territory," she adds.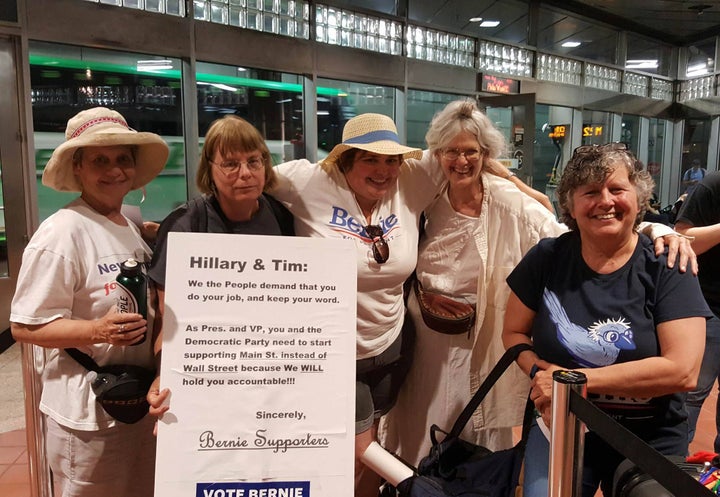 Philly transit riders Ira Hyman and Valarie Martin expressed more of a duality of opinion.
"At a labor caucus yesterday, I heard from Bernie supporters that they won't vote for Hillary," said Hyman, a San Fernando Valley resident.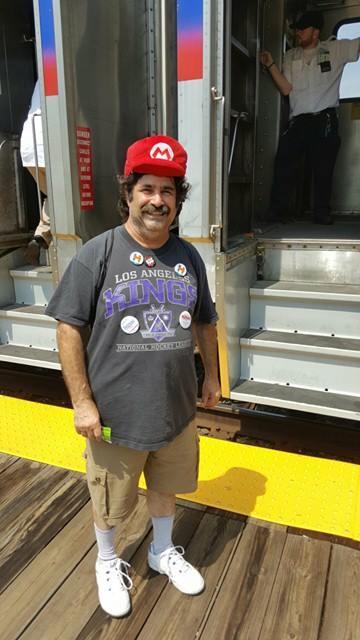 One seat up, Martin won't vote for Hillary. "She's for TPP (The Trans-Pacific Partnership), no matter what she said," she explained. "Her policies will leave a core group of the world wealthy, while so many others will go hungry."
A Sanders delegate from Sacramento who is a member of the Narragansett tribe, Martin is running locally for a college trustee board seat in the nearby Los Rios area, and in four years, she plans to run for Congress in Central California's District 7.
"My campaign will be informed by Bernie's values," she said. There will be no corporate donations, but rather, a mostly grassroots PAC promoting progressive ideas.
If it comes down to Hillary, Martin will leave the presidential slot blank. "For so long, I've had to choose between the lesser of two evils," she said. "From now on, I'm voting my conscience."
Hyman said, however, that it is agreement that makes this country great. "And you're allowed to vote for whomever you want — otherwise, there's no democracy."
Across the aisle, so to speak, Sanders delegate Lorraine from Coachella Valley said she is "still a Bernie voter." Sharon, her cohort and a Sanders organizer from the Yosemite region, agreed. "They didn't abolish superdelegates, which would have been more helpful," she said. "Moreover, Bernie was defrauded of his votes, which weren't counted. It's not enough."
But it was still a lot. At the DNC late Monday, Sanders' influence was prominently felt as speaker after speaker pledged fealty to his principles. Both Berniecrats and Clinton supporters, moreover, eagerly anticipated hearing from the man himself.
Susie Davidson (@SusieDavidsonMA) is tweeting live from the DNC.
Popular in the Community